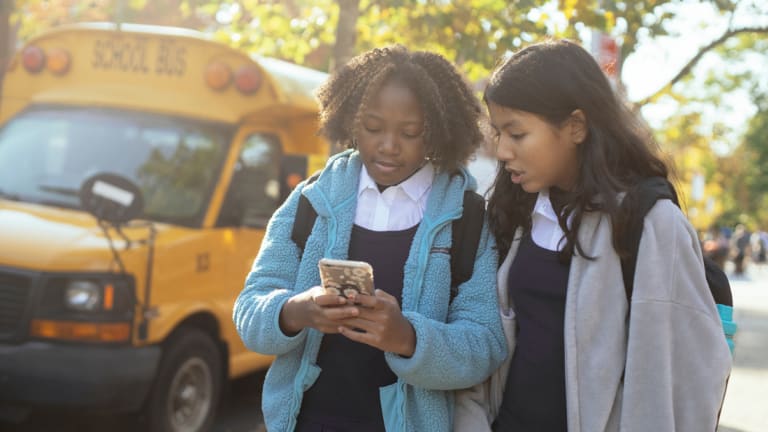 #DetoxYourFeed Encourages Girls to Hit the Unfollow Button
#DetoxYourFeed supports caregivers in encouraging their girls to unfollow any content that doesn't make them feel good about themselves.
The Dove Self-Esteem Project released today a powerful short film, Toxic Influence, that addresses the way social media feeds girls toxic beauty advice. Toxic Influence is just one component of the Dove Self-Esteem Project's #DetoxYourFeed initiative that aims to support teens in setting their own beauty standards and encourages them to unfollow any person or thing that makes them feel bad about themselves.
While hitting the unfollow button might seem logical to adults when they're faced with physically or mentally unhealthy beauty advice and standards, girls need a little more encouraging and empowerment. Research by the Dove Self-Esteem Project found that 2 out of 3 girls in the US are spending more than an hour of Instagram, TikTok, and other social media, which is more time than they are spending socializing with friends in person. In addition, the research also found that 1 in 2 girls admit that idealized beauty content in their feeds caused them to experience low self-esteem. The good news is that most girls realize that spending less time scrolling their social feeds and controlling the content they're fed is part of the solution, the research concluded, and "7 in 10 girls felt better after unfollowing idealized beauty content on social media." In addition, 80 percent of girls want their parents or caregivers to discuss with them how to manage posts promoting beauty ideals. The #DetoxYourFeed campaign supports these discussions between parents, caregivers, and teens through a series of films, educational content, and partnerships with inspiring people, like Gabrielle Union and her daughter Zaya Wade.
It's easy to be skeptical of the influence idealized beauty posts have on girls' self-esteem and how much of it is in their feeds because an hour doesn't seem like a long time. But Toxic Influence demonstrates just how insidious posts promoting "fitspo," "thinspo," and elective cosmetic procedures for young girls are. One of the most impactful sections of the film is when the Dove Self-Esteem Project used facial mapping to depict the skeptical parents promoting toxic beauty advice to their daughters.
"As a parent and someone who's felt the pressures from social media to look perfect, it's important to me that people realize what's on their teens' feeds and help them confidently navigate conversations about it," said Union in a release. 
Wade added, "I want people to know they can prioritize themselves and set boundaries on social media, and that it can be a positive place if you unfollow content that doesn't make you feel good."
The Dove Self-Esteem Project has developed academically-validated resources to help parents initiate and navigate ongoing discussions about harmful social media posts. The "Detox Your Feed: The Parents Guide" is a three-minute educational film for parents, caregivers, and mentors on facilitating these conversations, and "The Confidence Kit" is a free workbook that includes a new section, "Detox Your Feed: Talking to Your Kids About Toxic Social Media Advice." In addition, the Dove Real Talk Parent Workshop, a free, virtual event and Q&A, will take place on May 12th. During the live-stream workshop, cultural expert Jess Weiner and leading psychotherapist and registered social worker Nadia Addesi, who has created a digital self-esteem community on TikTok, will provide parents with tools for fighting the toxic influence social media has on their teens.
Through initiatives like #DetoxYourFeed, the Dove Self-Esteem Project has reached more than 82 million young people across 150 countries to-date, including six million children per year in the US through partnerships with Boys & Girls Clubs of America and Cairn Guidance, an education consultancy firm. Dove has a goal of helping 250 million kids and teens boost their self-esteem through educational programming and free resources by 2030. Learn more about this extremely necessary and worthwhile campaign at Dove.com/Detoxify.
"We've identified a clear problem that is eroding the self-esteem of our girls and needs immediate attention and action. We created this #DetoxYourFeed campaign to not only raise awareness around the insidious nature of toxic beauty advice, but to also help parents navigate tough conversations and empower teens to unfollow content that makes them feel bad about themselves," says Leandro Barreto, Global Vice President of Dove. "While it may be a bit overwhelming at times, we hope it will contribute to important conversations that lead to a more positive experience for teens on social media."