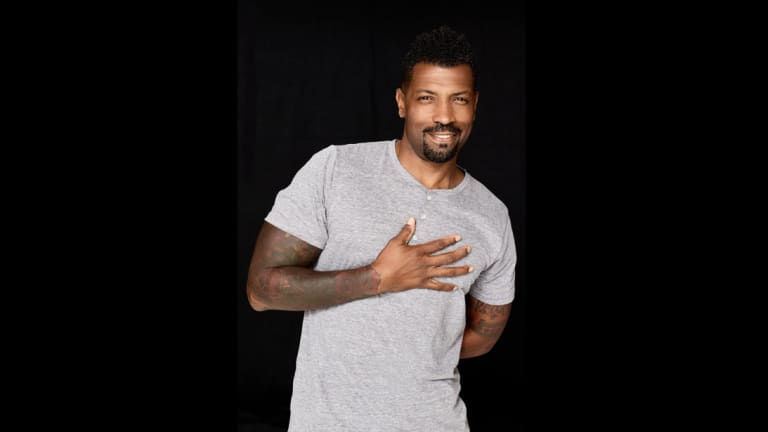 Deon Cole Wants You to Know Whether You're Good Down There
Deon Cole has partnered with Cottonelle and BLKHLTH to encourage Black people to get screened for colorectal cancer and to increase awareness for the disease.
Actor and comedian Deon Cole has partnered with Cottonelle and BLKHLTH to increase awareness of colorectal cancer and stress the importance of getting screened for the disease early.
Cottonelle, which is known for addressing our "downtherecare" needs, is collaborating with BLKHLTH to stop one of the most survivable cancers, if detected early, this Colorectal Cancer Awareness Month and beyond. BLKHLTH is a nonprofit that uses education and action to decrease the impact racism has on Black health. In an effort to get Black Americans screened early for colorectal cancer, Cottonelle is offering free screening kits on its site through BLKHLTH. Together, Cottonelle and BLKHLTH have partnered with the Colorectal Cancer Alliance to provide free colonoscopies for Black patients in need. Cottonelle has donated $750,000 to the fund. In addition, Cole will host a roundtable discussion with BLKHLTH co-founder Matthew McCurdy and Dr. Fola May, gastroenterologist and health equity researcher, on March 18 to talk about "down there" and drive awareness for the colorectal cancer realities among Black people.
Colorectal cancer is definitely something that isn't discussed in the Black community, so what are those realities? Colorectal cancer, which is more commonly known as cancer of the colon or rectum, is the second leading cause of cancer-related deaths, and Black Americans have a 40 percent higher death rate from colorectal cancer than other races, according to the Colorectal Cancer Alliance. Fortunately, though, if colorectal cancer is diagnosed and treated early, there is a 90 percent survival rate, according to statistics found on Cancer.net.
"Especially in the Black community, in Black communities, really there's no information on this," said Cole. "And you don't even hear people talking about it like that, which it should be something that's talked about."
Like most people, cancer has impacted Cole's life. He has a sister who died at an early age from breast cancer, and now he has a close friend who has an advanced stage of colorectal cancer that prevents them from communicating, even by phone.
"Just as much as everybody is aware of Verzuz battles, we want them to know about colorectal cancer as well," explained Cole, who is committed to using his platform to spread the word about colorectal cancer and screening at home. "We want to let them know it's easy too, like I got a test at home, it was easy. Just bam, bam, bam, you're done. And once people understand that, that they can do it in the privacy of their home, it's easy, then I think that more people would do it."
Cole is well aware of the general distrust for the medical and healthcare industry and lack of access to adequate healthcare that exists within the Black American community, in addition to the stigmas that prevent Black folks from being screened for colorectal cancer.
"It has a lot to do with systemic racism, in a sense, to be honest with you, because we don't have the type of access and health care plans and all of that in our neighborhoods," Cole said.
He added: "When it comes to men, men don't want to talk about that at all. They don't want to spread nothing, open nothing, put nothing in nothing, they ain't trying to do nothing of the sorts. … And it's something that has to be done, and to get people more comfortable with it, then I think people would be able to digest that this is something that needs to be done. Just like you have to go to the dentist every year, you have to do this."
The goal of the roundtable talk is to dispel taboos, provide information, and be a general resource for anything related to colorectal cancer, whether that be screening, treatment, or healthcare equity. It will take place on Cottonelle's Facebook page and YouTube channel on March 18 at 6:30 p.m. ET/3:30 p.m. PT. The discussion will be completely interactive, so viewers are encouraged to post questions in the chat field. In addition, Cottonelle and BLKHLTH are hoping to disseminate even more information on the disease via the hashtag #GoodDownThere on social media.
Opening lines of communication like these will hopefully stop the stigmas associated with having your colon or rectum checked from perpetuating, and informed parents have the power to do that.
"It definitely starts with the parents letting [children] know that it's OK that you have to go do this, like they have to do this when they get older and just getting it in their minds younger, so it won't be such a shock, so jarring," Cole explained.
In addition to using his platform to spread information about colorectal cancer, Cole also is bringing awareness to the situation of houseless-ness and homelessness, especially during the pandemic, with the film I'm Fine (Thanks for Asking). He executive produced the film with Capella Fahoome and Kelley Kali, who stars in the film and also served as co-director with Angelique Molina and co-writer with Molina and Roma Kong. The synopsis is: "When a recently widowed mother becomes houseless, she convinces her 8-year-old daughter that they are only camping for fun while working to get them off of the streets." I'm Fine (Thanks for Asking) premiered at SXSW today, March 17, and Variety says, "The directors, their crew and ensemble do sweet work capturing the weight of a moment that has most everyone stretched thin."
"Just to bring awareness to the situation, especially right now with this pandemic, people are facing houseless-ness and homelessness at a higher rate than ever right now," Cole explained about why he got involved with the project. "So it was something that I thought people will resonate with. And I just felt like this was another situation that I could lend my help to, in order to get this made and get the word out."
When you think about it, Cole's work with Cottonelle and BLKHLTH to increase knowledge about colorectal cancer relates to the title of the film, I'm Fine (Thanks for Asking), because people often don't say what's really happening in their lives. They say, "Oh, I'm good," and keep it moving, even though there's so much going on inside that they might not be willing to share or might not even know is happening. Similarly, "How are you doing" has become a greeting that people often don't even stick around to hear what the answer is.
Cole agreed, "It's power in words. And it's time to bring the meaning back to these words and actually find out how someone's doing. And the same thing with Cottonelle and BLKHLTH, they're trying to find out how you doing and find out if you're doing OK, and if you're good down there and all of that."