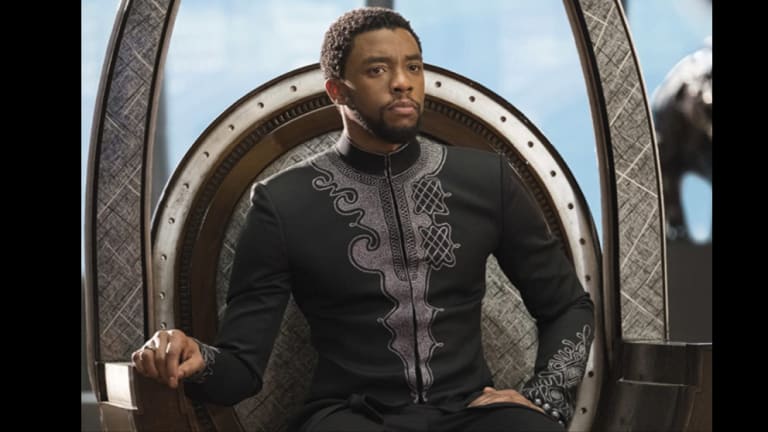 Denzel, Letitia, Danai, Angela & More Pay Tribute to Chadwick Boseman
Like many of us, Boseman's Marvel co-stars and industry mentors are still reeling from the Black Panther star's death.
As the world still reels from the death of global icon Chadwick Boseman on Aug. 28th, many of his peers have revealed how his life and career affected theirs, and discussed the perseverance the thespian displayed as he continued working on films, like Da 5 Bloods and Ma Rainey's Black Bottom, while battling colon cancer since 2016.
Although people referred to Boseman as the "next Denzel Washington," the relationship between the two actors is deeper than comparing their acting talent and skill. Back when Boseman was a student at Howard University, where Phylicia Rashad mentored him, he'd been accepted into the British American Drama Academy's Midsummer program, but wasn't going to attend because he couldn't afford it. Rashad made a call to her friend on behalf of Boseman and the other Howard students accepted into the program. Rashad's friend turned out to be Denzel Washington, who paid the tuition. Last year, recounted the story while honoring Washington when the American Film Academy honored Washington with the 2019 Lifetime Achievement Award.
After learning of Boseman's death, Washington released a statement paying tribute to Boseman.
"He was a gentle soul and a brilliant artist, who will stay with us for eternity through his iconic performances over his short yet illustrious career," Washington said in his statement obtained by CNN. "God bless Chadwick Boseman."
Letitia Wright, Boseman's Black Panther co-star who played his King T'Challa's sister Shuri, shared a spoken word poem on her Instagram to honor Boseman. She captioned the nearly six-minute video, "For my brother." The video begins with soft piano music playing while the sun rises.
"It is written, there is nothing new under the sun," Wright says while beginning to reflect on learning of Boseman's death. "But the sun stood still that morning, refusing to shine. Dark clouds surrounding, confusion setting in. Tears flowing, rivers so deep."
She continues, "I didn't know this is what I was waking up to, my brother, an angel on Earth, departed."
Wright also talked about how beautiful Boseman's spirit was: "A soul so beautiful, when you walked into a room, there was calm. You always moved with grace and ease. Every time I saw you, the world would be a better place."
She also expressed difficulty in understanding that Boseman is gone forever: "Words can't describe how I feel, how we all feel, that losing you was forced upon us, to accept this as a new reality. I wish I got to say goodbye."
Wright also discussed how private Boseman was with his diagnosis. She says in the poem that she messaged him a couple times, but thought he was busy instead of fighting for his life: "I didn't know you were dealing with so much."
In Coogler's statement, he revealed that watching Boseman in Captain America: Civil War helped him decide to direct Black Panther and said he immediately connected with the actor over their shared experiences and vision for the boundary-breaking film when they met in 2016. Coogler wrote Boseman was a "special" person:
"We would often speak about heritage and what it means to be African. When preparing for the film, he would ponder every decision, every choice, not just for how it would reflect on himself, but how those choices could reverberate. 'They not ready for this, what we are doing…' 'This is Star Wars, this is Lord of the Rings, but for us… and bigger!' He would say this to me while we were struggling to finish a dramatic scene, stretching into double overtime. Or while he was covered in body paint, doing his own stunts. Or crashing into frigid water, and foam landing pads. I would nod and smile, but I didn't believe him. I had no idea if the film would work. I wasn't sure I knew what I was doing. But I look back and realize that Chad knew something we all didn't. He was playing the long game. All while putting in the work. And work he did."
Like Wright, Coogler was unaware Boseman had cancer and said he's devastated that Boseman won't be able to reprise his role of T'Challa. Coogler said he "spent the last year preparing, imagining and writing words for him to say, that we weren't destined to see."
Over the weekend, Danai Gurira, who played Okoye in Black Panther, expressed her grief in a statement on Twitter.
"How do you honor a king?" Gurira began. "Reeling from the loss of my colleague, my friend, my brother. Struggling for words. Nothing feels adequate."
Like others who worked with Boseman, Gurira reflected on the type of person he was: "I always marveled at how special Chadwick was. Such a purehearted (sic), profoundly generous, regal, fun guy."
She continued:
"My entire job as Okoye was to respect and protect a king. Honor his leadership. Chadwick made that job profoundly easy. He was the epitome of kindness, elegance, diligence, and grace. On many an occasion I would think how thankful I was that he was the leading man I was working closely with. A true class act. And so perfectly equipped to take on the responsibility of leading the franchise that changed everything for Black representation."
Michael B. Jordan also shared a touching tribute to his Black Panther co-star on Instagram, revealing that the two had a history before the film and wishing that he had more time with his friend:
"I've been trying to find the words, but nothing comes close to how I feel. I've been reflecting on every moment, every conversation, every laugh, every disagreement, every hug…everything.
I wish we had more time.
One of the last times we spoke, you said we were forever linked , and now the truth of that means more to me than ever. Since nearly the beginning of my career, starting with All My Children when I was 16 years old you paved the way for me. You showed me how to be better, honor purpose, and create legacy. And whether you've known it or not…I've been watching, learning and constantly motivated by your greatness.
I wish we had more time.
Everything you've given the world … the legends and heroes that you've shown us we are … will live on forever. But the thing that hurts the most is that I now understand how much of a legend and hero YOU are. Through it all, you never lost sight of what you loved most. You cared about your family , your friends, your craft, your spirit. You cared about the kids, the community, our culture and humanity. You cared about me. You are my big brother, but I never fully got a chance to tell you, or to truly give you your flowers while you were here.
I wish we had more time.
I'm more aware now than ever that time is short with people we love and admire. I'm gonna miss your honesty, your generosity, your sense of humor, and incredible gifts. I'll miss the gift of sharing space with you in scenes. I'm dedicating the rest of my days to live the way you did. With grace, courage, and no regrets. "Is this your king!?" Yes . he . is! Rest In Power Brother."
Other Marvel actors also took to social media to honor Boseman.
Angela Bassett, who played T'Challa's mother in Black Panther, wrote:
"It was meant to be for Chadwick and me to be connected, for us to be family. But what many don't know is our story began long before his historic turn as Black Panther. During the premiere party for Black Panther, Chadwick reminded me of something. He whispered that when I received my honorary degree from Howard University, his alma mater, he was the student assigned to escort me that day. And here we were, years later as friends and colleagues, enjoying the most glorious night ever! We'd spent weeks prepping, working, sitting next to each other every morning in makeup chairs, preparing for the day together as mother and son. I am honored that we enjoyed that full circle experience. This young man's dedication was awe-inspiring, his smile contagious, his talent unreal. So I pay tribute to a beautiful spirit, a consummate artist, a soulful brother..."thou aren't not dead but flown afar...". All you possessed, Chadwick, you freely gave. Rest now, sweet prince."
Chris Hemsworth captioned a photo of him and Boseman, "Gonna miss you mate. Absolutely heartbreaking. One of the kindest most genuine people I've met. Sending love and support to all the family xo RIP @chadwickboseman"
​
​
​
Boseman passed away at home surrounded by his family and wife Taylor Simone Ledward, whom he quietly married in the final months of his life.