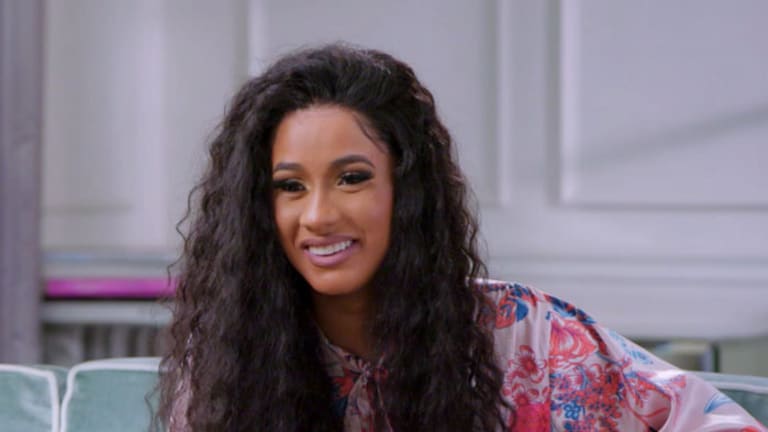 Cardi B Was 'So F**king Mad' About Sexual Assault During Photo Shoot
During an interview with Angie Martinez, Cardi B details her #MeToo incident at the hands of a magazine photographer.
During an exclusive interview with Untold Stories of Hip Hop host and executive producer Angie Martinez, Cardi B opened up about being sexually assaulted during a photo shoot for a magazine.
Cardi said that the photographer asked her if she wanted to be in the magazine and then pulled out his penis. "I was so f**king mad," said the rapper.
When Martinez asked how she handled the situation, Cardi gestured that she began gathering her possessions in order to leave the shoot. To make matters worse, she says the owner of the unnamed magazine wasn't disturbed or concerned with the photographer's behavior.
"When I see the #MeToo movement, there's girls from the hood. I know that they went through the same type of treatment," Cardi explained. "People make you feel like you have to do a certain type of thing for the most bulls**t."
Nowadays, the Rhythm + Flow judge says incidents like that don't happen to her anymore because, as she says, she'll put them on blast on her Instagram. "I'll f**king violate," she said with a laugh.
Later in the interview that airs tonight on WE tv at 10 p.m., Cardi talks candidly about working as a stripper, the first time she and now-husband Offset had sex, and how her team discouraged her to have baby Kulture.
"When I found out, it was, like, around the weeks that you could find out the sex, and I wanted to find out the sex right ... away," she explains in the interview. "And, like, when said I have a girl ... I was -- 'Oh, man. I have a girl? That means that God wants me to have a baby because I always wanted a girl.'"
The premiere episode of Untold Stories of Hip Hop also features living legend Snoop Dogg. The voice of It in The Addams Family details his final encounter with The Notorious B.I.G., and a flight with Tupac and Suge Knight in which he could have lost his life.