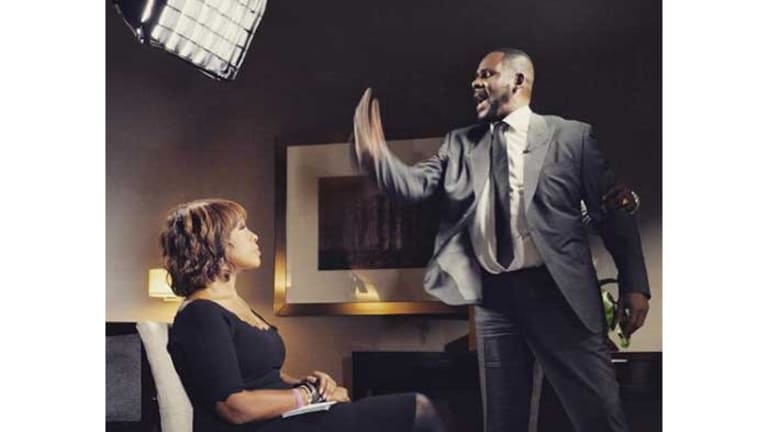 Bump a Grammy, R. Kelly Went for the Oscar During Gayle King Interview
"I'm fighting for my f*cking life," raved embattled singer R. Kelly during an interview with CBS's Gayle King.
R. Kelly sat down with Gayle King, of CBS This Morning, today for his first interview since being indicted on 10 counts of aggravated criminal sexual abuse in Illinois.
King said during the broadcast of CBS This Morning that the interview lasted about 80 minutes. However, CBS only aired segments of the sit-down. Almost immediately from the start of what was aired, Kelly flew off the rails into a rant that Gloria Allred called a "performance piece" during a TMZ Live interview later in the day. "I'm fighting for my fucking life," Kelly exploded with anger during a tense moment in the interview that included him getting out of his seat, hovering over King, raising his hands, and pointing at the camera. He actually managed some real tears while ranting.
His performance, however, wasn't Oscar-worthy because his "audience," King, was unmoved. She remained calm and collected like the journalist she is, persistently attempting to get answers from Kelly and at one point telling the #MuteRKelly target he is playing the victim.
Kelly's main strategy for conveying that he is innocent of the charges against him, or "beat-the-case-able," seemed to be deflecting and claiming that previous accusations of sexual abuse were irrelevant to today. He also claimed that he doesn't have a sex cult, even though he revealed he doesn't know what a cult is, and questioned why any parent would sell their child to someone. King should've responded, "What man buys someone's child?" He all but admitted to purchasing someone, along with maintaining that he "beat my case" in his 2008 child pornography case, not that he was innocent.
It's unclear why Kelly would do this interview. He just made himself look guilty. Hopefully, CBS will air the King's entire interview with Kelly.