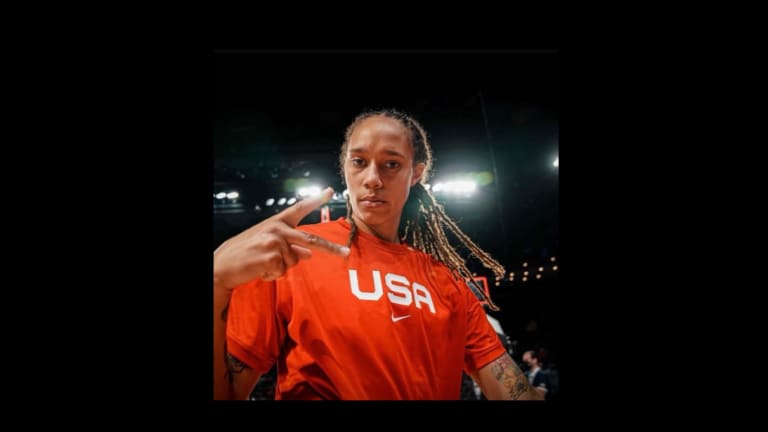 Brittney Griner Faces 10 Years in a Russian Prison for Drug Charges
Brittney Griner pled guilty to drug charges and faces 10 years in prison if she's convicted. Russia reports a 99 percent conviction rate in criminal cases.
Brittney Griner's attorneys confirmed today that the two-time US Olympic basketball gold medalist plead guilty to drug smuggling charges in a Moscow court. Under the charges, she is facing 10 years in a Russian prison if convicted.
Russian authorities arrested the 31-year-old in February at a Moscow airport because, they say, they found cannabis oil in her luggage. The Phoenix Mercury center had been in the communist country to play basketball during the WNBA's offseason. The US State Department has classified Griner as wrongfully detained. Her trial began last week and her next hearing is set for July 14. 
Prosecutors accuse Griner of smuggling less than a gram of cannabis into Russian territory and putting the banned substance into her backpack and suitcase. Griner told the court she hadn't intended to carry drugs in her luggage and commit a crime. She says the incident was a result of her packing quickly, according to reports obtained by CNN. After the plea, Griner left the courtroom on the second day of her trial without speaking with reporters.
There's suspicion that Russia is using Griner as a political pawn during its invasion of Ukraine, which has US support. Russia reports a 99 percent conviction rate in criminal cases, but there's speculation that her plea could result in a shorter sentence. There's also hope that authorities could release and return Griner to the US in a prisoner swap, similar to how American veteran Trevor Reed was released in April after being detained in Russia for three years. It's worth noting that there is no indication a prisoner swap is imminent, though.
On Wednesday, The White House released an update that said President Joe Biden and Vice President Kamala Harris had spoken with Griner's wife Cherelle Griner. Biden wanted to reassure Cherelle that the administration is working to ensure Brittney's release, along with that of Paul Whelan and other US nationals who are "wrongfully detained or held hostage in Russia" and around the world. The President also read Cherelle a draft of the letter he sent her yesterday. In addition, Biden instructed his national security team to remain in regular contact with the Griner family. National Security Advisor Jake Sullivan and Secretary of State Antony Blinken have also been in contact with Cherelle.
Cherelle expressed gratitude, in a statement, for the conversation with Biden and Harris.
"While I will remain concerned and outspoken until she is back home, I am hopeful in knowing that the President read my wife's letter and took the time to respond," Cherelle said. "I know BG will be able to find comfort in knowing she has not been forgotten."