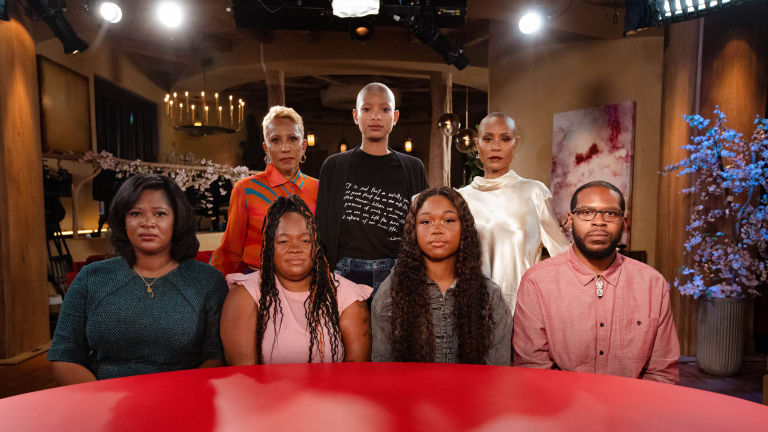 Breonna Taylor's Family Sits Down for 'Red Table Talk'
Breonna Taylor's boyfriend Kenny Walker takes viewers through a minute-by-minute account using body camera footage of her tragic death at the hands of police.
Breonna Taylor's mother Tamika Palmer, sister Ju'Niyah Palmer, and boyfriend Kenny Walker, who was present when Louisville Metro Police officers fatally shot her, gave their first joint interview during a recent episode of Facebook Watch's Red Table Talk.
Walker is the only witness to the tragic shooting that took place on March 13, 2020 when officers raided Taylor's home as part of a drug investigation. The suspect in the drug case had been arrested at his own home, at a different location, hours before the raid on Taylor's apartment. The Louisville police had also allegedly falsified part of the search warrant.
"The day didn't begin so tragic. Neither one of us could have ever imagined it ending the way it did. It was a normal day," Walker told Red Table Talk. "We were out to eat, or just enjoying each other's company. Just me and her. We was tired after, so we just gonna go in the house and just chill. That's what makes the situation even more crazy. What place do you feel more safe than in the comfort of your own home? Thinking that's been a good day and it's gonna be a good night. I can remember the night still pretty vividly. We began to watch a movie, Freedom Writers. But she had fell asleep on me, like, she did that a lot. So, I probably kinda dozed off, too. There was a banging on the door. It startled both of us. You know, it was late at night."
Walker took Jada Pinkett Smith, her daughter Willow, and her mother Adrienne Banfield Norris through a minute-by-minute account using body camera footage obtained from police.
This is the first interview with Tamika and Ju'Niyah Palmer since U.S. prosecutors charged the four current and former police officers involved in her killing – Joshua Jaynes, Kyle Meany, Kelly Goodlett, and Brett Hankison. The two women shared shocking details about their devastating loss and the cover up that followed. Later in the episode, activist Tamika D. Mallory, civil rights attorney Ben Crump, CNN's Laura Coates and National Bar Association President Lonita Baker join Taylor's family and the show's hosts to explain what will happen next in the case.
Watch the Red Table Talk episode below. (The episode includes discussions and visuals that may be disturbing for some audiences. Viewer discretion is advised.)