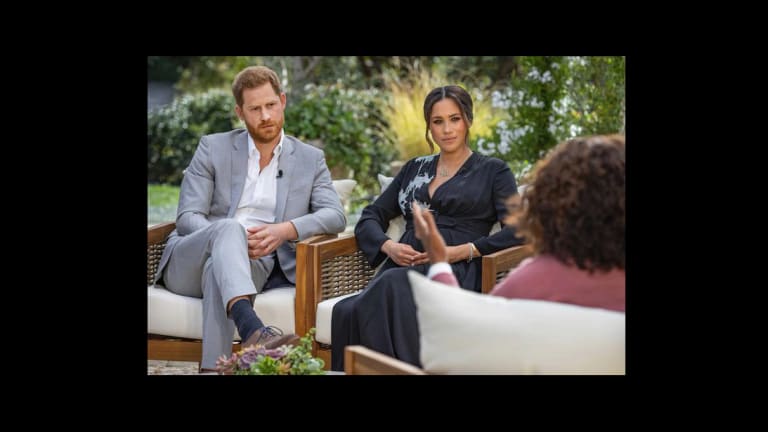 Black Twitter Has Meghan Markle's and Harry's Back After Bombshell Oprah Interview
It should come as no surprise that Black Twitter was glued to their TVs and keyboards while Harry and Meghan Markle's interview with Oprah aired.
Oprah Winfrey's interview of Meghan Markle and Harry aired last night, March 7, on CBS. The sit-down had Twitter agog, and Black Twitter, specifically, proved to have Markle's and Harry's back.
It was the couple's first major interview since stepping back from their senior royal duties in January 2020. There were many shocking revelations that came out of the interview that took place in a friend's Californian home, and lasted three hours and 20 minutes and was edited down to one hour and 25 minutes for broadcast. They said their initial intention was to move to a commonwealth nation and continue their royal duties, because the job came naturally to Markle, who had done previous humanitarian work before getting married. Markle, who is biracial, also said she understood how important it was for people throughout the commonwealth to see a person of color within the royal family. Oprah said on CBS This Morning, today, that her main intention with the final cut of the interview was to answer why the Sussexes stepped away from the British Royal Family.
Simply put, racism was the reason the Sussexes left. Although Harry wouldn't reveal who had the conversation with him, he said there was at least one family member who was concerned about how dark his son Archie would be when he was born. Oprah revealed this morning that Harry made it clear that it wasn't his grandmother Queen Elizabeth II nor his grandfather Prince Philip who spoke with him. In addition, the Sussexes revealed that they didn't choose for Archie not to have a title, as was reported in the British press. Markle said that choice could never be theirs. Also, she was taken aback when they learned that Archie wouldn't have security, despite the royal family and the institution being aware of threats to his life, many of which were racially motivated.
The British media was vicious with its seemingly nonstop negative coverage of Markle, and the royal family didn't come to their aid. The couple pointed out that the media's treatment of Markle was different from what other British royals, like Prince William's wife Kate Middleton, endured because Markle is Black and an American outsider. In addition, social media amplified the coverage and the bigotry behind it. Markle compared the headlines used for Middleton with the ones used for her. She referenced the press calling Middleton "Waity Katie" as she waited for Prince William's proposal, whereas her very character and humanitarian efforts were called into question when she ate avocado toast. In 2019, the Daily Mail published an article with the headline: "Is Meghan's favourite snack fuelling drought and murder?" O magazine reports that a 2020 Guardian study found that 43 percent of headlines published about Markle since 2018 were negative in tone, whereas 45 percent of those about Middleton were positive during the same span of time. 
"A member of his family would comfortably say, 'We've all had to deal with things that are rude,'" Markle explained to Oprah. "Rude and racist are not the same. You've also had a press team that goes on the record to defend you ... and that didn't happen for us."
Markle also revealed to Oprah that the royal family wouldn't dispel false reports in the media. She said that it was Middleton who made her cry the week of her wedding with Harry, not the other way around, as was widely reported. Markle said she accepted Middleton's apology for the incident.
Harry and Markle said they spent three years asking for the family's help with the tabloids and media to no avail. The situation, the constant barrage of negative press and lack of support from within the family, led Markle to have ideations of suicide, she revealed during the interview. It also made Harry, he said, desperate for history not to repeat itself, referring to his mother Princess Diana's death. He said he had been in talks with his grandmother and his father Prince Charles, who eventually stopped taking his calls, about changing their roles. Harry dispelled the rumors that he had blindsided Queen Elizabeth II with their decision to step back from royal duties.
Since their decision was made final, the royal family has cut off their finances and his security protection. Harry said they're living off the inheritance from his mother. He revealed that he made the decision to move his family from Canada after his security was pulled and the Daily Mail had published their address. Entertainment mogul Tyler Perry provided Harry and Markle with his home in Los Angeles and his security until they were able to move into their own home in Santa Barbara.
There were two bright spots during the interview, besides the obvious love shared between Markle and Harry: Markle revealed they were already married when their royal wedding took place because the Bishop of Canterbury had wed them during a private ceremony three days prior. Also, Harry revealed that they're are expecting a girl, who will be born this summer.
It should come as no surprise that Black Twitter was glued to their TVs and keyboards while Harry and Markle's interview with Oprah aired. They demonstrated their support for the couple and their family and also questioned why Markle was under investigation for allegedly bullying two members of her staff yet Buckingham Palace has failed to investigate sexual abuse allegations against Prince Andrew.