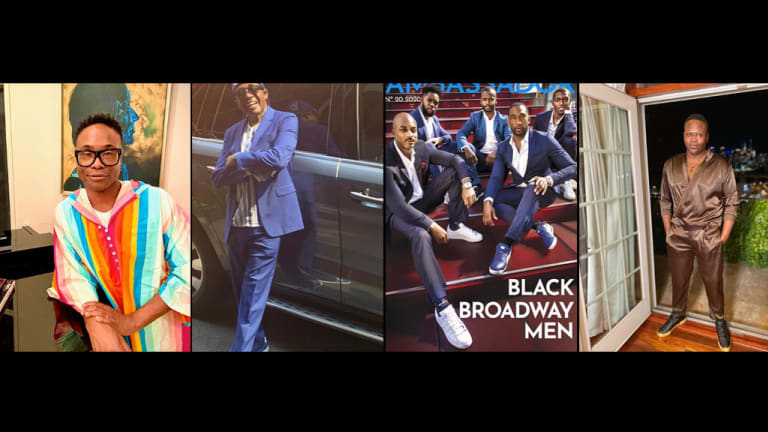 Ben Vereen Turns 74! Billy Porter, Tituss Burgess & Black Broadway Men Celebrate
Find out how some of Broadway's finest helped TV and film legend Ben Vereen celebrate his 74th birthday.
Press release:
Tony and Emmy Award winner Billy Porter, Emmy nominee Tituss Burgess, Tony Award winner George Faison, Emmy nominee Brandon Victor Dixon, and over 90 talented Black men of the theater and Broadway community join founder Anthony Wayne and the non-profit organization Black Broadway Men to celebrate Tony Award Winner and TV/film legend Mr. Ben Vereen for his 74th birthday.
On Saturday, October 10th, Black Broadway Men, in association with Torrey Russell and the Las Vegas based organization Broadway in the Hood, joined in their 10th anniversary celebration to honor Ben Vereen and his incredible career by lending their voices via video message to a live virtual event. This incredible four-minute tribute video was included in the montage dedicated to Mr. Vereen and all his accomplishments. Other celebratory tributes included Gladys Knight, Bubba Knight, and Maya Angelou.
Black Broadway Men is a new and exciting non-profit organization which utilizes social and educational opportunities to strengthen the bond of healing and unity for all Black men in both the Broadway and theater community. This organization includes men (and those who identify as such) who are actors, singers, dancers, directors, writers, musicians, lighting designers, costume designers, set designers, makeup artists, producers, choreographers, and any crew members who give their time and attention in front or behind the stage.
From creator/founder Anthony Wayne (Tootsie, Mighty Real: A Fabulous Sylvester Musical, Pippin) and founding committee members James T. Lane (Kiss Me Kate, Scottsboro Boys, A Chorus Line), Terence Archie (Company, Kiss Me Kate, Rocky), Ahmad Simmons (West Side Story, Hadestown, Carousel), Sir Brock Warren (Summer: The Donna Summer Musical, Paradise Square), and newcomer Isaiah Josiah (AMDA), "Our motto is 'Every Black man in theater is a Black Broadway Man' because we believe the situations we go through as Black men in the Broadway community are not just limited to our experience." says Wayne. "It expands outside and beyond New York City. To the young Black boy who's dancing in his living room with a dream, to the man who man who hasn't had the chance to grace a Broadway stage as of yet, we are all connected through the possibilities of what we can do and the impact we can make in this world if we just believe in ourselves ... 'Broadway' is a state of mind so we believe it's time for us all to find unity within each other, strength from the knowledge we receive to combat the world, as well as the chance to embrace the legacy of the shoulders we stand upon to become the legacy for those that are to come behind us."
Visit BlackBroadwayMen.org and follow @BlackBroadwayMen on Facebook and Instagram. All donations can be made on the website, and will go directly towards educational events, scholarship opportunities, and operational expenses for the organization.