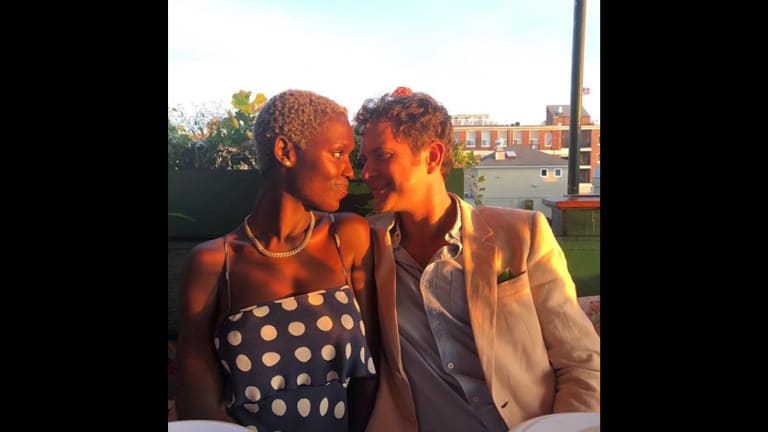 Actors Jodie Turner-Smith and Joshua Jackson Welcome Baby
Despite the circumstances of the COVID-19 pandemic, both Jodie Turner-Smith and the baby are "happy and healthy."
Jodie Turner-Smith and her husband Joshua Jackson, of Dawson's Creek fame, have welcomed their first child.
A representative for the couple confirmed their baby's birth to Page Six, saying, "The couple has welcomed their first child. Both mother and baby are happy and healthy."
The sex of the baby is unknown, however, the Queen & Slim star has alluded to having a girl a few times by using the she pronoun, reports Page Six.
The couple, who married in December 2019 after securing a marriage license last August, have been nesting at home in Los Angeles during the COVID-19 pandemic, but aren't expected to raise their child in the United States over concerns for "white supremacy."
"The racial dynamics [in the U.S.] are fraught," said Turner-Smith in an interview with The Sunday Times that was reported by People. "White supremacy is overt. It's the reason I don't want to raise my kids here. I don't want my kids to grow up doing active shooter drills at school."
But don't expect the British actor and her British Columbian husband to hop the pond to raise their family in England.
"England has gone off the rails," Turner-Smith also told The Sun, "so I was thinking maybe Canada."
Jackson has expressed being nervous about having a baby at this time, not knowing whether it was "first-baby anxiety" or "pandemic anxiety."
"Obviously, it's a bit stressful right now and we're just trying to figure out how to be smart about being quarantined," Jackson told Good Morning America on March 25th. But [Jodie's] healthy and the baby's healthy, so that's important," he added.
Congratulations to the talented couple on their new baby!