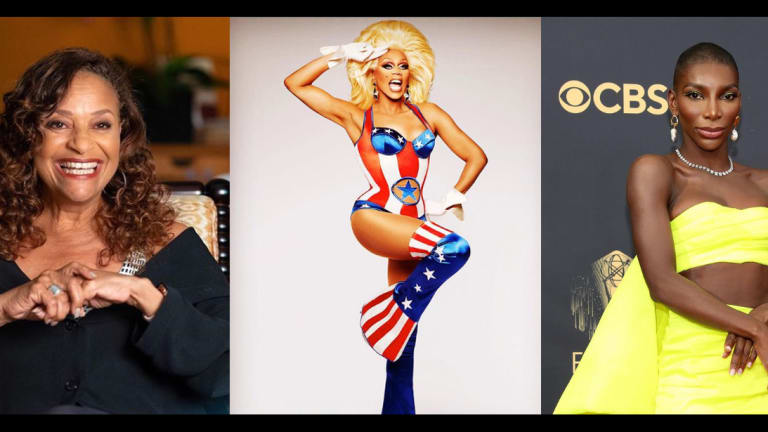 3 Black Winners at the 2021 Primetime Emmy Awards
The 2021 Primetime Emmy Awards honored the talents and gave much earned recognition to our very own RuPaul, Michaela Coel, and Debbie Allen.
The 73rd Primetime Emmy Awards last night included huge wins for RuPaul and Michaela Coel, and a very special tribute to the 2021 recipient of the Governor's Award, Debbie Allen.
RuPaul's persistent creativity on RuPaul's Drag Race has snatched him his sixth consecutive Emmy Award for Outstanding Competition Program. This victory marks RuPaul's 11th Emmy, making him the most decorated Black male artist in Emmy Awards history. The show was nominated in the category along with Nailed It, The Amazing Race, The Voice, and Top Chef. RuPaul dedicated his win to the queer youth and LGBT community as he thanked Viacom and CBS.
"But really thanks to all of our lovely children on our show from around the world," said RuPaul. "They are so gracious to tell their stories of courage and how to navigate this difficult life. Even more difficult today. This is for you and for you kids out there watching. You have a tribe that's waiting for you. We're waiting for you baby, come on to momma Ru."
Coel was the epitome of Black girl magic at last night's Emmy Awards. I May Destroy You secured Coel her first Emmy, as she made history by becoming the very Black woman to take home the award for Outstanding Writing For A Limited Or Anthology Series or Movie. The series was nominated in the category along with Mare of Easttown, The Queen's Gambit, and  WandaVision. She accepted her award in a gorgeous lime, two piece ensemble designed by Christopher John Rogers, and dedicated her win and story to every sexual assault survivor.
"I just wrote a little something, for writers, really," explained Coel as she accepted her award. "Write the tale that scares you, that makes you feel uncertain, that is uncomfortable. I dare you. In a world that entices us to browse through the lives of others to help us better determine how we feel about ourselves, and to, in turn, feel the need to be constantly visible, for visibility these days seems to somehow equate to success. Do not be afraid to disappear, from it, from us, for awhile and see what comes to you in the silence. Thank you to Kate, Amy, and various artists limited for two of the best years of my life. I dedicate this story to every single survivor of sexual assault."
Both RuPaul's Drag Race and I May Destroy You are currently available for streaming.
The Television Academy honored Debbie Allen with the 2021 Governor's Award as they highlighted the "creative supernova's" contributions to television as an actor, dancer, director, choreographer, producer, and writer. The award was presented by close friend Jada Pinkett-Smith, Ava DuVernay, Ellen Pompeo, and Michael Douglas.
Although the work and talents of RuPaul, Coel, and Allen were acknowledged by the Television Academy, the hashtag #EmmysSoWhite sadly still applies in 2021. Despite the fact that performers from the global, non-white majority made up 44 percent of the acting nominees, white actors swept the 12 lead and supporting categories for comedy, drama, and limited series.