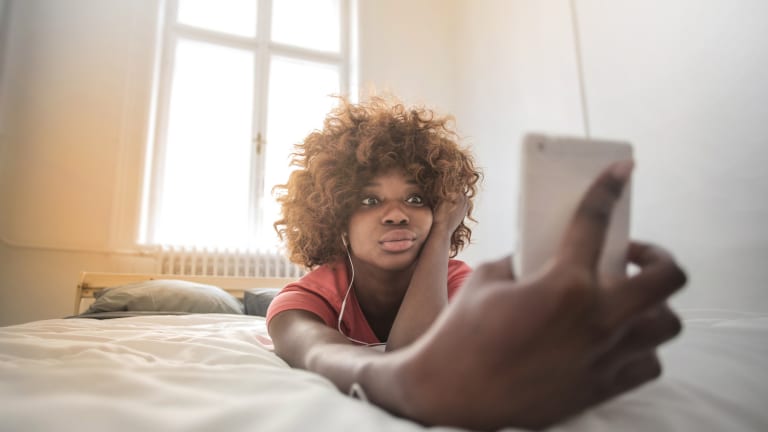 13 Things to Do at Home During the COVID-19 Pandemic, Besides Watch the News
Stuck at home during the pandemic? Here are activities that won't cause anxiety like watching the news does.
I consider myself a professional "stay-at-homer." I've been working from home without the company of colleagues via instant message for about five years. I also had a different virus a few weeks ago that took me out for about two weeks, so I know how to be home during the day. Yes, it can be a lonely existence, but it can also afford you the time to get chores done or even have some fun. Here's a list of ways to stay busy at home during the COVID-19 pandemic, because you can't sleep or work the entire time.
Stream a show, movie, or podcast
Turning on the TV is kind of a no-brainer if you're quarantined or just laying low at home, but don't just watch or listen to just anything. Chances are your daytime programming will be interrupted by an official giving a press conference (ahem, I haven't watched a full episode of Strahan, Sara & Keke since all this mess hit NYC) to convey information that could've waited until the evening news broadcast. So why increase your anxiety by watching network television. Instead, take control of your remote and watch that series or movie you've wanted to check out or is a favorite piece of entertainment. If you're a couch sleuth, you might even solve a crime by listening to a podcast, like Slow Burn which chronicles the murders and investigations of Hip Hop legends Tupac Shakur and The Notorious B.I.G.
Make cocktails or try a new recipe
When in doubt drink cocktails or eat (responsibly, of course). Everything can be purchased online, even liquor, so why not peruse Cocktail Courier for cocktail recipes from the country's top bartenders? Your kit will be delivered with everything you need to mix your own drinks. Another fun experience could be creating your own cocktail from ingredients already in your home. If you're willing to venture out (because you haven't been diagnosed with COVID-19, but are being cautious by staying home), find a new recipe you've wanted to try and purchase the ingredients from your local market. If you're avoiding people completely, you can buy groceries online. I'd recommend cooking something that is savory, comforting, and will last for a few days.
Learn a skill
Hit up the University of YouTube to learn a new skill, like hand-knitting or twerking. Just make sure the skill doesn't require supplies, or if it does, you can purchase them online. You can even watch a makeup tutorial and try out a beauty look you'd never try otherwise.
Shred, shred, shred
You know that heap of mail that's been piling up in your foyer or on your desk? Well, it's time to get to shredding. This is quite a mindless chore, so I'd advise doing it while watching TV or listening to a podcast or music.
Organize your medicine cabinet and linen closet
There's no time like a pandemic to take stock of the medications in your medicine cabinet. Not only should you responsibly discard any expired medications, but you should also stock up on any medicine you take on a daily basis. You should have at least a 30-day supply. In addition, make sure your rubbing alcohol, hydrogen peroxide, and bandage game is on-point. You might also want to consider restocking your allergy meds, anti-itch cream, and burn salves. If you're anything like me, your linen closet also deserves some attention beyond taking out towels and sheets and replacing them. Get rid of old linens that have seen better days, those hair products that weren't the miracle they were advertised to be, and anything else cramping your life. Bonus exercise: Head back to the U of YT and learn once and for all how to properly fold a fitted sheet.
Spring clean, in general
Yeah, it sucks but someone has to dust and disinfect your space. Start small by dusting and organizing all the wires around your home.
Call or FaceTime a loved one you don't often speak with
I seriously, like seriously, hate talking on the phone, but even I see the value in kicking it old school and letting someone hear my voice and vice versa. Today, I called an elderly family friend whom I speak with a few times a year, and we had one of the best conversations we've had in a while. If nothing else, the coronavirus is providing conversation fodder.
Sort your stuff to sell online
I know you've seen those PoshMark commercials, and while I doubt you will earn enough money to pay for a family vacation or a wedding like the women in the ads, you're probably sitting on a gold mine of items to sell. Take this time to put stuff aside to sell, hand wash delicate clothes, and make any repairs necessary to make your items sellable. Keep in mind, though, that if you sell anything, you will have to make a trip to the post office, so maybe hold off on posting the items online and just sort and repair.
Go through old family photos
I'm a history buff so I love going through old family photos. You can take this time to create an altar to your ancestors and/or finally draw your family tree. This will also give you the opportunity to call some of your relatives to reminisce or get more info.
Read or reread your favorite author or book series
The Bluest Eye (Toni Morrison), Things Fall Apart (Chinua Achebe), and The Fire Next Time (James Baldwin) are books that I've reread quite a few times throughout my life. I learn something new about myself and the world around me every time I read one of those books. But I also love escapism and see the value in reading a book series that has always intrigued me, like the Harry Potter books. Since most libraries allow borrowers to download books now, your next adventure is only a few clicks away.
Give yourself a facial
When was the last time you took an hour or more to pamper yourself? A multi-step and -product facial will not only occupy some time, but it will also relax you. Chances are you have everything you need in your bathroom, and you can even take a nap during the mask portion of your facial. Bonus exercise: Slather your hands in Vaseline and cover them with cotton socks during your nap. You'll wake with what feels like new hands.
Tend to your indoor garden
Got plants? I bet they could use repotting, because just like us, plants can outgrow their surroundings. But before you have your hands knuckles-deep in some soil, tend to your planters and flower pots. All you need to decorate your planters and pots is paint and/or a glue gun or some super strong glue like E6000, and ribbons, rope, buttons, foil, etc. you can find around the house.
Take a deep-dive into someone's social media
OK, OK, so this isn't exactly an activity that will make you a better person, solve world hunger, or cure COVID, but it will be entertaining if you pick the right subject. This can even be a group exercise if you and your family/friends have a group text and they're as equally nosy as you. Plus, I know your phone is in your hand right now anyway … don't forget to disinfect that bad boy first.