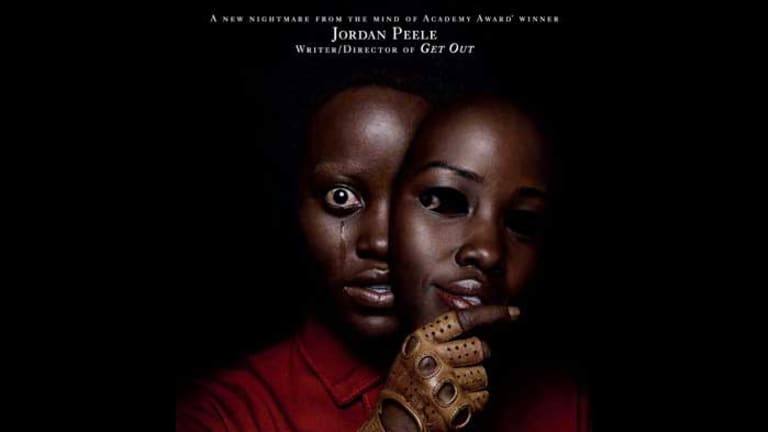 With 'Us,' Jordan Peele's Hollywood Horror Takeover is Official
Jordan Peele's Us is a must-see!
There's no question that Us is on the weekend agenda. Somebody around you has more than likely already seen it and you have to catch up. Let's be clear: Jordan Peele's Us is certainly worth the trip. No, it's not Get Out. Instead it is a fresh story that, as Ars Technica senior reporter Jennifer Ouellette argues with her headline, "should cement [Peele's] status as a master of modern horror." At the very least, it is bringing in the dollars, with opening weekend box office estimated to hit between $64 to $68 million, shattering A Quiet Place's and The Nun's notable $50.2 million and $58.3 million openings just last year.
Peele's Us begins in 1986 with a young Adelaide (Madison Curry) who has a bizarre experience out with her family at the amusement park at the Santa Cruz Beach Boardwalk that haunts her to present day. Adult Adelaide (Lupita Nyong'o) travels to her childhood home for a summer getaway with her husband Gabe Wilson (Winston Duke), teenage daughter Zora (Shahadi Wright Joseph), and middle school-age son Jason (Evan Alex). Things get uncomfortable when her husband, who is clueless about her experience, insists they visit the site of her childhood trauma.
At the beach, where they join Gabe's white male coworker, his wife, and teenage twin girls, unsettling coincidences reminiscent of her childhood occur. When Jason gets lost, Adelaide is at wit's end. After he is found and the family returns home, menacing doppelgangers of their whole unit drop by. Escaping them is a formidable challenge and that's where the horror and laughter come in.
Following the story gets interesting with lots of twists and turns. Marching towards film's end, Peele's story unravels in an intriguing way, even if it doesn't always add up. Unlike Get Out, Peele's intent isn't as easily revealed. There is no clear sunken place. At times, Peele even tends to shy away from the overt racial commentary that resonated so widely with Get Out. He is somehow trying to make a larger statement that touches on race, but is somehow bigger than race. The problem is the message gets muddled. Is the doppelganger tale one about fearing your worst self? Or is it one where the have-nots come for the haves? The lack of clarity certainly provokes debate.
Even if Us lacks Get Out's cohesive vision, it does add an undeniable freshness and innovation to the genre. With Us, Peele proves that he intends to stretch the horror lens primarily by diversifying it. The film's focus on an entirely Black family, with the children actively participating in both the horror and the family's escape, shifts the horror conversation. It also challenges its many conventions. Us is not just an adult horror story or a teenage one either. It's everything. Its world isn't all-Black, but it's not just predominantly white either. One can also argue that it's a very internal story.
It's also a triumph for its actors, with some already championing Nyong'o for a Best Actress nomination. As both Adelaide and her doppelganger Red, the protector/victim as well as aggressor, Nyong'o does more heavy-lifting than she has in any previous role. As a director, Peele clearly challenged her in ways others have not. For the first time on the big screen, she gets to play a dark character. One cannot dismiss Madison Curry either because she handles both younger versions of Adelaide and Red ably. And while awards conversation is not swirling around Duke, he succeeds in establishing his acting range by shaking off any thoughts of M'Baku typecasting. Gabe Wilson is very much the opposite of Duke's alpha male breakout performance in last year's game-changing Black Panther.
Others might have fumbled the ball or the many balls rather Peele now juggles in the wake of his newfound fame behind the camera. By dodging the sophomore jinx with Us, Peele has clearly earned the right to feed us more than we knew we wanted for many years to come. His Hollywood horror takeover is now official.