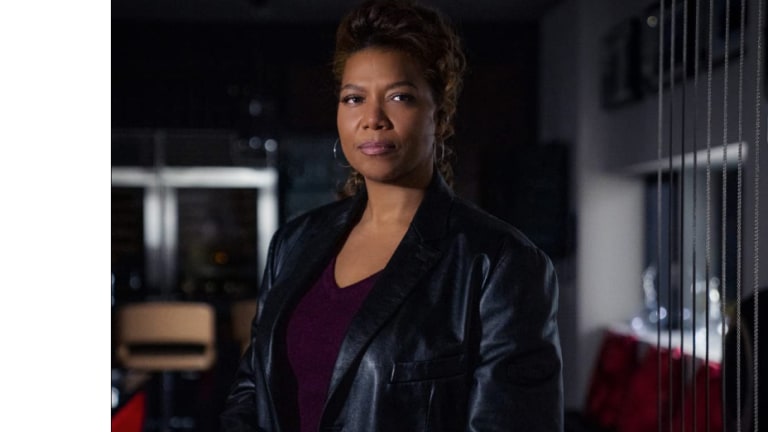 Heard on the Street: Who Are the Female Rappers Impressing Queen Latifah Today?
Rapper and actor Queen Latifah also reacts to being called the godmother of Hip Hop in the new book The Motherlode: 100+ Women Who Made Hip-Hop.
"I don't mind being the godmother. That's cool with me. I've been a goddaughter to a god-sister to a godmother to a lot of people, just by trying to connect with people. Just by trying to create a sisterhood in Hip Hop. And it's very difficult, because it's a male-dominated sport, if you will. But when we break through, we break through in a way like nobody else. For me it was always important for the sisters to stick together, and to lift each other up. So, I'll take that and I appreciate that."
"I'm a mentor to whoever wants to hear anything I have to say. I don't know if you all know this, but when I was 19 and my partner was 21, we started a management company called Flavor Unit Management, along with my mom and a couple of our friends. We managed at one point 11 Gold and Platinum artists, and this is in my 20s. So sharing information and passing it along, we find it to be a strength, not a weakness. So anytime any female artist has come to me or talked to me about how tough it is, how tough it can be in the business, I think we all relate to each other. Missy and I are very cool. We talk hours on end about different things, and I know she talks to other artists. Rapsody is one of the up and coming artists who I think is amazing. I haven't met Tierra Whack. I think she's dope. Chika, I'm just very happy to see so many female artists rhyming again because it was a drought for a minute, like a serious drought. And now it's like a lot more. There are a lot more [who] have come along. You know, Cardi, whoever's around. You know, I'm Switzerland over here. So, whenever anyone who wants to talk to me, I'm here."
— Queen Latifah, who stars in and executive produces The Equalizer reboot, reacts to being called the godmother and savior of Hip-Hop in Clover Hope's book, The Motherlode: 100+ Women Who Made Hip-Hop, while appearing on CBS's The Talk. The pioneering rapper also revealed the female rappers who have her attention right now, and said she's always willing to mentor any other woman in the Rap game who comes to her. Catch Latifah, along with Chris Noth and Lorraine Toussaint, in The Equalizer on Sunday, Feb. 7, on CBS after the Super Bowl. 
Watch Queen Latifah's interview with the co-hosts of The Talk below.