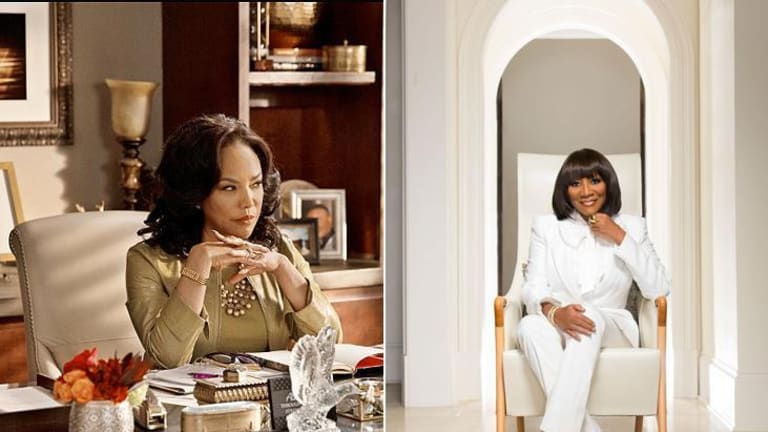 What to Expect from the Third Season of 'Greenleaf'
If you're not anticipating the return of Greenleaf for season three, there's something wrong with you.
But a couple of weekends of binge-watching will be your cure. It will be difficult, but season three seems like it will match the excitement, drama, and storytelling of past seasons. Not only is the incomparable Patti LaBelle joining the cast, but we also have the exclusive scoop from Lynn Whitfield (yes, Lady Mae, herself) on what to expect when the series returns to OWN.
LaBelle will take on the role of Maxine Patterson, "a famous Christian motivational speaker and the CEO of a global Christian self-help empire," according to a press release. Patterson is also an old college friend of Lady Mae, which makes sense because if anyone can match LaBelle's grace, style, elegance, and class, it's Whitfield. Lady Mae will seek her friend's advice and Patterson will be Mae's "greatest ally as Mae attempts to consolidate her power at Calvary."
​When we last saw Mae and Bishop (Keith David), there was trouble brewing in their marriage. Their love was being tested as a result of revelations about infidelity, as well as Rochelle Cross (LeToya Luckett) trying to get her claws in Bishop. It will be refreshing for Mae to have an ally like Patterson because she usually keeps her schemes close to her chest, only revealing bits to Bishop and no one else.
During an interview about her participation in the Red Dress Collection fashion show, Whitfield revealed what fans can expect from Greenleaf season three.
"Lady Mae and Bishop are really going to have a hard time with their relationship this year," Whitfield said exclusively to UPTOWN. "It's really rough going. We shot a scene Wednesday that … Oh my God, it was so powerful. You know, it's interesting to see a couple who's been together so long go through challenging times. So you're going to see everybody starting to figure out individually what they're about. It's a very interesting season."
Greenleaf is currently being shot in Atlanta and will return to OWN this summer.
[Main image: OWN/Derek Blanks; Secondary image: Ben Hider for OWN]