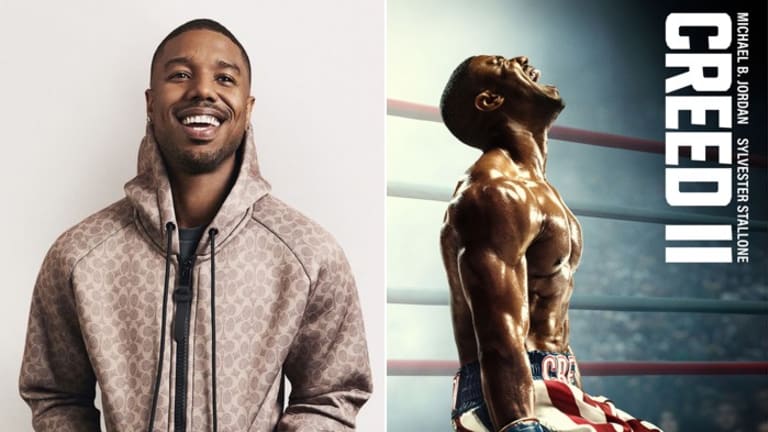 We're Going to See a Whole Lot More of Michael B. Jordan
Michael B. Jordan has inked a deal with Coach and will reprise his role of Adonis Creed in Creed II.
If you're still lamenting the death of Killmonger in the highest-grossing superhero movie in the U.S., Black Panther, don't fret because we'll be seeing a lot of the man behind the scarification. Not only has Coach tapped Michael B. Jordan as the new global face of the brand's menswear, but also the 31-year-old actor will reprise his role as Adonis Creed in Creed II, which will be released this Thanksgiving.
Jordan will have an expansive role at Coach. He will appear in the brand's advertising campaigns for clothing, accessories, and fragrance next spring, reports GQ. He'll also be involved with The Coach Foundation. While it's always enjoyable to look at Jordan, fans may also have the opportunity look like Jordan. He will work with the label's creative director Stuart Vevers on "special design projects."
"Michael is cool and authentic, and he really embodies the Coach guy," Vevers said via a press release obtained by GQ. "I've had the chance to get to know Michael over the last couple of years. He always looks great in Coach, so it felt really natural to build our relationship."
Although we won't see Jordan in any ads for Coach until spring, we'll certainly be in theaters to watch him take on an opponent from the Creed family's past, the son of the boxer who killed Adonis's dad, in Creed II come November. To whet our appetites for the impending battle in the ring, MGM and Warner Bros. have released a new poster and trailer.
Ryan Coogler didn't direct the sequel, but he and Jordan serve as executive producers, with Steven Caple Jr. at the helm. Both Sylvester Stallone and Tessa Thompson also reprise their roles in Creed II, which will be released on Wednesday, Nov. 21st.