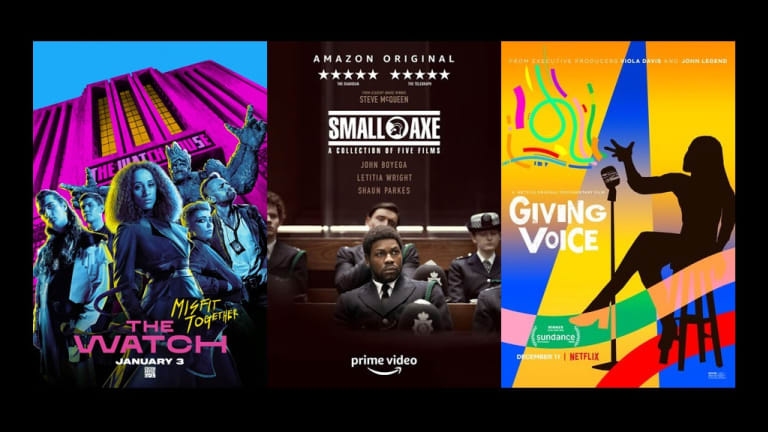 Trailer Load: What to Watch this Holiday Week [VIDEOS]
From The Watch to the Small Axe anthology to Giving Voice and more, here's the entertainment to stream this week.
With the tyranny of choice often causing indecision, choosing a series or film to stream can be a daunting task, so let us take out the guesswork. Here are the shows, shorts, and movies — including Steve McQueen's five-film anthology Small Axe — that are on our radar and we think you should watch this holiday week.
Synopsis: Winner of the 2020 "Best Diaspora Narrative Feature" at the Africa Movie Academy Awards, Joseph was shot on location in Ghana, Jamaica and Barbados and produced by Step by Step Productions with assistance from Soulidifly Productions. Joseph is a dramatic feature film about Joseph King, a young Jamaican doctor with a burning desire to re-connect to his family's roots with the Ashanti tribe in Ghana. Hardworking and popular with everyone, Joseph is haunted by childhood memories of his beloved grandfather in Accompong, a historical Maroon village in Jamaica from which his family originated. Joseph's father, Christopher King, is dismissive of any idea that connects Jamaicans with Africa. He tries to steer Joseph away from ideas of going "Back to Africa," because he considers it a backward step for modern, successful people like his family – all doctors and owners of a leading medical facility. The quest to "go home" creates family conflict. Joseph's curiosity about Africa is fueled even more by Kweku, his friend from medical school, who would boast about his homeland Ghana. Kweku's stories contradict with what Joseph hears and sees about Africa in the media, making him even more determined to make his own sojourn to Africa. A serious tragedy, a chance meeting and an unfulfilled promise drive Joseph towards an uncertain destiny.
Release date: Available now
Where: Prime Video and Vimeo
Starring: Kevin Burton, Chris McFarlane, Mawuli Gavor, Alison Hinds, Shontelle Layne, Stogie Kenyatta, and Sika Osei.
The Unity Ride
Synopsis: The Unity Ride is a documentary film that follows cyclists Jonathan Williams and Andre Block as they embark on a 2,700-mile journey from New Orleans to Toronto to trace one path of the Underground Railroad. The film shows how two men, from two different backgrounds and two opposing political leanings, explored the pursuit of freedom and became the best of friends. They learned what was, what is, and what could be. The documentary is about owning the middle lane, accepting each other as equals and going forward together.
Release date: Available now
Where: Prime Video and Vimeo
Produced by: Soulidifly in partnership with Gunn'it Productions
Wonder Woman
Synopsis: Rewind to the 1980s as Wonder Woman's next big screen adventure finds her facing two all-new foes: Max Lord and The Cheetah.
Release date: Available now
Where: HBO Max
Starring: Gal Gadot and Chris Pine
Sylvie's Love
Synopsis: In Sylvie's Love, the jazz is smooth and the air sultry in the hot New York summer of 1957. Robert, a saxophonist, spends late nights playing behind a less-talented but well-known bandleader, as member of a jazz quartet. Sylvie, who dreams of a career in television, spends her summer days helping around her father's record store, as she waits for her fiancé to return from war. When Robert takes a part-time job at the record store, the two begin a friendship that sparks a deep passion in each of them unlike anything they have felt before. As the summer winds down, life takes them in different directions, bringing their relationship to an end. Years pass, Sylvie's career as a TV producer blossoms, while Robert has to come to terms with what the age of Motown is doing to the popularity of Jazz. In a chance meeting, Sylvie and Robert cross paths again, only to find that while their lives have changed, their feelings for each other remain the same. Writer/director Eugene Ashe combines romance and music into a sweeping story that brings together changing times, a changing culture, and the true price of love.
Release date: Available now
Where: Prime Video
Starring: Nnamdi Asomugha and Tessa Thompson
Da Yie/Good Night
Synopsis: A foreigner in Ghana gets an assignment from his gang to find kids for a risky job that will take place later that evening. While spending the day with two energetic children, Prince and Matilda, he starts to question his decision and how it will affect their lives.
Release date: Available now
Where: Vimeo
Director: Anthony Nti
The Watch
Synopsis: The Watch follows an unlikely group of misfits, The City Watch, who come together and find the guts to save the world, surprising even themselves in the process. The comedic and thrilling series pits trolls, werewolves, wizards, and other improbable heroes against an evil plot to resurrect a great dragon which would lead to the destruction of life as they know it.
Release date: Early access Dec. 31
Where: AMC+ (subsequent episodes on BBC America)
Starring: Richard Dormer, Lara Rossi, Adam Hugill, Marama Corlett, Jo Eaton-Kent, and Wendell Pierce
Small Axe: Mangrove
Synopsis: Mangrove centers on Frank Crichlow, the owner of Notting Hill's Caribbean restaurant, Mangrove, a lively community base for locals, intellectuals and activists. In a reign of racist terror, the local police raid Mangrove time after time, making Frank and the local community take to the streets in peaceful protest in 1970. When nine men and women, including Frank and leader of the British Black Panther Movement Altheia Jones-LeCointe, and activist Darcus Howe, are wrongly arrested and charged with incitement to riot, a highly publicized trial ensues, leading to hard-fought win for those fighting against discrimination.
Release date: Available now
Where: Prime Video
Starring: Shaun Parkes, Letitia Wright, Malachi Kirby, Rochenda Sandall, Jack Lowden, Sam Spruell, Gershwyn Eustache, Nathaniel Martello-White, Richie Campbell, Jumayn Hunter, and Gary Beadle
Small Axe: Lovers Rock
Synopsis: Lovers Rock tells a fictional story of young love at a Blues party in 1980. The film is an ode to the romantic reggae genre called "Lovers Rock" and to the Black youth who found freedom and love in its sound in London house parties, when they were unwelcome in white nightclubs.
Release date: Available now
Where: Prime Video
Starring: Amarah-Jae St. Aubyn, Michael Ward, Shaniqua Okwok, Kedar Williams-Stirling, Ellis George, Alexander James-Blake, Kadeem Ramsay, Francis Lovehall, and Daniel Francis-Swaby
Small Axe: Education
Synopsis: Education is the coming of age story of 12-year-old Kingsley, a boy with a fascination for astronauts and rockets. When Kingsley is called to the headmaster's office for disruptive behavior in class, he is shocked to discover his transfer to a school for those with "special needs." Distracted by working two jobs, his parents are unaware of what was an unofficial segregation policy at play, preventing many Black children from having the education they deserve until a group of West Indian women take matters into their own hands.
Release date: Available now
Where: Prime Video
Starring: Kenyah Sandy, Sharlene Whyte, Daniel Francis, Tamara Lawrence, and Josette Simon
Small Axe: Red, White and Blue
Synopsis: Red, White and Blue tells the true story of Leroy Logan, a young forensic scientist with a yearning to do more than his solitary laboratory work. When he sees his father assaulted by two policemen, he finds himself driven to revisiting a childhood ambition to become a police officer; an ambition borne from the naïve hope of wanting to change racist attitudes from within. First, Leroy has to face the consequences of his father's disapproval, never mind the blatant racism he finds in his new role as a despised yet exemplary Constable in the Metropolitan Police Force.
Release date: Available now
Where: Prime Video
Starring: John Boyega, Steve Toussaint, Tyrone Huntley, Nathan Vidal, and Jaden Oshenye
Small Axe: Alex Wheatle
Synopsis: Alex Wheatle follows the true story of award-winning writer, Alex Wheatle, from a young boy through his early adult years. Having spent his childhood in a mostly white institutional care home with no love or family, he finally finds not only a sense of community for the first time in Brixton, but his identity and ability to grow his passion for music and DJing. When he is thrown in prison during the Brixton Uprising of 1981, he confronts his past and sees a path to healing.
Release date: Available now
Where: Prime Video
Starring: Sheyi Cole and Jonathan Jules
Museum Town
Synopsis: Museum Town, about the creation of MASS MoCA, in North Adams, MA, explores the concept of art and culture as a means for economic revitalization and development. The film also looks at the artistic process itself—not only how museums work but how artists create, tracking celebrated artist Nick Cave as he builds the monumental installation "Until," a reflection on gun violence, race, and the American Dream.
Release date: Available now
Where: Screen via Kino Marquee
Director: Jennifer Trainer
Giving Voice
Synopsis: A new generation of performers is discovered in Giving Voice, which follows the emotional journey of six students as they advance through the high-stakes August Wilson Monologue Competition, an event which celebrates one of America's preeminent playwrights. Every year, thousands of students from twelve cities across the United States perform the Pulitzer Prize winner's work for a shot to perform on Broadway.
Release date: Available now
Where: Netflix
Featuring: Viola Davis and Denzel Washington
Creator Spotlights
Synopsis: The Creator Spotlight series turns its focus onto four huge YouTube stars. Deestroying, Kristopher London, Mr. Kate, and Shalom Blac are each going on a unique journey that will show a side of themselves their fans have never seen before. Discover the creators you love in a brand new light!
Release date: Available now
Where: YouTube
Featuring: Deestroying, Shalom Blac, Kristopher London, and Mr. Kate
Black Narcissus
Synopsis: Mopu, Himalayas, 1934. A remote clifftop palace once known as the 'House of Women' holds many dark secrets. When the young nuns of St. Faith attempt to establish a mission there, its haunting mysteries awaken forbidden desires that seem destined to repeat a terrible tragedy.
Release date: Available now
Where: FX and Hulu
Starring: Gemma Arterton, Aisling Franciosi, Nila Aaila, Diana Rigg, Jim Broadbent, Gina McKee, Rosie Cavaliero, Patsy Ferran, and Karen Bryson