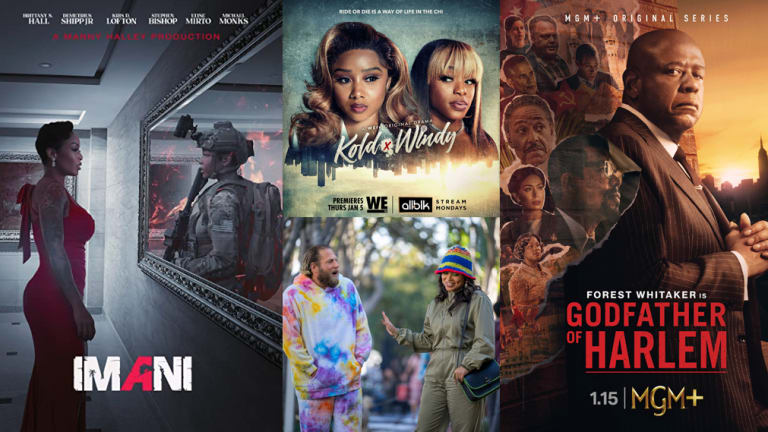 Trailer Load: What to Stream This January
Here are the trailers for the action-packed, drama-filled, and/or informative movies, series, and documentaries that will be released in January 2023.
January is the perfect time to get back to the drama on our screens, now that we've had our fill of family drama during the holidays. Here's what to stream this January ... 
Imani
Synopsis: A year after what she thinks was a car accident, a seemingly normal wife and mother slowly recovers from amnesia, only to learn that she is actually a highly sought after Army Special Ops Lieutenant who holds a secret that would blow the lid on a widespread government conspiracy.
Release date: Jan. 5, 2023
Where: BET and BET+
Starring: Brittany Hall, Demetrius Shipp Jr., Stephen Bishop, Kris D. Lofton, and Elyse Mirto
Godfather of Harlem, season 3
Synopsis: Season Three finds Bumpy continuing to battle for control of Harlem with other aspirants to the throne, namely the Cuban Mafia from neighboring Spanish Harlem. Taking on the Cuban mob will put Bumpy, his loved ones, and his community in the crosshairs of not only the rival Italians, but ruthless Latin assassins and, ultimately, the CIA. Godfather of Harlem is a collision of the criminal underworld and the civil rights movement during one of the most tumultuous times in American history.
Release date: Jan. 15, 2023
Where: MGM+
Starring: Forest Whitaker, Vincent D'Onofrio, Ilfenesh Hadera, Antoinette Crowe-Legacy, and Giancarlo Esposito, Michael Raymond-James, Joe Colombo Jason Alan Carvell, and Markuann Smith
Finding Your Roots, season 9
Synopsis: Renowned scholar Dr. Henry Louis Gates, Jr. returns for an all-new season of Finding Your Roots. Over the course of ten episodes, Gates uses genealogical detective work and cutting-edge DNA analysis to guide twenty-one influential guests through the branches of their family trees, uncovering buried secrets and inspiring stories of long-forgotten ancestors. As the pages turn in each guest's book of life, emotional revelations give way to complex questions about individual and collective identity. Through Gates' discerning touch, his guests learn what every family history shares—love, courage, and sacrifice—human experiences that transcend borders and merge to form an American root system fortified by its diversity. Along the way, viewers are transported from islands off the coast of Africa to the mountains of Korea; from the high plains of Mexico to rural villages in Scotland; from Eastern European shtetls to the slave plantations of the antebellum South—all in search of the scraps of paper and fragments of DNA that bring our guests' ancestors to life. 
Release date: Jan. 3, 2023
Where: PBS (check local listings)
Featuring: The season features actors Jamie Chung, BrianCox, Billy Crudup, Claire Danes, Jeff Daniels, Viola Davis, David Duchovny, Richard Kind, Joe Manganiello, Tamera Mowry-Housley, Edward Norton, Julia Roberts and Danny Trejo; pop icon Cyndi Lauper; comedians Carol Burnett and Niecy Nash; athlete and sportscaster Tony Gonzalez; journalists Jim Acosta and Van Jones; activist Angela Y. Davis; and statesman Jeh Johnson.
The Playboy Murders
Synopsis: The Playboy Murders is an anthology series recounting murders and mysteries that intersect with the world of Playboy. This six-part series is hosted and executive produced by former Playboy Bunny Holly Madison.
Release date: Jan. 23, 2023
Where: ID
Featuring: Holly Madison
Kold & Windy
Synopsis: A remale rap duo navigates the dangers of the drill music game and the streets in Chicago.
Release date: Jan. 5, 2023
Where: WE tv
Starring: Sh'Kia, Nijah Brenea, Fred Thomas Jr., Brely Evans, Eian O'Brien, and Kaja Brielle
Growing Up Hip Hop, season 7
Synopsis: The 50th anniversary of Hip Hop brings Bone Thugs-n-Harmony, Treach, and Kurupt onto one stage. A new baby is coming, but not everyone thinks it's good news. Meanwhile, a long-held secret romance is exposed, and an old rival makes a dramatic return.
Release date: Jan. 5, 2023
Where: WE tv
Featuring: Growing Up Hip Hop follows the next generation of hip hop royalty as they attempt to step outside the shadow of their famous families.
Ann Rice's Mayfair Witches
Synopsis: Based on Anne Rice's Lives of the Mayfair Witches, Mayfair Witches is an exploration of female power and the mortal implications of our decisions. Mayfair Witches focuses on an intuitive young neurosurgeon who discovers that she is the unlikely heir to a family of witches. As she grapples with her newfound powers, she must contend with a sinister presence that has haunted her family for generations.
Release date: Jan. 8, 2023
Where: AMC+ and AMC
Starring: Alexandra Daddario, Jack Huston, and Tongayi Chirisa
Ariel Phenomenon
Synopsis: Ariel Phenomenon is about the search for acceptance as told through accounts of an African extraterrestrial encounter witnessed by over sixty schoolchildren in 1994. As a Harvard professor, a BBC war reporter, and past students investigate, they struggle to answer the question: "What happens when you experience something so extraordinary that nobody believes you?"
Release date: Available now
Where: Major digital providers
Written by: Randall Nickerson, Christopher Seward
Grails: When Sneakers Change the Game
Synopsis: Streetwear comes to the golf course as up-and-coming PGA professionals and budding fashion entrepreneurs launch the first-ever golf shoe collaboration with Nike's Jordan brand.
Release date: Available now
Where: Hulu
Directed by: Hannah Storm
The Price of Glee
Synopsis: The cultural phenomenon and hit musical series, Glee, catapulted a cast of relative unknowns into international superstardom and literally rocked pop culture. But, the show that sparked a new era of acceptance was also saddled with extreme devastation on the inside. Endless scandals, tabloid gossip and fatal tragedies plagued the rising stars on what was supposed to be the most joyful show on television. Now, ID pulls back the curtain on "Glee" to explore the harsh reality of fame with the three-part limited series.
Release date: Jan. 16, 2023
Where: ID and discovery+
Produced by: Ample Entertainment for Investigation Discovery and discovery+
Ready to Love, season 7
Synopsis: This season the show returns to Miami, where an all-new cast of 16 hopeful singles will meet and – over the course of 14 weekly episodes – interact, date, eliminate unfavorable prospects, and ultimately determine which are truly ready to love.
Release date: Jan. 6, 2023
Where: OWN
Featuring: Tommy Miles
Plane
Synopsis: In the white-knuckle action movie Plane, pilot Brodie Torrance saves his passengers from a lightning strike by making a risky landing on a war-torn island – only to find that surviving the landing was just the beginning. When most of the passengers are taken hostage by dangerous rebels, the only person Torrance can count on for help is Louis Gaspare, an accused murderer who was being transported by the FBI. In order to rescue the passengers, Torrance will need Gaspare's help, and will learn there's more to Gaspare than meets the eye.
Release date: Jan. 13, 2023
Where: Theaters
Starring: Gerard Butler, Mike Colter, Yoson An, Daniella Pineda, Paul Ben-Victor, Remi Adeleke, Joey Slotnick, Evan Dane Taylor,  Claro de los Reyes, and Tony Goldwyn
There's Something Wrong With the Children
Synopsis: When Margaret and Ben take a weekend trip with longtime friends Ellie and Thomas and their two young children, Ben begins to suspect something supernatural is occurring when the kids behave strangely after disappearing into the woods overnight.
Release date: Jan. 17, 2023
Where: Digital and On Demand; MGM+ (March 17, 2023)
Starring: Zach Gilford, Amanda Crew, and Alisha Wainwright
You People
Synopsis: A new couple fall in love and find themselves confronting societal expectations and generational differences amidst their families clashing cultures, in this comedy from Kenya Barris.
Release date: Jan. 27, 2023
Where: Netflix
Starring: Jonah Hill, Lauren London, Eddie Murphy, Nia Long, Julia Louis-Dreyfus, and David Duchovny
Dionne Warwick: Don't Make Me Over
Synopsis: Chronicling the iconic singer Dionne Warwick's six-decade career in both music and Black and LGBTQ activism. The ultimate portrait of the legend, featuring an all star line up of talking heads including Quincy Jones, Burt Bacharach, Bill Clinton, Clive Davis, Gladys Knight, Cissy Houston, Elton John, Damon Elliott, Kenneth Cole, Berry Gordy, Jerry Blavat, Snoop Dogg, and Smokey Robinson.
Release date: Jan. 1, 2023
Where: CNN
Directed by: Dave Wooley
Hunters, final season
Synopsis: After an accident derails their exploits in Europe, The Hunters must band back together to hunt down history's most infamous Nazi — Adolf Hitler — who's hiding in South America. Meanwhile, a look to the past reveals Meyer Offerman encountering a dangerous threat that could unravel his secret and expose his true identity, with explosive reverberations for our Hunters.
Release date: Jan. 13, 2023
Where: Prime Video
Starring: Al Pacino, Jennifer Jason Leigh, Logan Lerman, Jerrika Hinton, Lena Olin, Josh Radnor, Tiffany Boone, Carol Kane, Louis Ozawa, Kate Mulvany, and Greg Austin