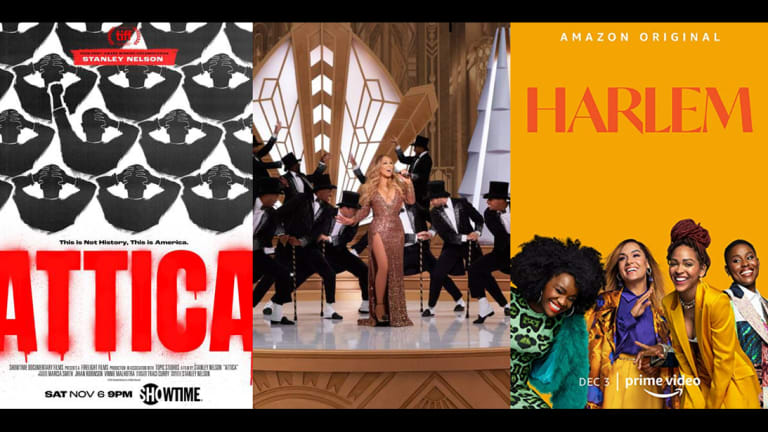 Trailer Load: What to Stream This December
We've made figuring out what to stream this December a less daunting task with our handy guide of film premieres and new and returning series.
There's nothing like cozying up under a fluffy blanket with a mug of something warm in your hand and watching a film or series on a frigid winter day. However, figuring out what will hold your attention can be difficult because there's just so much to watch. To help, we've put together a guide of what to stream this December, from Stanley Nelson's reassessment of the Attica prison uprising to the highly-anticipated premiere of Harlem to Mariah Carey spreading holiday cheer like only she knows how.
ATTICA
Synopsis: On Sept. 9, 1971, inmates at the Attica Correctional Facility seized part of the prison and took 39 guards as hostages to demand more humane treatment. Now on the 50th anniversary, director Stanley Nelson mines new interviews and archives to examine one of the most shocking incidents in US history.
Release date: Available now
Where: Showtime
Directed by: Stanley Nelson
HIP HOP 50: VIDEO MUSIC BOX
Synopsis: Showtime has officially announced the launch date for its highly anticipated, multi-year Hip Hop celebration — Hip Hop 50. The initiative will kick off on December 3rd with the premiere of three new documentaries including VIDEO MUSIC BOX (directed by Nasir "Nas" Jones), followed by RICKY POWELL: THE INDIVIDUALIST on December 10th, and ROLLING LIKE THUNDER on December 17th.
VIDEO MUSIC BOX will chronicle the longest-running music video show in the world, hosted by visionary DJ and MC Ralph McDaniels. Nas will make his directorial debut with the film. 
Release date: December 3rd
Where: Showtime
Featuring: Roxanne Shante, Sean "P. Diddy" Combs, Chuck Chillout, Mike Tyson, and more
Harlem
Synopsis: From writer Tracy Oliver (Girls Trip), Harlem is a new comedy following a group of stylish and ambitious best girlfriends in Harlem NYC, the mecca of Black culture in America. Camille is a popular young anthropology professor at Columbia with extensive knowledge of the dating norms of many cultures, but has a hard time navigating her own love life; Tye is a successful, queer dating app creator who prefers keeping vulnerability — and romantic partners — at arm's length; Quinn is a hopeless romantic and trust fund fashion designer who is trying to give back to the world while running a struggling business; Angie is a confident, vibrant, and filter-free singer and actress who also lives rent-free and fabulously with Quinn. Together, they level up from their 20s into the next phase of their careers, relationships, and big city dreams.
Release date: December 3rd
Where: Prime Video
Starring: Meagan Good, Jerrie Johnson, Grace Byers, Shoniqua Shandai, and Whoopi Goldberg
The Slow Hustle
Synopsis: The Slow Hustle, a feature documentary directed by Sonja Sohn (HBO's Baltimore Rising, The Wire), chronicles the still unsolved death of Baltimore police detective Sean Suiter, fatally shot in the head in 2017 while in the line of duty, and explores the ongoing speculation about what really happened that day. With candid interviews from members of the Baltimore P.D., Suiter's widow and children, journalists committed to uncovering the truth, lawyers and political leaders, THE SLOW HUSTLE examines the continuing mystery surrounding Suiter's death and the multiple theories that emerge in the investigation of the case, including that Suiter's death was a calculated murder hit or a suicide. Ultimately, the journey reveals how the culture of corruption within the ranks of the Baltimore police force contributed to the destruction of the public's trust and impacted the police department's ability to solve a shooting death of one of its own. The unsolved case also sparked far-reaching implications for a city already grappling with the complexities of policing in contemporary, urban America.
Release date: December 7th
Where: HBO
Executive producers: Marc Levin, Kary Antholis, and Sonja Sohn
CITIZEN ASHE
Synopsis: Directors Rex Miller and Sam Pollard explore the enduring legacy of tennis great and humanitarian Arthur Ashe in a feature documentary as elegant, meaningful, and poignant as the life he lived. Ashe's widow, brother, friends from his childhood in Richmond to his Grand Slam tournament playing and coaching days, as well as confidantes that nurtured his personal evolution from sports legend to global activist, describe the key events that shaped Ashe's quiet determination to "use what he had to do what he could."
Release date: December 3rd (NYC's Quad Cinema); December 10th (LA's Laemmle Royal)
Where: Theaters
Directed by: Rex Miller and Sam Pollard
The Hunt For The Chicago Strangler
Synopsis: In one of America's most iconic cities, a shocking pattern of murder has been unfolding for more than two decades. Since 1999, 51 women — predominantly Black — have been found strangled across Chicago, their bodies dumped in garbage bins, alleyways, and abandoned buildings. To this day all but one of the cases remain unsolved, leading many to believe there is a serial killer — or killers — targeting women in Chicago. Through intimate interviews with families, activists, experts, police, and even survivors, The Hunt For The Chicago Strangler remembers the women whose lives were taken and explores the close-knit communities that have been victimized by fear and loss, showcasing the devastating emotional toll that these unsolved crimes have taken as they continue to demand answers.
Release date: December 3rd
Where: discovery+
Narrated by: Tonya Pinkins
Mariah's Christmas: The Magic Continues
Synopsis: The highly anticipated holiday special will reveal the first and only performance of the multi-Grammy Award-winning global icon's new single, "Fall in Love at Christmas." Mariah Carey is joined by Grammy-nominated worldwide artist Khalid and Grammy-winning legend Kirk Franklin, as they bring the spirit of Christmas to fans around the world. The Queen of Christmas will also ring in the holidays with a dazzling, new rendition of fan favorite, "Christmas (Baby Please Come Home)."
Mariah's Christmas: The Magic Continues will also feature an exclusive interview with Apple Music's Zane Lowe and Carey, along with her 10-year-old twins, son Moroccan and daughter Monroe, as they share favorite holiday moments, and Carey celebrates her beloved holiday classic, "All I Want For Christmas Is You," and Apple TV+'s perennial smash hit, Mariah Carey's Magical Christmas Special.
Release date: December 3rd
Where: Apple TV+
Top Class: The Life and Times of the Sierra Canyon Trailblazers, Season 2
Synopsis: In this emotionally charged second season, the story picks up after a quiet 12 months without prep sports. The six-part docuseries will take viewers on a journey as the Sierra Canyon Trailblazers emerge to resume their quest for victory after the abrupt end of their 2020 campaign to repeat as California state champions. Sierra Canyon will look to earn their third straight Southern California regional title with a squad of top Division-I prospects—Amari Bailey, Shy Odom, Ramel Lloyd Jr., Bronny James, Ryan Grande, and Dylan Metoyer.
Release date: December 17th
Where: IMDb TV
Executive producers: LeBron James, Maverick Carter, Jamal Henderson, Devin Johnson, and Philip Byron
Tab Time
Synopsis: The new ten-episode weekly preschool show, Tab Time stars Tabitha Brown, an actress, vegan foodie, and mother, also known as "America's mom," who has become one of the most visible social media personalities today. Tabitha or "Ms. Tab" as the kids call her, taps into her natural capabilities as a cook, storyteller, mom, and motivational leader, to teach children how to live their best life. Each episode promises a celebrity guest as a Super Cool Expert in Tab's Lab and two children who join Ms. Tab and DJ Khrafty (Jermaine Fowler) for craft time activities that kids can also do at home.
Release date: Available now
Where: Tabitha Brown YouTube Channel; YouTube Kids
Featuring: Jordana Brewster, Karamo Brown, Percy Daggs, Cynthia Erivo, Cheryl Hines, Lil Rel Hower, Manny Jacinto, Shantira Jackson, Yvonne Orji, Dewayne Perkins, and Michael Steger
The Great Soul Food Cook-Off
Synopsis: The Great Soul Food Cook-Off is an arc'd cooking competition that celebrates the contributions from Black cooks and Black cooking traditions that have shaped the backbone of American food. Eight professional chefs from across the country battle through challenges that highlight the past and present of Black food in America, but only one competitor will take home the grand prize of $50,000. This new competition series is a celebration of standout soul food chefs with dreams of winning as bold as the flavors on their plates.
Release date: Available now; December 18th finale
Where: OWN via discovery+
Judges: Kardea Brown, Eric Adjepong, and Melba Wilson
Anne Boleyn
Synopsis: Chronicling Anne Boleyn's infamous downfall and execution, the series reimagines the final months of the eponymous Queen's life as she struggles to secure a future for her daughter and to challenge the powerful patriarchy closing in around her. Anne Boleyn depicts the key moments that cause Anne to topple, unpacking her immense strength, her fatal vulnerabilities, and her determination to be an equal among men.
Release date: December 9th
Where: AMC+
Starring: Jodie Turner-Smith, Paapa Essiedu, Mark Stanley, and Lola Petticrew
The Matrix Resurrections
Synopsis: Unknown
Release date: December 22nd
Where: Theaters
Starring: Keanu Reeves, Carrie-Anne Moss, Yahya Abdul-Mateen II, Jada Pinkett Smith, Neil Patrick Harris, and more
Encounter
Synopsis: A decorated Marine goes on a rescue mission to save his two young sons from a mysterious threat. As their journey takes them in increasingly dangerous directions, the boys will need to leave their childhoods behind.
Release date: December 10th
Where: Prime Video
Starring: Riz Ahmed, Octavia Spencer, Rory Cochrane, Lucian-River Chauhan, and Aditya Geddada
FORTRESS
Synopsis: In this dazzling action cyber-thriller, Bruce Willis (Pulp Fiction) plays Robert, a retired CIA agent living at a secret resort in the woods. One day, his estranged son drives to the camp for a visit — but he's followed by Robert's old nemesis, Balzary (Chad Michael Murray, One Tree Hill). As the site is besieged by Balzary's attack squad, father and son retreat to a high-tech bunker. But are its steel walls and advanced weapons powerful enough to match Balzary's bloodthirsty plans for revenge?
Release date: December 17th
Where: Select theaters and On Demand
Starring: Jesse Metcalfe, Bruce Willis, Chad Michael Murray, Shannen Doherty, and Ser'Darius Blain
FRUITCAKE FRAUD
Synopsis: Over the course of nine years, a whopping $17 million was embezzled from Corsicana, Texas's revered Collin Street Bakery, the world's most famous purveyor of Fruitcake. This documentary takes viewers to the heart of the small town rocked by the scam.
Release date: Streaming now
Where: discovery+
Venus and Serena
Synopsis: Venus and Serena takes an unfiltered look into the remarkable lives of the greatest sister-act professional tennis has ever seen. In a sport where they were not welcomed, the indomitable Williams sisters faced the opposition with grace and courage not only breaking new ground for female and African American athletes everywhere, but dominating the women's game for over a decade. The film tells the inspiring story of how these two women, against all odds, but with the help of visionary parents, made it to the top. Venus and Serena also explores the struggle of these two aging superstars during the 2011 tennis season as they battle life and career-threatening health problems. In Venus and Serena we gain unprecedented access into the sisters' lives — both in the spotlight and behind closed doors — and we watch as they draw their greatest strengths from one another to overcome countless adversities.
Release date: Available now
Where: Magnolia Selects
Directors: Maiken Baird and Michelle Major