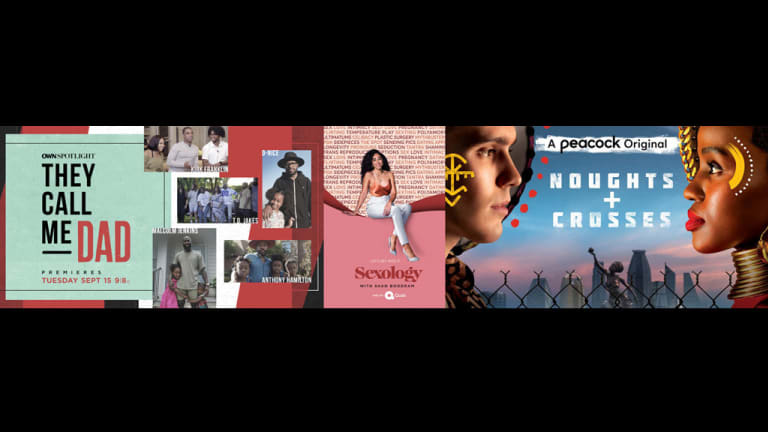 Trailer Load: 'They Call Me Dad,' 'Sexology,' 'NOUGHTS + CROSSES' & More
Here are the films, series, and podcast that should be on your radar this season.
A bevy of documentaries will be released this fall, including an investigation into Jamal Khashoggi's killing, a chronicle of Billie Holiday's life, a celebration of the full humanity of Black men and boys in America, and examination of Russia's interference into the 2016 presidential election. Also, be sure to watch the trailers for Baratunde Thurston's new podcast that examines the word "citizen" as a verb, OWN's appreciation for Black fatherhood, certified sexologist Shan Boodram's guide through modern love and attraction, and the TV-adaptation of British author Malorie Blackman's award-winning young adult series that wonders what life would be like if Africa had colonized the Earth.
​
Soulmates
Synopsis: Written by Emmy Award-winner, co-creator, and executive producer Will Bridges (Stranger Things, Black Mirror) with co-creator and executive producer Brett Goldstein (Ted Lasso, Superbob, Adult Life Skills), Soulmates is set 15 years into the future, when science has made a discovery that changes the lives of everyone on the planet – a test that unequivocally tells you who your soulmate is. Each of the six one-hour episodes will feature a different cast and explore an entirely new story around discovering (or opting not to discover) the results of this new test and the impact of those results on a myriad of relationships.
Release date: Oct. 5, 2020
Where: AMC
Featuring: Sarah Snook, Kingsley Ben-Adir, David Costabile, Sonya Cassidy, Charlie Heaton, Malin Akerman, Bill Skarsgård, Betsy Brandt, JJ Feild, Laia Costa, Shamier Anderson, Georgina Campbell, and Nathan Stewart-Jarrett
​
DUNE
Synopsis: Feature adaptation of Frank Herbert's science fiction novel, about the son of a noble family entrusted with the protection of the most valuable asset and most vital element in the galaxy.
Release date: Expected Dec. 18, 2020
Where: Theaters
Starring: Zendaya, Rebecca Ferguson, and Timothée Chalamet
​
KINGDOM OF SILENCE
Synopsis: With the killing of Jamal Khashoggi as a launching point, KINGDOM OF SILENCE will explore the history between the U.S. and Saudi Arabia in the decades leading up to today's troubling interactions between the Trump administration and Saudi Crown Prince Mohammed bin Salman. In the process, the film shines new light on Khashoggi's remarkable journey – from the battlefields of Afghanistan to the halls of power in Riyadh and Washington, from the Arab Spring to the rise of Saudi Arabia's new Crown Prince.
Release date: Oct. 2, 2020
Where: Showtime
Director: Rick Rowley
​
How to Citizen with Baratunde
Synopsis: How To Citizen with Baratunde re-imagines the word "citizen" as a verb and reminds us how to wield our collective power. With humor and empathy, Baratunde explores societal topics that affect us all, speaks with people using their relationships and power for the benefit of the many, and offers audience members ways to participate. With so much media focused on what is wrong with our society, this show focuses on what is right and how to build on it. Our democratic experiment is up for grabs, and we the people will decide, through our action or inaction, where we go next.
Release date: Available now
Where: iHeartRadio app, Apple Podcasts, and wherever you listen to podcasts
Featuring: Baratunde Thurston
​
BILLIE
Synopsis: Crafted from extraordinary unheard interviews and restoring key performances into color for the first time, BILLIE is the story of the singer who changed the face of American music, and the journalist who died trying to tell it.
Release date: Nov. 13, 2020
Where: Theaters and virtual cinema
Featuring: Billie Holiday, Linda Lipnak Kuehl, Count Basie, Tony Bennett, Sylvia Syms
​
Cut Throat City
Synopsis: After Hurricane Katrina, four boyhood friends return to NOLA's Lower Ninth Ward. As FEMA fails to provide aid, they reluctantly turn to a local gangster for help. When the job tanks, they must outrun -- and outsmart -- a system rife with corruption.
Release date: Oct. 6, 2020; Oct. 20, 2020
Where: Digital (10/6); Blu-Ray Combo Pack & DVD (10/20)
Director: RZA
Starring: Wesley Snipes, Tip "T.I." Harris, Terrence Howard, Kat Graham, Ethan Hawke, and Isaiah Washington
​
Sexology with Shan Boodram
Synopsis: In Sexology with Shan Boodram, certified sexologist Shan Boodram guides you through the often confusing world of love and attraction. Mixing inspired, encouraging advice with anecdotes from her own relationships, Boodram provides thoughtful insight into the hottest topics in modern romance, including finding love during a pandemic, virtual first impressions, and sharing a living space with a lover. As sex and relationships enter uncharted territory, Boodram won't let love leave you behind.
Release date: Available now
Where: Quibi
Featuring: Shan Boodram
​
Welcome to the Blumhouse
Synopsis: BLACK BOX, EVIL EYE, THE LIE, and NOCTURNE are the first four of eight films in the "Welcome to the Blumhouse."
Release date: October 2020
Where: Amazon Prime
​
NOUGHTS + CROSSES
Synopsis: Adapted from the first book in celebrated British author Malorie Blackman's award-winning breakthrough YA series, NOUGHTS + CROSSES imagines an alternate universe in which history happened in racial reverse. In this world, Africa – or "Aprica" – invaded Europe centuries ago, enslaving its people. In present-day London, "Albion," slavery is an institution of the past, but Jim Crow-esque segregation laws maintain the power dynamic: a ruling class of Black "Crosses" control the country's politics, wealth and culture over an oppressed, impoverished underclass of white "Noughts" who are at the brink of revolt. Against this backdrop, a forbidden love story unfolds.
Release date: Available now
Where: Peacock
Starring: Masali Baduza, Jack Rowan, Jonathan Ajayi, Helen Baxendale, Paterson Joseph, Josh Dylan, Shaun Dingwall, Jonathan Ajayi, Kike Brimah, Rakie Ayola, Bonnie Mbuli, and Ian Hart
​
OWN Spotlight: They Call Me Dad
Synopsis: Anthony Hamilton, D-Nice, Malcolm Jenkins, Kirk Franklin, and T.D. Jakes discuss the beauty of fatherhood.
Release date: Sept. 15, 2020
Where: OWN
Featuring: Meagan Good, Laila Ali, and Sarah Jakes Roberts
​
Agents of Chaos
Synopsis: For some politicians chaos isn't something to fear, it's just part of the game. Directed by Academy Award-winner Alex Gibney, Agents of Chaos, a two-part documentary examining Russia's interference in the 2016 U.S. presidential election.
Release date: Sept. 23, 2020
Where: HBO and HBO Max
Directed by: Alex Gibney
​
ANTHONY
Synopsis: In 2005, 18-year-old Black student Anthony Walker was murdered in an unprovoked, racially motivated attack in Liverpool that shocked the nation. ANTHONY is a powerful feature film that examines the impact of Walker's murder by exploring what may have happened had he lived. This distinctive drama presents a unique perspective on this devastating crime and the life it took away. Written by BAFTA-winning screenwriter Jimmy McGovern, Anthony's imagined life is told through reverse chronology as we see him realize his dreams and enjoy the life he had a right to live, before fate – and hate – took it all away.
Release date: Available now
Where: Peacock
Starring: Toheeb Jimon, Rakie Ayola, Julia Brown, and Bobby Schofield
​
THE SIT-IN: HARRY BELAFONTE HOSTS THE TONIGHT SHOW
Synopsis: From executive producer and MSNBC host Joy Reid and director Yoruba Richen, THE SIT-IN: HARRY BELAFONTE HOSTS THE TONIGHT SHOW is a documentary film that chronicles the seminal event and almost-forgotten moment in American history during which legendary entertainer and civil rights activist Harry Belafonte hosted the iconic "Tonight Show" in place of Johnny Carson for an entire week.
Release date: Available now
Where: Peacock
Directed by: Yoruba Richen
​
BLACK BOYS
Synopsis: Executive produced by activist and two-time Super Bowl champion Malcolm Jenkins and written and directed by Sonia Lowman, BLACK BOYS is a documentary film that celebrates the full humanity of Black men and boys in America. Utilizing conversations and stories around education, criminal justice and sports, the film reveals the emotional landscape of those experiencing racism and invites us to reimagine an America in which Black boys experience true belonging and unlimited possibilities.
Release date: Available now
Where: Peacock
Featuring: Vic Mensa, Carmelo Anthony, Greg Scruggs, Cris Carter, Chris Long, Jemele Hill, Malcolm London, and Dr. John King Jr.
​
A MOST BEAUTIFUL THING
Synopsis: A MOST BEAUTIFUL THING is a documentary film that chronicles the first African American high school rowing team in the nation made up of young men from the West Side of Chicago. Based on Arshay Cooper's memoir of the same name, the powerful documentary is narrated by Academy and Grammy Award winner Common. NBA stars Grant Hill and Dwyane Wade executive produce along with Grammy Award winner and producer 9th Wonder.
Release date: Available now
Where: Peacock
Director: Mary Mazzio