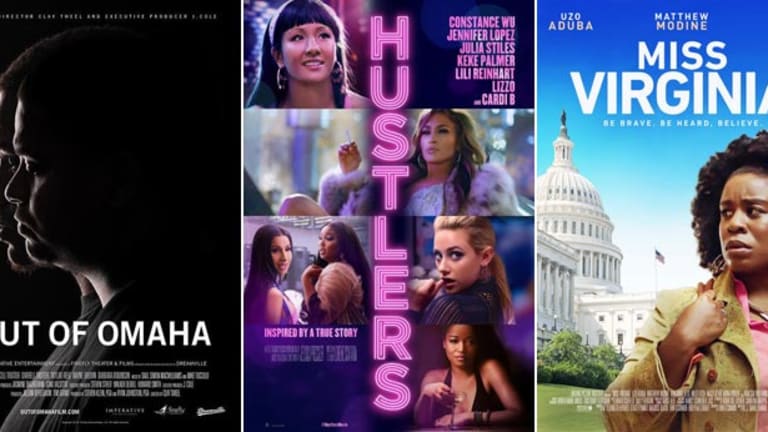 Trailer Load: 'Out of Omaha,' 'Hustlers,' 'Miss Virginia' & More
As cuffing season approaches, here are the series and flicks to kick-off a cuddle session.
Here's the latest from actor and talk show host Keke Palmer in the highly-anticipated film Hustlers, Uzo Aduba playing a single mom turned activist in Miss Virginia, and rapper J. Cole, who executive produced Out of Omaha. Plus, Will Smith and Martin Lawrence are back for Bad Boys for Life.
Out of Omaha
Synopsis: Out of Omaha is an intimate portrait of twin brothers Darcell and Darrell Trotter, two young Black men coming of age in the racially and economically-divided Midwestern city of Omaha, Nebraska. Director Clay Tweel (Gleason, Finders Keepers, The Innocent Man) met the Trotters when they were 17 and filmed them over a period of eight years. By intimately portraying the twins' hopes and struggles – and the love and help they give and get along the way – the film examines how much it takes to overcome disadvantages rooted in historic injustice.
Release date: September 9, 2019
Where: Starz, VOD, DVD
Executive producer: J. Cole
Hip Hop: The Songs that Shook America
Synopsis: From Executive Producers Ahmir "Questlove" Thompson, Tariq "Black Thought" Trotter, Alex Gibney and directors Erik Parker and One9, each of the six episodes focuses on a groundbreaking song pivotal to the evolution of American music and culture including Kanye West's Jesus Walks, Kendrick Lamar's Alright, Run-D.M.C.'s Rock Box, Queen Latifah's Ladies First, and more.
Release date: October 13, 2019
Where: AMC
Executive producers: Questlove, Black Thought, and Alex Gibney
Raise Hell: The Life & Times of Molly Ivins
Synopsis: RAISE HELL: THE LIFE & TIMES OF MOLLY IVINS tells the story of media firebrand Molly Ivins, six feet of Texas trouble who took on the Good Old Boy corruption wherever she found it. Her razor sharp wit left both sides of the aisle laughing, and craving ink in her columns. She knew the Bill of Rights was in peril, and said "Polarizing people is a good way to win an election and a good way to wreck a country." Molly's words have proved prescient. Now it's up to us to raise hell!
Release date: Sept. 6, 2019 (NY); Sept. 13, 2019 (LA)
Where: Theaters
Director: Janice Engel
Tom Clancy's Jack Ryan
Synopsis: After tracking a potentially suspicious shipment of illegal arms in the Venezuelan jungle, CIA Officer Jack Ryan heads down to South America to investigate. As Jack's investigation threatens to uncover a far-reaching conspiracy, the President of Venezuela launches a counter-attack that hits home for Jack, leading him and his fellow operatives on a global mission spanning the United States, UK, Russia, and Venezuela to unravel the President's nefarious plot and bring stability to a country on the brink of chaos.
Release date: Nov. 11, 2019
Where: Amazon Prime
Starring: John Krasinki, Wendell Pierce, Noomi Rapace, and Michael Kelly
Waves
Synopsis: Set against the vibrant landscape of South Florida, and featuring an astonishing ensemble of award-winning actors and breakouts alike, WAVES traces the epic emotional journey of a suburban African-American family- led by a well-intentioned but domineering father-as they navigate love, forgiveness and coming together in the aftermath of a loss. From acclaimed director Trey Edward Shults, WAVES is a heartrending story about the universal capacity for compassion and growth even in the darkest of times.
Release date: November 2019
Where: Theaters
Starring: Sterling K. Brown, Kelvin Harrison, Jr., Lucas Hedges, Taylor Russell, Alexa Demie, and Renée Elise Goldsberry
Bad Boys for Life
Synopsis: The Bad Boys Mike Lowrey and Marcus Burnett are back together for one last ride in the highly anticipated Bad Boys for Life.
Release date: Jan. 17, 2020
Where: Theaters
Starring: Will Smith, Martin Lawrence, Vanessa Hudgens, Alexander Ludwig, Charles Melton, Paola Nunez, Kate Del Castillo, Nicky Jam, and Joe Pantoliano
Jexi
Synopsis: Phil has a major dependency issue - he's addicted to his phone. He has no friends, he has a job writing pop culture "Top 10" lists, and his love life is non-existent. But his Facebook status is about to change. When he is forced to upgrade his phone, the latest model comes with an unexpected feature...Jexi – an A.I. life coach, virtual assistant and cheerleader. With her help, Phil begins to get a real life. But as he becomes less dependent on his phone, Jexi's artificial intelligence morphs into a tech nightmare determined to keep Phil all to herself, even if it means ruining his chances of finding success.
Release date: Oct. 11, 2019
Where: Theaters
Starring: Adam Devine, Alexandra Shipp, Ron Funches, Charlyne Yi, Wanda Sykes, Justin Hartley, Kid Cudi, Michael Peña, and Rose Byrne
Just Mercy
Synopsis: A powerful and thought-provoking true story, Just Mercy follows young lawyer Bryan Stevenson and his history-making battle for justice. After graduating from Harvard, Bryan had his pick of lucrative jobs. Instead, he heads to Alabama to defend those wrongly condemned or who were not afforded proper representation, with the support of local advocate Eva Ansley. One of his first, and most incendiary, cases is that of Walter McMillian, who, in 1987, was sentenced to die for the notorious murder of an 18-year-old girl, despite a preponderance of evidence proving his innocence and the fact that the only testimony against him came from a criminal with a motive to lie. In the years that follow, Bryan becomes embroiled in a labyrinth of legal and political maneuverings and overt and unabashed racism as he fights for Walter, and others like him, with the odds—and the system—stacked against them.
Release date: December 2019
Where: Theaters
Starring: Michael B. Jordan, Jamie Foxx, Brie Larson, Rob Morgan, Tim Blake Nelson, Rafe Spall, O'Shea Jackson Jr.
This Is Us, season 4
Synopsis: This Is Us chronicles the Pearson family across the decades: from Jack and Rebecca as young parents in the 1980s to their 37-year-old kids Kevin, Kate, and Randall searching for love and fulfillment in the present day.
Release date: Sept. 24, 2019
Where: NBC
New cast: Asante Blackk, Marsha Stephanie Blake, Omar Epps, Bahara Golestani, Jennifer Morrison, Timothy Omundson, M. Night Shyamalan, Julian Silva, Auden Thornton, and Nick Wechsler
Hustlers
Synopsis: Hustlers follows a crew of savvy former strip club employees who band together to turn the tables on their Wall Street clients.  The film is inspired by the article published by New York Magazine entitled "The Hustlers at Scores" written by Jessica Pressler.
Release date: Sept. 13, 2019
Where: Theaters
Starring: Jennifer Lopez, Cardi B, Keke Palmer, Constance Wu, Lizzo, and Julia Stiles
Rhythm + Flow
Synopsis: Global superstars Cardi B, Chance the Rapper, and Tip "T.I." Harris search for the next Hip Hop sensation in Rhythm + Flow, Netflix's first music competition show. The series brings together industry legends across a multi-city search in hip hop epicenters Los Angeles, New York, Atlanta, and Chicago, to find raw talent and help undiscovered artists pursue their come up.
Release date: Oct. 9, 2019
Where: Netflix
Starring: Cardi B, Chance the Rapper, and T.I.
Miss Virginia
Synopsis: Based on a true story Miss Virginia stars Uzo Aduba as an impoverished single mother who is losing her 15-year-old son to the rough streets of Washington D.C. Unwilling to see him drop out and deal drugs, she places him in a private school. But when she can't afford tuition, she launches a movement to change the system that is destroying him and thousands like him. Attacked and threatened by those who don't want change –from corrupt politicians to the local drug lord, Virginia must discover depths of strength she never knew she had.
Release date: Oct. 18, 2019
Where: Theaters, On Demand, Digital HD
Starring: Uzo Aduba, Matthew Modine, Aunjanue Ellis, and Niles Fitch
Top Boy
Synopsis: The original series aired on broadcast in the UK before its end in 2013; both seasons are now globally available on Netflix. The new episodes pick up as Dushane returns from exile to his home in London to reclaim his throne in the highly lucrative drug market. He teams up with Sully, his spiritual brother, partner and sometime rival who is also returning to the same streets after his own form of exile – prison – comes to an end. Awaiting them both is Jamie, the young, hungry and ruthless gang leader whose ambitions leave no place for Dushane and Sully.
Release date: Sept. 13, 2019
Where: Netflix
Starring: Ashley Walters, Kane Robinson, and Michael Ward