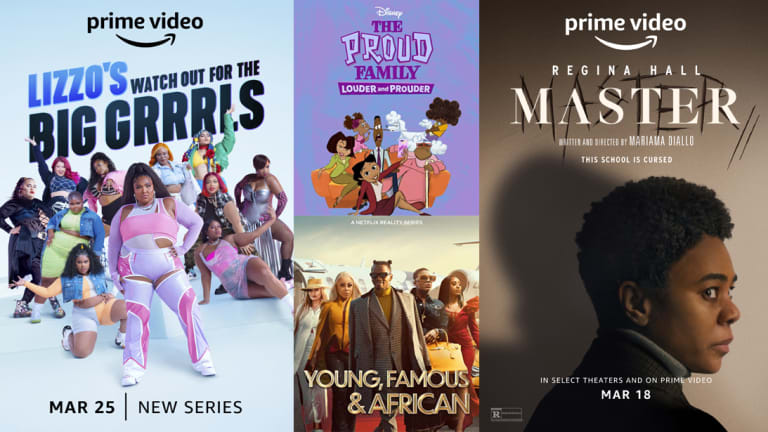 Trailer Load: Celebrate Women's History Month
Trailer Load takes the guesswork out of deciding what to watch, so the tyranny of choice doesn't lead to endless scrolling on a streaming platform.
In honor of Women's History Month, we're highlighting series and films that celebrate women and their stories and creations, whether they're in front of the camera, behind it, or voicing illustrated characters. From competition/reality shows, to a film that focuses on the past coming to haunt the present, to animated fare, here's what to stream this March.
Lizzo's Watch Out for the Big Grrrls
Synopsis: Global superstar Lizzo is on the hunt for the next big thing. She is looking for confident, badass women to join her world tour, and only the most talented dancers will have what it takes to twerk it out on world stages with her and join in the ranks of the elite BIG GRRRLS.
Release date: March 25th
Where: Prime Video
Featuring: Lizzo, Tanisha Scott, Chawnta' Marie Van, Shirlene Quigley, and Grace Holden
Master
Synopsis: In writer-director Mariama Diallo's debut feature, Master, three women strive to find their place at a prestigious New England university whose frosty elitism may disguise something more sinister. Professor Gail Bishop has recently been promoted to "Master" of a residence hall, the first time at storied Ancaster College that a Black woman has held the post. Determined to breathe new life into a centuries-old tradition, Gail soon finds herself wrapped up in the trials and tribulations of Jasmine Moore, an energetic and optimistic Black freshman. Jasmine's time at Ancaster hits a snag early on when she's assigned a dorm room that is rumored to be haunted. Things get worse when Jasmine clashes in the classroom with Liv Beckman, a professor in the middle of her own racially charged tenure review. As Gail tries to maintain order and fulfill the duties of a Master, the cracks begin to show in Ancaster's once-immaculate facade. After a career spent fighting to make it into Ancaster's inner circle, Gail is confronted with the horrifying prospect of what lies beneath, her question ultimately becoming not whether the school is haunted, but by whom.
Release date: March 18th
Where: Prime Video
Starring: Regina Hall, Zoe Renee, Talia Ryder, Talia Balsam, and Amber Gray
Huda's Salon
Synopsis: Reem, a young mother married to a jealous man, goes to Huda's salon in Bethlehem. But this ordinary visit turns sour when Huda, after having put Reem in a shameful situation, blackmails her to have her work for the secret service of the occupiers, and thus betray her people.
Release date: March 4th
Where: Select theaters and VOD
Director: Hany Abu-Assad
Upload, Season 2
Synopsis: In Upload Season Two, Nathan is at a crossroads in his (after) life … his ex-girlfriend Ingrid has unexpectedly arrived to Lakeview hoping to strengthen their relationship, but his heart still secretly yearns for his customer service angel Nora. Meanwhile Nora is off the grid and involved with the anti-tech rebel group "The Ludds." Season Two is packed with new near-future concepts, including Lakeview's newest in-app digital baby program, called "prototykes," and other satirical glimpses of the technological advances and headaches to come.
Release date: March 11th
Where: Prime Video
Starring: Robbie Amell, Andy Allo, Allegra Edwards, Zainab Johnson, Kevin Bigley, Owen Daniels, Josh Banday, and Andrea Rosen
Doubling Down With the Derricos, Season 3
Synopsis: Navigating life with 14 kids, including four sets of naturally conceived multiples, is never easy. But, with the kids getting older, parents Deon and Karen are facing a whole new set of challenges, including a fifteen-year-old's quest for independence and a driver's license, eleven-year-old and ten-year-old twins developing their first crushes, four-year-old triplets starting preschool, plus potty training, a trip to Disney, new health issues and more. In the midst of all the regular chaos of raising children, the Derricos are also on the brink of a big decision: moving cross-country to South Carolina to be closer to Karen's extended family and her Southern roots. No matter what lies ahead, the Derricos will face it together, doubling down on all the love and fun it takes to raise this unique family.
Release date: Available now
Where: TLC and discovery+
Starring: The Derricos
Inside the Black Box
Synopsis: A new spin on an interactive interview show, Inside the Black Box spotlights the world's greatest artists of color, from actors to producers to directors, writers, and musicians, and reflects on how one's complexion impacted their journey to success in the entertainment industry.
Release date: Available now
Where: Crackle
Featuring: Joe Morton and Tracey Moore
Bridgerton, Season 2
Synopsis: Shondaland's hit period drama returns in March with a second season focused on Lord Anthony Bridgerton (Jonathan Bailey), the eldest of the high-society family's offspring, who's searching for his ideal partner. But Anthony's idea of the perfect bride has little to do with true love, even though his standards remain astronomically high, so when he sets his sights on Edwina (Charithra Chandran), her sister Kate (Simone Ashley) does everything she can to nix the ill-fated romance. Get ready for a heated love triangle sure to set fire to a few of fancy gowns.
Release date: March 25th
Where: Netflix
Starring: Charithra Chandran, Jonathan Bailey, Simone Ashley
Good Girls, Season 4
Synopsis: the pressure is on after Lucy's body is discovered in a graveyard. Beth and Dean do everything they can to get Boland's Bubbles up and running, but encounter red tape. Harry gets into trouble at school and his teacher encourages Ruby and Stan to get him tested. Annie realizes Ben is hiding major parts of his life from her.
Release date: March 7th
Where: Netflix
Starring: Christina Hendricks, Retta, and Mae Whitman
Human Resources
Synopsis: A workplace comedy set in the world of the monsters from Big Mouth.
Release date: March 18th
Where: Netflix
Starring: Nick Kroll, Maya Rudolph, Pamela Adlon, Aidy Bryant, Keke Palmer, Randall Park, and Rosie Perez
The Proud Family: Louder and Prouder
Synopsis: The daily life of Penny Proud as she hilariously navigates growing up in a rambunctious house with a loving mom and an overly protective father.
Release date: Available now
Where: Disney+
Starring: Kyla Pratt, Tommy Davidson, Paula Jai Parker, Jo Marie Payton, Keke Palmer, Alisa Reyes, Karen Malina White, and Soleil Moon Frye
Turning Red
Synopsis: Disney and Pixar's Turning Red introduces Mei Lee, a confident, dorky 13-year-old torn between staying her mother's dutiful daughter and the chaos of adolescence. Her protective, if not slightly overbearing mother, Ming, is never far from her daughter—an unfortunate reality for the teenager. And as if changes to her interests, relationships, and body weren't enough, whenever she gets too excited (which is practically ALWAYS), she "poofs" into a giant red panda!
Release date: March 11th
Where: Disney+
Starring: Rosalie Chiang and Sandra Oh
The Principles of Pleasure
Synopsis: Sex, joy and modern science converge in this eye-opening series that celebrates the complex world of women's pleasure — and puts old-fashioned myths to rest.
Release date: March 22nd
Where: Netflix
Young, Famous & African
Synopsis: Young, Famous & African follows a group of young, affluent, and famous media personalities from across the continent who come together in Joburg on a quest to make new connections, find love, and possibly rekindle old flames. These jetsetters will see their relationships and patience tested as they mingle with the who's who of African entertainment.
Release date: March 18th
Where: Netflix
Starring: Khanyi Mbau, Diamond Platnumz, Annie Macaulay-Idibia, Innocent "2baba" Idibia, Nadia Nakai, Swanky Jerry, Zari "The Boss Lady", Naked DJ, Kayleigh Schwark, and Andile Ncube.
The Courtship
Synopsis: A heroine looking for her duke will sign up for the ultimate social experiment in romance. Transported to a Regency-style England, a group of eligible hopeful suitors will have to win the heart of our heroine and her court. Housed in a castle on the countryside and set on a beautiful backdrop of rolling hills, the heroine and suitors will experience that of which dreams are made. From carriage rides and boat rides on the lake to archery and handwritten letters to communicate, they will be immersed in a time-traveling quest for love. In the end, our heroine and her suitors will discover if the ultimate romantic experience will find them true love.
Release date: Available now
Where: nbc
Starring: Nicole Remy, Daniel Boccichio, and Christian Lee Cones