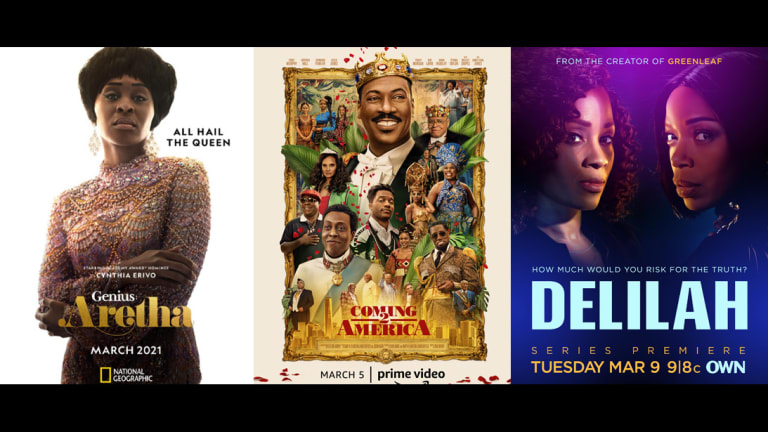 Trailer Load: What to Stream and Watch in March 2021
Check out the trailers and teasers for the films, miniseries, and shows landing on TV and streaming platforms this March.
This month is shaping up to be a delight when it comes to viewing entertainment. A few documentaries and miniseries will tell the stories of Tina Turner, Aretha Franklin, and Eric Benét. Also, a new drama from acclaimed Greenleaf creator Craig Wright, Delilah, premieres on OWN. And we can't forget about Coming 2 America, which hit Amazon Prime Video today. Here's what to stream and watch in March 2021.
Genius: Aretha
Synopsis: Genius is National Geographic's critically acclaimed anthology series that dramatizes the fascinating stories of the world's most brilliant innovators and their extraordinary achievements with their volatile, passionate and complex personal relationships. This third season will explore Aretha Franklin's musical genius and incomparable career, as well as the immeasurable impact and lasting influence she has had on music and culture around the world. Franklin was a gospel prodigy, an outspoken civil rights champion and widely considered the greatest singer of the past 50 years, receiving countless honors throughout her career. Genius: Aretha will be the first-ever, definitive and only authorized scripted series on the life of the universally acclaimed Queen of Soul.
Premiere date: March 21
Where: National Geographic
Starring: Cynthia Erivo and Courtney B. Vance
Tina
Synopsis: Simply the best. With a wealth of never-before-seen footage, audio tapes, personal photos, and new interviews, including with the singer herself, Tina presents an unvarnished and dynamic account of the life and career of music icon Tina Turner.
Release date: March 27
Where: HBO and HBO Max
Directors: Dan Lindsay, T.J. Martin
Delilah
Synopsis: Delilah left a demanding white-shoe law firm a decade ago and hung up her own shingle so she could make raising her kids her number one priority. Now she takes on cases the big firms ignore and finds herself, more often than not, going head-to-head with the powerful and privileged as she fights for the disenfranchised. In addition to raising her two kids, Maia and Marcus, Delilah also cares for her young nephew Dion; manages her relationship with her frustrating ex; and to top it all off, she's about to go up against her best friend Tamara in court for the first time. Delilah has always represented the underdogs. Tamara has always represented the wealthy and powerful. But this case is different: this time, Delilah's most cherished friendship is on the line, and there are lives at stake. But Delilah does what she always does – she seeks justice for those who need it most.
Premiere date: March 9
Where: OWN
Starring: Maahra Hill, Jill Marie Jones, Susan Heyward, Ozioma Akagha, Lyriq Bent
My Mane Problem
Synopsis: My Mane Problem features celebrity hairstylist Dr. Boogie - an industry veteran whose clients include Taraji P. Henson, Eve, and Vivica Fox – rescuing clients struggling with deeply affecting hair trauma. The six half-hour episodes chronicles real people confronting their very personal journeys including chemical burns, mold, balding due to extensions and wigs, and much more. Dr. Boogie works with each individual to offer real solutions, hair care treatment and ultimately, a new lease on life through his empathetic consultations.
Release date: Available now
Where: ALLBLK
Starring: Dr. Boogie
Synopsis: Set in the lush and royal country of Zamunda, newly-crowned King Akeem and his trusted confidante Semmi embark on an all-new hilarious adventure that has them traversing the globe from their great African nation to the borough of Queens, New York – where it all began.
Release date: March 5
Where: Amazon Prime Video
Starring: Eddie Murphy, Arsenio Hall, Jermaine Fowler, Leslie Jones, Tracy Morgan, KiKi Layne, Shari Headley, with Wesley Snipes and James Earl Jones. Also starring John Amos, Teyana Taylor, Vanessa Bell Calloway, Paul Bates, Nomzamo Mbatha, Bella Murphy
Fright Club
Synopsis: In a frighteningly friendly competition to freak each other out with the creepiest, craziest paranormal evidence ever caught on camera, the Ghost Brothers and Jack Osbourne each reveal the most mind-blowing supernatural footage they can find. They'll speak to the terrified eyewitnesses who captured it and get insight from psychic mediums, UFOlogists, cryptozoologists and other renowned experts, before deciding on each episode's "nightmare clip" – the one that haunts your dreams and keeps you up at night!
Premiere date: March 9
Where: Discovery+
Starring: Dalen Spratt, Marcus Harvey, Juwan Mass, Jack Osbourne
Time
Synopsis: Fox Rich is a fighter. The entrepreneur, abolitionist and mother of six boys has spent the last two decades campaigning for the release of her husband, Rob G. Rich, who is serving a 60-year sentence for a robbery they both committed in the early '90s in a moment of desperation. Combining the video diaries Fox has recorded for Rob over the years with intimate glimpses of her present-day life, director Garrett Bradley paints a mesmerizing portrait of the resilience and radical love necessary to prevail over the endless separations of the country's prison-industrial complex.
Release date: Available now
Where: Amazon Prime Video
Director: Garrett Bradley
Uncensored
Synopsis: Uncensored explores the lives of your favorite personalities as they provide first-hand accounts of their success and obstacles they've faced throughout their careers.
Premiere date: March 21
Where: TV One
Featuring: Teddy Riley, Marsha Ambrosius, Donnie McClurkin, Kem, Remy Ma, Mona Scott Young, Lisa Leslie, Jaleel White
Phobias
Synopsis: Five dangerous patients suffering from extreme phobias at a government testing facility are put to the ultimate test under the supervision of a crazed doctor and his quest to weaponize fear.
Release date: March 19
Where: Theaters, On Demand, digital
Starring: Macy Gray, Leonard Nam, Alexis Knapp, Charlotte McKinney
John Wayne Gacy: Devil in Disguise
Synopsis: A six-part docuseries on the chilling story of one of the world's most notorious serial killers told through the words of Gacy himself, those who were forever changed by his unspeakable deeds and those who believe that the full truth about the case remains concealed to this day.
Release date: March 25
Where: Peacock
Executive producers: Rod Blackhurst, Alexa Danner, Elizabeth Fischer, Tracy Ullman
Top Class: The Life and Times of the Sierra Canyon Trailblazers
Synopsis: Top Class: The Life and Times of the Sierra Canyon Trailblazers follows the highs and lows of a high school basketball team's grueling, highly publicized quest for a third straight state championship.
Release date: Available now
Where: IMDb TV
Executive producers: LeBron James and Maverick Carter
A Closer Look
Synopsis: A Closer Look is a music documentary series that profiles R&B, Soul, and Hip-Hop artists whose song(s) have and continues to top the billboard charts and re-shape the music industry. The series will highlight the artist's career from the beginning to present day. Each episode will consist of a one on one sit-down interview between the artist and producer of the show, and will also highlight music videos/live performances, studio sessions, archival interviews, B-roll footage, and guest interviews.
Release date: Available now
Where: ALLBLK
Featuring: Eric Benét
Feeling Through
Synopsis: This coming of age story follows Tereek, a teen wandering the streets of New York, desperate for a place to crash when he encounters Artie, a DeafBlind man in need of help getting home. What begins as an awkward meeting between strangers, quickly becomes an intimate bond between friends, and a journey that forever changes Tereek.
Release date: Available now
Where: YouTube
Starring: Steven Prescod and first-time actor Robert Tarango