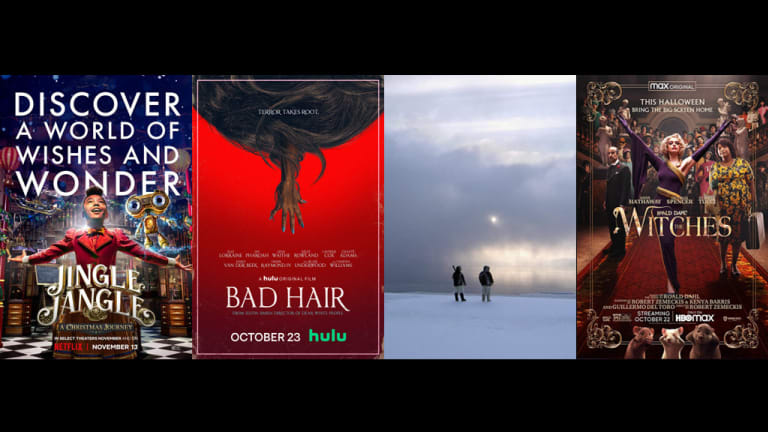 Trailer Load: 'Jingle Jangle,' 'Bad Hair,' 'The Last Ice,' 'The Witches' & More
From holiday fare to horror to a much-anticipated remake, here are the series and films you'll want to watch.
The Last Ice
Synopsis: The Last Ice, filmed over the course of four years, tells the story of the Inuit communities fighting to protect the disappearing Arctic that has been their home for centuries. As the sea ice between Canada and Greenland melts, the outside world sees unprecedented opportunity. Oil and gas deposits, faster shipping routes, tourism and fishing all provide financial incentive to exploit the newly opened waters. But for more than 100,000 Inuit who live in the Arctic, on and around the frozen ocean, an entire way of life is at stake.
Release date: Oct. 12, 2020
Where: National Geographic
Featuring: National Geographic's explorer in residence Dr. Enric Sala and director/senior producer Scott Ressler
​
Jingle Jangle: A Christmas Journey
Synopsis: A musical adventure and a visual spectacle for the ages, Jingle Jangle: A Christmas Journey is a wholly fresh and spirited family holiday event. Set in the gloriously vibrant town of Cobbleton, the film follows legendary toymaker Jeronicus Jangle, whose fanciful inventions burst with whimsy and wonder. But when his trusted apprentice steals his most prized creation, it's up to his equally bright and inventive granddaughter — and a long-forgotten invention — to heal old wounds and reawaken the magic within. From the imagination of writer-director David E. Talbert and featuring original songs by John Legend, Philip Lawrence, Davy Nathan, and "This Day" performed by Usher and Kiana Ledé, Jingle Jangle: A Christmas Journey reminds us of the strength of family.
Release date: Nov. 13, 2020
Where: Netflix
Featuring: Forest Whitaker, Madalen Mills, Keegan-Michael Key, Sharon Rose, Phylicia Rashad, Anika Noni Rose, Ricky Martin, Kieron Dyer, Justin Cornwell, Lisa Davina Phillip, and Hugh Bonneville
​
Kindred
Synopsis: When her boyfriend Ben suddenly dies in an accident, mother-to-be Charlotte collapses upon receiving the news. She wakes up in Ben's family home, a crumbling old manor house in the middle of nowhere with Ben's overbearing mother, Margaret, and his controlling stepbrother, Thomas. They are determined to care for her, at least until the baby arrives. Grief stricken and increasingly haunted by visions possibly brought on by the pregnancy, Charlotte accepts their help. But as the days go by and her visions intensify, she begins to doubt the family's intentions and her suspicions grow that they may be trying to control her and her unborn baby. 
Release date: Nov. 6, 2020
Where: Select theaters, digital platforms, and VOD
Featuring: Tamara Lawrance, Jack Lowden, Fiona Shaw, and Edward Holcraft
​
HBCU Homecoming 2020: Meet Me on the Yard
Synopsis: With HBCUs across the country cancelling their annual Homecomings due to the global pandemic, YouTube in partnership with Jesse Collins Entertainment and Live Nation Urban will take the momentous celebration virtual. This two-hour livestream will be filled with homecoming traditions to raise funds for the United Negro College Fund which plans to split 50 percent with the Thurgood Marshall College Fund. Expect musical performances, and band performances from Jackson State University's Sonic Boom of The South and FAMU's Marching 100, Step performances, as well as appearances from students, alumni, YouTube creators, and inspirational video packages representing the legacy of HBCUs.
Livestream date: Oct. 24, 2020
Where: YouTube
Executive producers: Jesse Collins, Shawn Gee, Dionne Harmon, Brandon Pankey, and Chris Wagner
​
Trapped: Cash Bail in America
Synopsis: Every year, millions of Americans are incarcerated before even being convicted of a crime — all because they can't afford to post bail. How did we get here? Trapped: Cash Bail in America shines a light on our deeply flawed criminal justice system and the activists working to reform it. This new documentary explores the growing movement to end the inherent economic and racial inequalities while highlighting victims impacted by an unjust system, the tireless campaigners fighting for criminal justice reform, and a bail industry lobbying to maintain the status quo.
Release date: Oct. 12, 2020
Where: YouTube
Featuring: Writer/producer Chris L. Jenkins and director/editor Garrett Hubbard
​
Save Me Too
Synopsis: Save Me Too is the second season of the award-winning thriller Save Me. In the dramatic continuation of season one, Save Me Too heads deeper into a dark, hidden world. Nelly Rowe's life was turned upside down when he was accused of abducting the daughter he barely knew. Now, 17 months later, his daughter Jody is still missing but Nelly's quest to find her lives on as he put his relationships, and his life, on the line. New potential suspects are revealed, and long buried secrets unearthed as Nelly is torn between protecting Grace, the young woman he found in a caravan park, and continuing his mission to find Jody.
Release date: Nov. 5, 2020
Where: Peacock
Featuring: Lennie James, Suranne Jones, Stephen Graham, Jason Flemyng, Adrian Edmondson, and Lesley Manville
​
Blindfire
Synopsis: Inspired by actual events, Blindfire follows Will Bishop, a white cop who responds to a violent hostage call and unjustifiably kills the Black man in his own home. After Bishop learns of the victim's innocence and is suddenly facing repercussions for his actions, he is forced to confront extremely difficult conversations with his partner, as well as the family of the victim, and must examine his own accountability while attempting to find the person who he feels is actually responsible for the tragic chain of events.
Release date: Nov. 13, 2020; Nov. 20, 2020
Where: Select theaters and virtual cinema (11/13/2020); VOD (11/20/2020)
Featuring: Brian Geraghty, Sharon Leal, Bethany Joy Lenz, Edwina Findley Dickerson, Jim Beaver, Chiké Okonkwo, and Wayne Brady
​
Time
Synopsis: Fox Rich is a fighter. The entrepreneur, abolitionist and mother of six boys has spent the last two decades campaigning for the release of her husband, Rob G. Rich, who is serving a 60-year sentence for a robbery they both committed in the early '90s in a moment of desperation. Combining the video diaries Fox has recorded for Rob over the years with intimate glimpses of her present-day life, director Garrett Bradley paints a mesmerizing portrait of the resilience and radical love necessary to prevail over the endless separations of the country's prison-industrial complex.
Release date: Oct. 9, 2020; Oct. 16, 2020
Where: Theaters (10/9/2020); Prime Video (10/16/2020)
Directed by: Garrett Bradley
​
Scam République
Synopsis: Two college kids in Cameroon, Kwesi and Niko, become entangled in the ruthless world of digital deception and internet theft. Niko needs beaucoup d'argent for Dengue fever treatments to save his mother's life. Under the wing of a local crime boss, the young men are thrust into West Africa's dark web and its soul-scathing temptations. What depravities will men venture for profit?
Release date: Oct. 20, 2020
Where: DVD and digital
Directed by: Ken Ngwa
​
Roald Dahl's The Witches
Synopsis: Witches are real, and they are everywhere!
Release date: Oct. 22, 2020
Where: HBOMax
Featuring: Anne Hathaway, Octavia Spencer, Stanley Tucci, Kristin Chenoweth, Chris Rock, Jahzir Kadeem Bruno, and Codie-Lei Eastick
​
Bad Hair
Synopsis: In this horror satire set in 1989, Bad Hair follows an ambitious young woman who gets a weave in order to succeed in the image-obsessed world of music television. However, her flourishing career comes at a great cost when she realizes that her new hair may have a mind of its own.
Release date: Oct. 23, 2020
Where: Hulu
Featuring: Elle Lorraine, Vanessa Williams, Lena Waithe, Laverne Cox, Jay Pharoa, Kelly Rowland, Blair Underwood, James Van Der Beek, and Usher Raymond
​
His House
Synopsis: After making a harrowing escape from war-torn South Sudan, a young refugee couple struggle to adjust to their new life in a small English town that has an unspeakable evil lurking beneath the surface.
Release date: Oct. 30, 2020
Where: Netflix
Featuring: Ṣọpẹ́ Dìrísù, Wunmi Mosaku, and Matt Smith