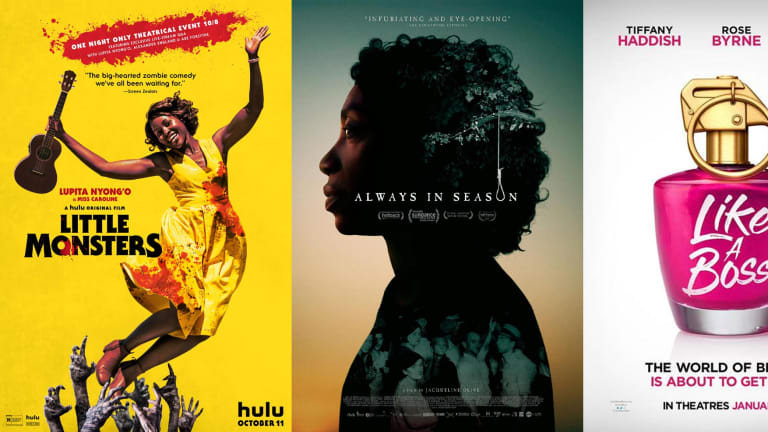 Trailer Load: It's Gettin' Spooky
Lupita Nyong'o, Tiffany Haddish, Jill Scott, and more have new TV and film fare for you.
As Halloween approaches, spooky films and series, like Little Monsters starring Lupita Nyong'o and the Greg Nicotero-produced Creepshow, are creeping across streaming services and theaters. Things take a grave turn with Always in Season, which is about a Black teen who died from a suspicious hanging and his mother tries to prove he was lynched. For a lighter tone, Tiffany Haddish and Salma Hayek star in Like a Boss, and there's also some lighthearted TV fare with the return of OWN's Ready to Love and BET's First Wives Club, starring Jill Scott.
Doctor Sleep
Synopsis: Still irrevocably scarred by the trauma he endured as a child at the Overlook, Dan Torrance has fought to find some semblance of peace. But that peace is shattered when he encounters Abra, a courageous teenager with her own powerful extrasensory gift, known as the "shine." Instinctively recognizing that Dan shares her power, Abra has sought him out, desperate for his help against the merciless Rose the Hat and her followers, The True Knot, who feed off the shine of innocents in their quest for immortality.
Forming an unlikely alliance, Dan and Abra engage in a brutal life-or-death battle with Rose. Abra's innocence and fearless embrace of her shine compel Dan to call upon his own powers as never before—at once facing his fears and reawakening the ghosts of the past.
Release date: November 8, 2019
Where: Theaters
Starring: Ewan McGregor, Rebecca Ferguson, Kyliegh Curran
Takashi Miike's First Love
Synopsis: When a duplicitous scheme by the low-level yakuza, Kase goes hilariously wrong, a terminally ill boxer, Leo, and a disturbed drug addicted call girl, Monica, find themselves innocently caught in the crosshairs of two warring gangs. Over the course of the increasingly ludicrous night, the two fall passionately in love, while the hail of bullets and blood fall quietly in the background.
Release date: September 27, 2019 (NY/LA); October 4, 2019 (nationally)
Where: Theaters
Starring: Shota Sometani, Masataka Kubota, Sakurako Konishi
Creepshow
Synopsis: Based on the iconic 1982 film written by Stephen King and directed by George A. Romero, comes a new horror anthology series from the mind of The Walking Dead executive producer Greg Nicotero. A young boy's horror comic book comes to life in this anthology series of terrifying tales.
Release date: September 27, 2019
Where: Shudder
Starring: David Arquette, Adrienne Barbeau, Tobin Bell, Big Boi, Jeffrey Combs, Kid Cudi, Bruce Davison, Giancarlo Esposito, Dana Gould, Tricia Helfer, and DJ Qualls
Ready to Love
Synopsis: Record breaking Hollywood producer Will Packer's popular dating series Ready to Love, hosted by Thomas "Nephew Tommy" Miles, explores the real-life dating interactions of sexy, successful and grown Black men and women in their mid-30s to early 50s who are each looking for lasting love and an authentic relationship.
A unique twist on a typical dating show, Ready to Love, provides opportunities for both the men and women to decide who stays and who goes as the tables turn weekly in the search for true love in Atlanta.
Premiere date: October 5, 2019
Where: OWN
Starring: Nephew Tommy
<iframe allowfullscreen width="100%" webkitallowfullscreen="true" mozallowfullscreen="true" height="360" frameborder="0" scrolling="no" src="http://www.oprah.com/video\_embed.html?article\_id=76719"></iframe>
First Wives Club
Synopsis: After neglecting their friendship, best friends Ari, Hazel and Bree reunite to help each other through rough patches in their lives. Together, they navigate music superstar Hazel's tabloid-ridden divorce, campaign manager Ari's unsatisfying marriage to her political candidate husband, and orthopedic surgeon Bree's cheating husband. Tired of always being the ones to make sacrifices in their lives, Ari, Hazel and Bree vow to prioritize their friendship and have more fun. Along the way, the women learn that as long as they have each other, there's nothing they can't do.
Premiere date: September 19, 2019
Where: BET+
Starring: Ryan Michelle Bathe, Jill Scott, and Michelle Buteau
Parasite
Synopsis: Meet the Park Family: the picture of aspirational wealth. And the Kim Family, rich in street smarts but not much else. Be it chance or fate, these two houses are brought together and the Kims sense a golden opportunity. Masterminded by college-aged Ki-woo, the Kim children expediently install themselves as tutor and art therapist, to the Parks. Soon, a symbiotic relationship forms between the two families. The Kims provide "indispensable" luxury services while the Parks obliviously bankroll their entire household. When a parasitic interloper threatens the Kims' newfound comfort, a savage, underhanded battle for dominance breaks out, threatening to destroy the fragile ecosystem between the Kims and the Parks.
Release date: October 11, 2019
Where: Theaters
Starring: Song Kang Ho, Lee Sun Kyun, Cho Yeo Jeong, Choi Woo Shik, Park So Dam, Lee Jung Eun, Chang Hyae Jin
Always in Season
Synopsis: Claudia Lacy wants answers. When her 17-year-old son, Lennon, was found hanging from a swing set in Bladenboro, North Carolina, the authorities quickly ruled his death a suicide. In light of suspicious details surrounding his death, and certain that her son would not take his own life, Claudia is convinced Lennon was lynched.
Jacqueline Olive's unwavering debut film puts Lacy's pursuit for justice into a wider historical context, inspiring a powerful discussion about lynching across racial lines. Appalling accounts of lynchings carried out at the beginning of the twentieth century provide a necessary historical framework, while an annual lynching reenactment in Monroe, Georgia, offers insight into the enduring legacy of racial violence in America. Olive's layered exploration follows one African American family's personal experience with a justice system that has failed so many, while also hinting at the promising first steps of a nation trying to reconcile. Olive's film honors and acknowledges the injustices that have been inflicted, while emphasizing that only through the uncomfortable conversations and acceptance of our nation's history will we begin to heal together.
Release date: September 20, 2019
Where: Theaters
Director: Jacqueline Olive
Honey Boy
Synopsis: From a screenplay by Shia LaBeouf, based on his own experiences, award-winning filmmaker Alma Har'el brings to life a young actor's stormy childhood and early adult years as he struggles to reconcile with his father through cinema and dreams. Fictionalizing his childhood's ascent to stardom, and subsequent adult crash-landing into rehab and recovery, Har'el casts Noah Jupe and Lucas Hedges as Otis Lort, navigating different stages in a frenetic career. LaBeouf takes on the daring and therapeutic challenge of playing a version of his own father, an ex-rodeo clown and a felon. Artist and musician FKA twigs makes her feature-film debut, playing neighbor and kindred spirit to the younger Otis in their garden-court motel home. Har'el's feature narrative debut is a one-of-a-kind collaboration between filmmaker and subject, exploring art as therapy and imagination as hope.
Release date: November 8, 2019
Where: Theaters
Starring: Shia LaBeouf, Lucas Hedges, Noah Jupe, and FKA twigs
Ad Astra
Synopsis: AD ASTRA is a paranoid thriller in space that follows Roy McBride (Pitt) on a mission across an unforgiving solar system to uncover the truth about his missing father and his doomed expedition that now, 30 years later, threatens the universe.
Release date: September 20, 2019
Where: Theaters
Starring: Brad Pitt, Tommy Lee Jones, Ruth Negga, Liv Tyler, and Donald Sutherland
Queen & Slim (new trailer)
Synopsis: While on a forgettable first date together in Ohio, a Black man and a Black woman are pulled over for a minor traffic infraction. The situation escalates, with sudden and tragic results, when the man kills the police officer in self-defense. Terrified and in fear for their lives, the man, a retail employee, and the woman, a criminal defense lawyer, are forced to go on the run. But the incident is captured on video and goes viral, and the couple unwittingly become a symbol of trauma, terror, grief and pain for people across the country.
As they drive, these two unlikely fugitives will discover themselves and each other in the most dire and desperate of circumstances and will forge a deep and powerful love that will reveal their shared humanity and shape the rest of their lives.
Release date: November 27, 2019
Where: Theaters
Starring: Daniel Kaluuya, Jodie Turner-Smith, Bokeem Woodbine, Chloë Sevigny, Flea, John Sturgill Simpson, Indya Moore
Like a Boss
Synopsis: Best friends Mia and Mel are living their best lives running their own cosmetics company they've built from the ground up. Unfortunately, they're in over their heads financially, and the prospect of a big buyout offer from a notorious titan of the cosmetics industry Claire Luna proves too tempting to pass up, putting Mel and Mia's lifelong friendship in jeopardy. The beauty business is about to get ugly.
Release date: January 10, 2020
Where: Theaters
Starring: Tiffany Haddish, Rose Byrne, and Salma Hayek
Sprinter
Synopsis: Sprinter tells the story of Akeem Sharp (Dale Elliott), who is set to be Jamaica's next big track-and-field sensation. Akeem hopes a rise in the track and field world will take him to the U.S. to reunite him with his mother (Lorrain Toussaint, Orange is the New Black), who has supported the family while living as an illegal resident for over a decade. But Akeem's rising star is weighed down by turmoil at home: a volatile father, and an unruly older brother who insinuates himself into Akeem's career as a means of escaping – or perhaps enhancing – his scam artist hustle. Not only does Akeem have to prove to himself and everyone that he can succeed, but also overcome the struggles that may ultimately bring him down.
Release date: October 22, 2019
Where: iTunes, Prime Video, Goggle Play, and DVD
Executive producers: Jada Pinkett Smith and Will Smith
Little Monsters(Red Band Trailer)
Synopsis: A washed-up musician teams up with a teacher and a kids' show personality to protect young children from a sudden outbreak of zombies.
Release date: October 11, 2019
Where: Hulu
Starring: Alexander England, Lupita Nyong'o, and Josh Gad
The Graham Norton Show
Synopsis: BBC AMERICA's BAFTA-award-winning talk show­ features the biggest celebrities and the brightest conversation on television.
Premiere date: October 4, 2019
Where: BBC America
Starring: Graham Norton, Helen Mirren, RuPaul, and Normani
Synopsis: When a horror novelist takes a break from writing, she discovers the demon from her book exists in the real world. This malevolent spirit named Marianne draws her home and insists she continues writing ... or else.
Release date: September 13, 2019
Where: Netflix
Starring: Victoire Du Bois, Lucie Boujenah, and Tiphaine Daviot