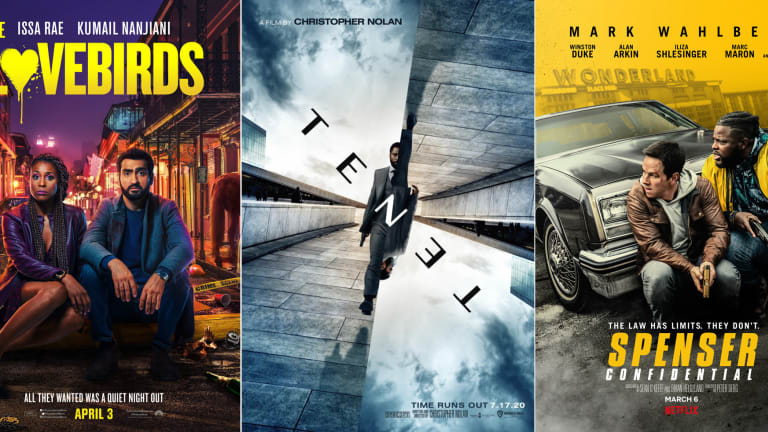 Trailer Load: Issa Rae, John David Washington, Winston Duke & More
Trailer Load is bringing you comedy, action, suspense, and Māori mythic storytelling and martial traditions.
See the latest entertainment offerings from Issa Rae, John David Washington, Winston Duke, Viola Davis, Mike Epps, Octavia Spencer, Kerry Washington, and more.
Little Fires Everywhere
Synopsis: Based on Celeste Ng's 2017 bestseller, Little Fires Everywhere follows the intertwined fates of the picture-perfect Richardson family and an enigmatic mother and daughter who upend their lives. The story explores the weight of secrets, the nature of art and identity, the ferocious pull of motherhood – and the danger in believing that following the rules can avert disaster.
Release date: March 18, 2020
Where: Hulu
Starring: Kerry Washington, Reese Witherspoon, Joshua Jackson, Rosemarie DeWitt, Jade Pettyjohn, Jordan Elsass, Gavin Lewis, Megan Scott, Lexi Underwood, and Huang Lu
Tenet
Synopsis: An action epic revolving around international espionage, time travel, and evolution.
Release date: July 17, 2020
Where: Theaters
Starring: John David Washington, Robert Pattinson, Elizabeth Debicki, Dimple Kapadia, Aaron Taylor-Johnson, Clémence Poésy, Himesh Patel, with Michael Caine, and Kenneth Branagh
For Life
Synopsis: Inspired by the life of Isaac Wright, Jr., For Life is about prisoner Aaron Wallace, who becomes a lawyer, litigating cases for other inmates while fighting to overturn his own life sentence for a crime he didn't commit. His quest for freedom is driven by his desperate desire to get back to the family he loves—his estranged wife and daughter—and reclaim the life that was stolen from him. For Life will also, through the window of his ferocious struggle and his complicated relationship with a progressive female prison warden, examine the flaws and challenges in our penal and legal systems.
Release date: Feb. 11, 2020
Where: ABC
Starring: Nicholas Pinnock, Joy Bryant, and Tyla Harris
Troop Zero
Synopsis: In a tiny Georgia town in 1977, a motherless girl dreams of life beyond the confines of her trailer-park home in Troop Zero. When her quest for connection leads her to reach for the stars in a competition to be included on NASA's landmark Golden Record, it becomes clear she will have to depend on some new friends to take her the last mile.
Every night, Christmas Flint sits under a starry sky with a flashlight, signaling to extraterrestrial visitors that never arrive. Sensitive, imaginative and deeply lonely, Christmas and her equally eccentric best friend Joseph are the ultimate misfits in their rural hometown of Wiggly, Georgia. When Christmas learns that the winners of the annual Birdie Scout Jamboree talent contest will be included on a recording to be sent into space for posterity, her mission in life becomes to join the Scouts and win Jamboree.
When she is blackballed by the snobbish local Birdie Scout troop and their uptight leader Miss Massey, Christmas rallies a group of elementary-school outliers to start their own chapter. With grudging help from her dad's irascible office manager, Miss Rayleen, Christmas and her crew have to bypass every roadblock Miss Massey can find in the fine print of the Birdie bylaws in order to reach the Jamboree and their chance at immortality.
From Christmas' solitary late-night vigils to a final show-stopping musical performance, Troop Zero is an endearing and magical tale set against a backdrop of beloved hits of the '70s, as Christmas forges friendships that will change her life and help her find a real family.
Release date: Jan. 17, 2020
Where: Amazon Prime
Starring: Viola Davis, Mike Epps, Allison Janney, Jim Gaffigan, and McKenna Grace
Onward
Synopsis: Set in a suburban fantasy world, Disney and Pixar's Onward introduces two teenage elf brothers who embark on an extraordinary quest to discover if there is still a little magic left out there.
Release date: March 6, 2020
Where: Theaters
Starring: Octavia Spencer, Chris Pratt, Tom Holland, and Lena Waithe
The Hunt for Vlad the Impaler
Synopsis: In the middle of the 15th century, in the depths of Turkey during the Ottoman Empire, the land is torn apart by horrendous atrocities and bloody murders are inflicted against the terrified people by the cruel and blood-thirsty, Vlad the Impaler.
The ruler, Baba Sultan, orders a group of seven fearless warriors known as Deliler, to hunt down Vlad and end the persecution once and for all. The seven heroes set out on their long journey, stopping at nothing until they find the inhumane Vlad and defeat him in what will be a battle to end all battles …
Release date: Feb. 4, 2020
Where: VOD, Digital HD On Leading Digital Platforms, DVD/BD
Director: Osman Kaya
The Dead Lands
Synopsis: The Dead Lands is a supernatural fantasy adventure series set in a mythical Aotearoa—New Zealand in a time before time.
A dishonored warrior, Waka Nuku Rau dies, but his Ancestors in the Afterlife send him back to the world to find redemption and honor. There, in the world of the living, he is aided by Mehe, a determined young woman, and together they discover the world has been disrupted by forces not of the living.
Someone, or something, is preventing the Dead from entering the Afterlife and now the Dead are thrown back into their decaying bodies to hunt the living.
Release date: Jan. 23, 2020
Where: AMC Networks' Shudder
Starring: Te Kohe Tuhaka, Kali Kopae, and Briar Rose
Birds of Prey
Synopsis: You ever hear the one about the cop, the songbird, the psycho, and the mafia princess? Birds of Prey (And the Fantabulous Emancipation of One Harley Quinn) is a twisted tale told by Harley herself, as only Harley can tell it. When Gotham's most nefariously narcissistic villain, Roman Sionis, and his zealous right-hand, Zsasz, put a target on a young girl named Cass, the city is turned upside down looking for her. Harley, Huntress, Black Canary, and Renee Montoya's paths collide, and the unlikely foursome have no choice but to team up to take Roman down.
Release date: Feb. 7, 2020
Where: Theaters
Starring: Margot Robbie, Rosie Perez, Jurnee Smollett-Bell, Mary Elizabeth Winstead, and Ewan McGregor
Little America
Synopsis: Little America is inspired by the true stories featured in Epic Magazine that tells funny, romantic, heartfelt and surprising stories of immigrants in America.
Release date: January 17, 2020
Where: Apple+
Starring: Conphidance, Jearnest Corchado, Kemiyondo Coutinho
Bloodshot
Synopsis: Based on bestseller The Valiant comic book, Vin Diesel stars as Ray Garrison, a soldier recently killed in action and brought back to life as the superhero Bloodshot by the RST corporation. With an army of nanotechnology in his veins, he's an unstoppable force –stronger than ever and able to heal instantly. But in controlling his body, the company has sway over his mind and memories, too. Now, Ray doesn't know what's real and what's not – but he's on a mission to find out.
Release date: March 13, 2020
Where: Theaters
Starring: Vin Diesel, Eiza Gonzalez, Sam Heughan, Toby Kebbell, and Guy Pearce
The Lovebirds
Synopsis: A couple experiences a defining moment in their relationship when they are unintentionally embroiled in a murder mystery. As their journey to clear their names takes them from one extreme – and hilarious - circumstance to the next, they must figure out how they, and their relationship, can survive the night.
Release date: April 3, 2020
Where: Theaters
Starring: Issa Rae and Kumail Nanjiani
Charm City Kings
Synopsis: Growing up in West Baltimore, teenage Mouse feels the fierce pull of different forces: Between notorious ex-con Blax and concerned Detective Rivers, and between the straight path set for Mouse by his concerned mother and the dangers of gang life, which took his brother's life. The one truth Mouse knows is that he loves the power, artistry and energy of "The Ride" — the exhilarating motorized-dirt-bike scene that is both pastime and passion on the streets of Baltimore. During one eventful summer, Mouse steers his way through two father figures, a first girlfriend, the pull of illegal choices and the thrill of stunt-riding that makes him and his friends feel like Charm City Kings.
Release date: April 10, 2020 (NY/LA/Baltimore); April 17, 2020 (nationwide)
Where: Theaters
Starring: Jahi Di'Allo Winston, Meek Mill, Will Catlett, Chino Braxton, and Teyonah Parris
Cherish the Day (season 2)
Synopsis: Chapter one of Cherish the Day chronicles the stirring relationship of one couple, with each episode spanning a single day. The narrative will unfold to reveal significant moments in a relationship that compel us to hold true to the ones we love, from the extraordinary to the everyday. The couple meet and fall in love in Los Angeles, with the full season spanning five years in eight episodes.
Release date: Feb. 11 and 12, 2020
Where: OWN
Starring: Xosha Roquemore and Alano Miller
Year of the Rabbit
Synopsis: Year of the Rabbit follows Detective Inspector Rabbit, a hardened booze-hound who's seen it all, and his hapless, new, by-the-books partner Strauss. While they're investigating a local murder, the lewd but insightful adoptive daughter of the chief of police joins them, becoming the country's first female officer. Together, the trio must fight crime while rubbing shoulders with street gangs, crooked politicians, spiritualists, music hall stars, and more.
Release date: Feb. 19, 2020
Where: IFC
Starring: Matt Berry, Freddie Fox, and Susan Wokoma
Bad Trip
Synopsis: From a producer of Jackass and Bad Grandpa, this hidden camera comedy follows two best friends as they go on a cross-country road trip full of hilarious, inventive pranks, pulling its real-life audience into the mayhem.
Release date: April 24, 2020
Where: Theaters
Starring: Eric André, Lil Rel Howery, Tiffany Haddish, and Michaela Conlin
Sacred Lies: The Singing Bones
Synopsis: The second season of the anthology series will feature a new cast and a storyline that draws inspiration from a story collected from the Brothers Grimm, The Singing Bone, as well as real-life murder cases. This season of Sacred Lies follows Elsie as she searches for the family she never knew after being abandoned as a child. The search leads her to her father, Peter, an inmate who may be guilty of more than the crimes he's currently incarcerated for and Harper, a telemarketer turned arm-chair detective with an obsessive hobby of searching for unidentified murder victims.
Release date: Feb. 20, 2020
Where: Facebook Watch
Starring: Juliette Lewis, Ryan Kwanten, Jordan Alexander, Kristin Bauer, Kimiko Glenn, Antonique Smith, Siobhan Williams, Emily Alyn Lind, and Odiseas Georgiadis
​Spenser Confidential
Synopsis: Spenser — an ex-cop better known for making trouble than solving it — just got out of prison and is leaving Boston for good. But first he gets roped into helping his old boxing coach and mentor, Henry, with a promising amateur. That's Hawk, a brash, no-nonsense MMA fighter convinced he'll be a tougher opponent than Spenser ever was. When two of Spenser's former colleagues turn up murdered, he recruits Hawk and his foul-mouthed ex-girlfriend, Cissy, to help him investigate and bring the culprits to justice.
Release date: March 6, 2020
Where: Netflix
Starring: Mark Wahlberg, Winston Duke, and Alan Arkin