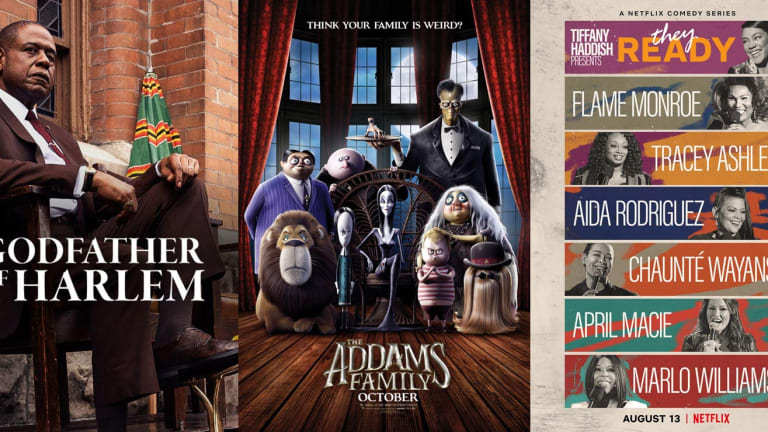 Trailer Load: 'Godfather of Harlem,' 'The Addams Family,' 'They Ready,' and More
Every Friday, we're going to share the film and television trailers that were shared with us throughout the week.
From Forest Whitaker in Godfather of Harlem to Snoop Dogg starring as IT in The Addams Family to Tiffany Haddish bringing the funny with Tiffany Haddish Presents: They Ready, here are the film, television, and streaming trailers on our radar this week.
Synopsis: This five-part docu-series goes inside the Cebu Provincial Detention and Rehabilitation Center (CPDRC), a unique Philippine jail where dancing is part of the inmates' exercise and rehabilitation. CPDRC shot to worldwide fame when its 2007 performance of "Thriller"went viral, but ten years later it faces intense scrutiny when an ex-convict is hired to run it.
Premiere date: Aug. 14, 2019
Director: Michele Josue
Godfather of Harlem
Synopsis: The 10-episode, hour-long drama series is inspired by the story of infamous crime boss Bumpy Johnson, who in the early 1960s returned from ten years in prison to find the neighborhood he once ruled in shambles. With the streets controlled by the Italian mob, Bumpy must take on the Genovese crime family to regain control. During the brutal battle, he forms an alliance with radical preacher Malcolm X – catching Malcolm's political rise in the crosshairs of social upheaval and a mob war that threatens to tear the city apart. Godfather of Harlem is a collision of the criminal underworld and the civil rights movement during one of the most tumultuous times in American history.
Premiere date: Sept. 29, 2019
Starring: Forest Whitaker, Nigel Thatch, Vincent D'Onofrio, Giancarlo Esposito, Markuann Smith, and Ilfenesh Hadera
Married to Medicine
Synopsis: Dr. Jackie is in full renovation mode building a brand new practice, moving into a new home with Curtis and continuing to rebuild their marriage. Dr. Heavenly and Damon are broadening their medical horizons by opening a surgical center all while keeping the flame in their marriage on high. Dr. Simone and Cecil are still under one roof and enjoying family life as Cecil takes on a new title as Dr. Simone's assistant. Dr. Contessa is going back to school to get her masters and working to open a new clinic with her husband Scott. Quad is living her best life and feeling liberated as she works on her inner happy and treating herself. Toya and Eugene are looking to add a new member to their family along with moving into their new home. Mariah and Aydin are embracing their children growing up and teaching them life lessons. On the business front, Mariah is working on opening a boutique in her hometown. Buffie is a new friend to the "Married to Medicine" crew and as the wife of psychiatrist Dr. David Purselle, she takes her MrsMD very seriously.
Premiere date: Sept. 8, 2019
Starring: Dr. Jacqueline Walters, Dr. Simone Whitmore, Dr. Heavenly Kimes, Toya Bush-Harris, Quad Webb, Dr. Contessa Metcalfe, Mariah Huq, and Buffie Purselle
Power
Synopsis: Power season six picks up with James "Ghost" St. Patrick seeking vengeance. His former drug partner and brother in arms must pay for the ultimate betrayal. Rocked to his core by the perfidiousness and cruelties of those he once called his family, Ghost devotes himself to one notion: Success is the best revenge, with all intentions of getting both. Ghost aims to get even with Tommy, get the Queens Child Project built to consecrate Raina's legacy, and finally achieve a thriving legitimate lifestyle with no criminal strings attached. Ghost's need to wrest satisfaction and happiness from this world by any means necessary – is the most dangerous he's ever faced. As the Feds grow closer to convicting him, Ghost must remain vigilant toward those wanting to take him down for his past criminal enterprises.
Premiere date: Aug. 25, 2019
Starring: Omari Hardwick, Joseph Sikora, and Nature Naughton
The Addams Family
Synopsis: The first family of Halloween, the Addams Family, is back on the big screen in the first animated comedy about the kookiest family on the block. Funny, outlandish, and completely iconic, the Addams Family redefines what it means to be a good neighbor.
Release date: Oct. 11, 2019
Starring: Oscar Isaac, Charlize Theron, Chloë Grace Moretz, Finn Wolfhard, Nick Kroll, Snoop Dogg, Bette Midler, Allison Janney, Martin Short, Catherine O'Hara, Tituss Burgess, Jenifer Lewis, Elsie Fisher, and Aimee Garcia
Angry Birds
Synopsis: The flightless angry birds and the scheming green piggies take their beef to the next level in The Angry Birds Movie 2! When a new threat emerges that puts both Bird and Pig Island in danger, Red, Chuck, Bomb, and Mighty Eagle recruit Chuck's sister Silver and team up with pigs Leonard, his assistant Courtney, and tech pig Garry to forge an unsteady truce and form an unlikely super team to save their homes.
Release date: Aug. 13, 2019
Starring: Jason Sudeikis, Josh Gad, Leslie Jones, Bill Hader, Rachel Bloom, Awkwafina, Sterling K. Brown, Eugenio Derbez, Danny McBride, Peter Dinklage, Zach Woods, Pete Davidson, Dove Cameron, Lil Rel Howery, Beck Bennett, Nicki Minaj, Brooklynn Prince, and JoJo Siwa
Cold Case Hammarskjöld
Synopsis: In 1961, United Nations secretary-general Dag Hammarskjöld's plane mysteriously crashed, killing Hammarskjöld and most of the crew. It's understood that because Hammarskjöld was, at the time, advocating for Congo's independence (against the wishes of European mining companies and other powerful entities), the "crash" was an assassination. With the case still unsolved 50-plus years later, Danish journalist, filmmaker, and provocateur Mads Brügger (The Red Chapel, The Ambassador) leads us down an investigative rabbit hole to unearth the truth. He, his Swedish private-investigator sidekick, and a host of co-conspirators tirelessly pursue a winding trail of clues, but they turn up more mysteries than revelations. Scores of false starts, dead ends, and elusive interviews later, they begin to sniff out something more monumental than anything they'd initially imagined.
In his signature agitprop style, Brügger becomes both filmmaker and subject, challenging the very nature of truth by "performing" the role of truth seeker. As Brügger uncovers a critical secret that could send shockwaves around the world, we realize that sometimes absurdity and irony are the emboldening ingredients needed to confront what's truly sinister.
Release date: Aug. 16, 2019
Director: Mads Brügger
Tiffany Haddish Presents: They Ready
Synopsis: Comedian and Girl's Trip breakout star Tiffany Haddish introduces the world to six of her favorite comedians in Tiffany Haddish Presents: They Ready — a bold new collection of hilarious half-hour stand-up comedy specials. Hosted and executive produced by Haddish and She Ready Productions, the special features a diverse group of comedians with whom she shares a personal history.
Premiere date: Aug. 13, 2019
Starring: Tiffany Haddish, Chaunté Wayans, April Macie, Tracey Ashley, Aida Rodriguez, Flame Monroe, and Marlo Williams