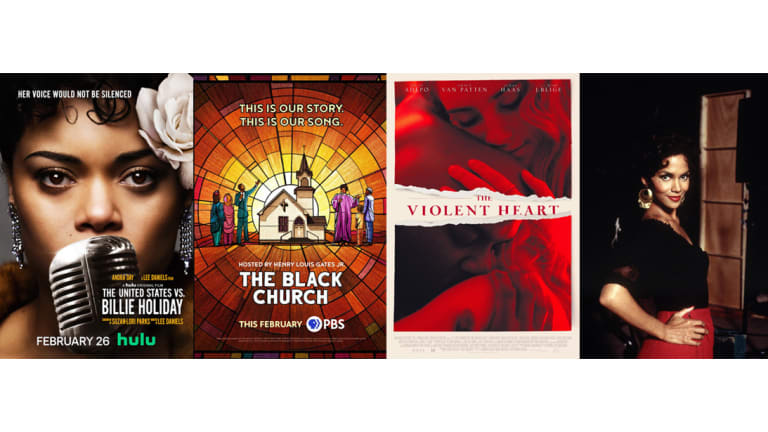 Trailer Load: Here's What You Should Stream in February
From Andra Day's film debut as Billie Holiday to PBS's The Black Church: This Is Our Story, This Is Our Song, here's what to watch this February.
With so much content, it can be overwhelming to decide what to watch. Enter "Trailer Load," UPTOWN's roundup of the films, series, and sometimes podcasts and performances that should be on your radar. This February and Black History Month, we're suggesting Judas and the Black Messiah, a film about betrayal and the assassination of Chairman of the Illinois Black Panther Party Fred Hampton; Introducing Dorothy Dandridge, which is available for the first time on HBO Max; Andra Day's highly-anticipated film debut The United States vs. Billie Holiday, which was directed by Lee Daniels; The Black Church: This Is Our Story, This Is Our Song, a PBS documentary by Henry Louis Gates Jr.; the modern-day Romeo & Juliet story The Violent Heart, which stars Mary J. Blige; the thriller Wrong Turn; the period action-drama Sew Winter to My Skin, which is inspired by the true life of Black rebel folk hero John Kepe; and more.
Introducing Dorothy Dandridge
Synopsis: Based on a true story, the film chronicles the life of Dorothy Dandridge, the first Black woman to be nominated for an Oscar for Best Actress. Dandridge begins her career working as a nightclub singer before eventually breaking into Hollywood, where she meets her steadfast manager and struggles against racism. Her rise to stardom introduces her to Otto Preminger, a film director with whom she develops a complicated relationship.
Release date: Available now
Where: HBO Max
Starring: Halle Berry, Brent Spiner, and Klaus Maria Brandauer
Silk Road
Synopsis: Philosophical twenty-something Ross Ulbricht creates Silk Road, a dark net website that sells narcotics, while DEA agent Rick Bowden goes undercover to bring him down.
Release date: Feb. 19
Where: Digital, On Demand, and select theaters
Starring: Nick Robinson, Jason Clarke, Alexandra Shipp, Darrell Britt-Gibson
Wrong Turn
Synopsis: Backwoods terror and nerve-jangling suspense meet when Jen and a group of friends set out to hike the Appalachian Trail. Despite warnings to stick to the trail, the hikers stray off course—and cross into land inhabited by The Foundation, a hidden community of mountain dwellers who use deadly means to protect their way of life. Suddenly under siege, Jen and her friends seem headed to the point of no return— unless Jen's father can reach them in time.
Release date: Feb. 23
Where: On Demand, Digital, Blu-ray, and DVD
Starring: Charlotte Vega, Adain Bradley, Bill Sage, Emma Dumont, Dylan McTee, and Matthew Modine
The Black Church: This Is Our Story, This Is Our Song
Synopsis: This moving four-hour, two-part series from executive producer, host, and writer Henry Louis Gates, Jr., the Alphonse Fletcher University Professor at Harvard University and director of the Hutchins Center for African and African American Research, traces the centuries old story of the Black church in America, all the way down to its bedrock role as the site of African-American survival and grace, organizing and resilience, thriving and testifying, autonomy and freedom, solidarity and speaking truth to power. The documentary reveals how Black people have worshipped and, through their spiritual journeys, improvised ways to bring their faith traditions from Africa to the New World, while translating them into a form of Christianity that was not only truly their own, but a redemptive force for a nation whose original sin was found in their ancestors' enslavement across the Middle Passage.
Release date: Feb. 16 and 17
Where: PBS
Featuring: Oprah Winfrey, John Legend, Jennifer Hudson, Senator Reverend Raphael Warnock, Bishop Michael Curry, Cornel West, Pastor Shirley Caesar, Rev. Al Sharpton, Yolanda Adams, Rev. William Barber II, BeBe Winans, Bishop Vashti Murphy McKenzie, Dr. Michael Eric Dyson, Evelyn Higgenbottham, and TD Jakes
She's the Boss
Synopsis: She's The Boss follows Nicole Walters, an ambitious, jet-setting entrepreneur who runs a multi-million dollar marketing empire and her husband, Josh Walters, a quirky and devoted stay-at-home lawyer. The modern-day family is made complete with the couples' three lovely adopted daughters and Eddie, Nicole's over-the-top executive assistant and best friend. Although Nicole has conquered the business world, she and Josh are learning on-the-fly that parenthood isn't always as easy as it seems, and the Walters work to juggle family, careers, obstacles, laughter and love. Faced with the never-ending entrepreneur laundry list and all the demands that come with being a wife and mother of three, can Nicole learn to find the perfect balance and truly have it all?
Release date: Feb. 25
Where: USA
Starring: Nicole Walters and her family
Synopsis: In this continuation of the iconic '80s sitcom about a bright young girl raised by a foster dad, Punky is now a single mother of three trying to get her life back on track when she meets Izzy, a young girl in the foster system who reminds Punky a lot of her younger self.
Release date: Feb. 25
Where: Peacock
Starring: Soleil Moon Frye, Cherie Johnson, Freddie Prinze Jr.
The Violent Heart
Synopsis: Fifteen years after the murder of his older sister, taciturn Daniel finds himself falling for Cassie, a vivacious high school senior in this southern gothic-inspired Romeo & Juliet story set in the American heartland.
Release date: Feb. 19
Where: Theaters and On Demand
Starring: Mary J. Blige, Grace Van Patten, Jovan Adepo, Lukas Haas, Kimberly Williams-Paisley, Jahi Di'Allo Winston
Archibald's Big Thing is Here
Synopsis: From the creative mind of Tony Hale, DreamWorks Archibald's Big Thing is Here is the next chapter for Archibald Strutter, a chicken who "yes-and's" his way through life. While his adventures don't always go as planned, Archibald takes it one step at a time with the help of his three siblings, Sage, Finly, and Loy, and his trusty sidekick, Bea.
Release date: Feb. 18
Where: Peacock
Voice cast: Tony Hale, Adam Pally, Jordan Fisher, Chelsea Kane, Kari Wahlgren, Casey Wilson, and Rosamund Pike
Sew the Winter to My Skin
Synopsis: Inspired by true events, Sew the Winter to My Skin depicts the epic hunt, capture and trial of the legendary Black rebel folk hero, John Kepe, during one of the most racially-charged political regimes in human history. Despite the massive Colonial Republic manhunt, the notorious yet charismatic outlaw evaded capture for over a decade while he terrorized white settler farmers in a courageous effort to protect his impoverished community.
Release date: Available now
Where: Crackle
Writer-director: Jahmil X.T. Qubeka
Dons of Disco
Synopsis: In the 1980s, Den Harrow dominated the European pop charts with hits like "Bad Boy" and "Don't Break My Heart." 30 years later, American Tom Hooker makes a startling revelation: he was "the secret voice" behind the project, and frontman Stefano Zandri has been lip-syncing for decades. But who is the true artist behind Den Harrow: the face or the voice?
Release date: Feb. 23
Where: iTunes, Amazon Prime, and Google Play
Director: Jonathan Sutak
The United States vs. Billie Holiday
Synopsis: The legendary Billie Holiday, one of the greatest jazz musicians of all time, spent much of her career being adored by fans across the globe. Beginning in the 1940s in New York City, the federal government targeted Holiday in a growing effort to escalate and racialize the war on drugs, ultimately aiming to stop her from singing her controversial and heart-wrenching ballad, "Strange Fruit."
Release date: Feb. 26
Where: Hulu
Starring: Andra Day, Trevante Rhodes, Natasha Lyonne, Garrett Hedlund, Miss Lawrence, Rob Morgan, Da'Vine Joy Randolph, Evan Ross, Tyler James Williams, Tone Bell, and Erik LaRay Harvey
George Balanchine's A Midsummer Night's Dream
Synopsis: San Francisco Ballet (SF Ballet) launches the 2021 Digital Season on January 21 with George Balanchine's A Midsummer Night's Dream, filmed on stage at the War Memorial Opera House in March of 2020. A tale of love, magic, and revelry that's fun for the entire family, the full-length ballet includes some of Shakespeare's best-known characters, including Titania, Oberon, Puck, and donkey-headed Bottom.
Release date: Through Feb. 10
Where: SFBallet.org
Starring: San Francisco Ballet
Judas and the Black Messiah
Synopsis: FBI informant William O'Neal infiltrates the Illinois Black Panther Party and is tasked with keeping tabs on their charismatic leader, Chairman Fred Hampton. O'Neal revels in the danger of manipulating both his comrades and his handler, Special Agent Roy Mitchell. Hampton's political prowess grows just as he's falling in love with fellow revolutionary Deborah Johnson. Meanwhile, a battle wages for O'Neal's soul. Will he align with the forces of good? Or subdue Hampton and The Panthers by any means, as FBI Director J. Edgar Hoover commands?
Release date: Feb. 12
Where: Theaters and HBO Max (for 31 days)
Starring: Daniel Kaluuya, LaKeith Stanfield, Jesse Plemons, Dominique Fishback, Martin Sheen