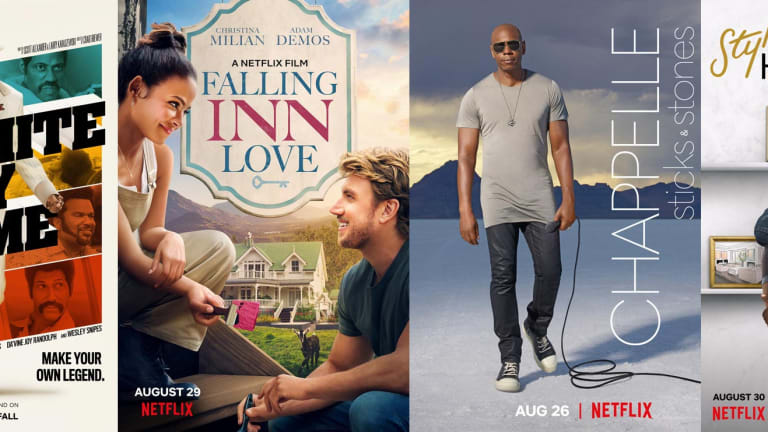 Trailer Load: 'Dolemite,' Chappelle, Milian, 'Styling Hollywood,' and More
From a prequel to many new series to a rom-com to a stand-up comedy special, here are the trailers on our radar.
If Netflix and chill is on your agenda this month, you have quite a few options from the highly-anticipated prequel The Dark Crystal: Age of Resistance, to Dolemite starring Eddie Murphy, to Christina Milian's rom-com Falling Inn Love, to Dave Chappelle's fifth special for the streaming service, to taking a peek behind the styling scene with Jason Bolden in Styling Hollywood, here are the new series and films hitting Netflix this August and the coming months. Also, The Peanut Butter Falcon hit theaters today, and the premiere of Growing Up Hip Hop: New York is later this month.
The Dark Crystal: Age of Resistance
Synopsis: Based on The Dark Crystal, Jim Henson's groundbreaking 1982 feature film, The Dark Crystal: Age of Resistance tells a new epic story, set many years before the events of the movie, and realized using classic puppetry with cutting edge visual effects. The world of Thra is dying. The Crystal of Truth is at the heart of Thra, a source of untold power. But it is damaged, corrupted by the evil Skeksis, and a sickness spreads across the land. When three Gelfling uncover the horrific truth behind the power of the Skeksis, an adventure unfolds as the fires of rebellion are lit and an epic battle for the planet begins.
Launch date: Aug. 30, 2019
Starring: Taron Egerton, Anya Taylor-Joy, Nathalie Emmanuel, Lena Headey, Benedict Wong, Awkwafina, Sigourney Weaver, Hannah John-Kamen, Dave Goelz, Caitriona Balfe, Helena Bonham Carter, Harris Dickinson, Natalie Dormer, Eddie Izzard, Theo James, Toby Jones, Shazad Latif, Gugu Mbatha-Raw, Mark Strong, Alicia Vikander, Harvey Fierstein, Mark Hamill, Ralph Ineson, Jason Isaacs, Keegan-Michael Key, Ólafur Darri Ólafsson, Simon Pegg, and Andy Samberg
Dolemite Is My Name
Synopsis: Stung by a string of showbiz failures, floundering comedian Rudy Ray Moore has an epiphany that turns him into a word-of-mouth sensation: step onstage as someone else. Borrowing from the street mythology of 1970s Los Angeles, Moore assumes the persona of Dolemite, a pimp with a cane and an arsenal of obscene fables. However, his ambitions exceed selling bootleg records deemed too racy for mainstream radio stations to play. Moore convinces a social justice-minded dramatist to write his alter ego a film, incorporating kung fu, car chases, and Lady Reed, an ex-backup singer who becomes his unexpected comedic foil. Despite clashing with his pretentious director, D'Urville Martin, and countless production hurdles at their studio in the dilapidated Dunbar Hotel, Moore's Dolemite becomes a runaway box office smash and a defining movie of the Blaxploitation era.
Launch date: This fall
Starring: Eddie Murphy, Keegan-Michael Key, Mike Epps, Craig Robinson, Tituss Burgess, Da'Vine Joy Randolph, Kodi Smit-Mcphee, Snoop Dogg, Ron Cephas Jones, Barry Shabaka Henley, Tip "T.I." Harris, Luenell, Tasha Smith, and Wesley Snipes
Wu Assassins
Synopsis: Wu Assassins follows Kai Jin, a young Chinatown chef in present day San Francisco, as he becomes entangled with the Chinese Triad's pursuit of deadly ancient powers known as the "Wu Xing." After an encounter with a mystical spirit, Kai reluctantly becomes the Wu Assassin, using his enhanced martial arts skills to recover supernatural powers from five modern day criminals threatening to use them to destroy the world.
Launch date: Aug. 8, 2019
Starring: Iko Uwais, Byron Mann, Li Jun Li, Celia Au, Lewis Tan, Lawrence Kao, Tommy Flanagan, Katheryn Winnick, Tzi Ma, JuJu Chan, Summer Glau, Robin McLeavy, and Travis Caldwell
American Factory
Synopsis: The acclaimed film takes a deep dive into a post-industrial Ohio, where a Chinese billionaire opens a new factory in the husk of an abandoned General Motors plant and hires two thousand blue-collar Americans still recovering from the effects of the 2008 recession. Working side-by-side with experienced Chinese workers, the locals are optimistic about the future for the first time in almost a decade. But early days of hope give way to setbacks as high-tech China collides with working-class America, and issues of language and culture become seemingly insurmountable walls between clashing factions.
Launch date: Aug. 21, 2019
Directors: Julia Reichert and Steven Bognar
Falling Inn Love
Synopsis: Gabriela Diaz's San Francisco design firm folds the week of her break-up. Inspired by a potent concoction of wine and Wi-Fi, she successfully enters a contest to "Win an Inn" overlooking New Zealand's countryside. Thousands of airline miles later, she discovers The Bellbird Valley Farm boasts a crumbling facade, floorboard-treading goat, and meddling neighbor who covets the space. Eager to renovate and sell the property fast, she partners with Jake Taylor, the Kiwi contractor and volunteer firefighter observing much of her city-girl culture shock. Once the final fixtures are hung, she's hesitant to leave him, the inn, and the inviting community that nurtured her creative side.
Launch date: Aug. 29, 2019
Starring: Christina Milian, Adam Demos, Jeffrey Bowyer-Chapman, Anna Jullienne, Claire Chitham, Blair Strang, Jonathan Martin, William Walker, Daniel Watterson, Simone Walker
Styling Hollywood
Synopsis: Styling Hollywood is a series following celebrity stylist Jason Bolden and his interior designer husband Adair Curtis as they run their lifestyle company JSN STUDIO while balancing marriage and life's ups and downs. With their talented crew of colorful employees, watch as they curate "Black Girl Magic" for some of Hollywood's biggest stars including Taraji P. Henson, Gabrielle Union, Eve, and Ava DuVernay (just to name a few).
Launch date: Aug. 30, 2019
Starring: Jason Bolden and Adair Curtis
The Peanut Butter Falcon
Synopsis: A modern Mark Twain style adventure story, The Peanut Butter Falcon tells the story of Zak, a young man with Down syndrome, who runs away from a residential nursing home to follow his dream of attending the professional wrestling school of his idol, The Salt Water Redneck. A strange turn of events pairs him on the road with Tyler, a small time outlaw on the run, who becomes Zak's unlikely coach and ally. Together they wind through deltas, elude capture, drink whiskey, find God, catch fish, and convince Eleanor, a kind nursing home employee charged with Zak's return, to join them on their journey.
Release date: Aug. 16, 2019
Starring: Shia LaBeouf, Dakota Johnson, Zack Gottsagen, John Hawkes, Thomas Haden Church, Jon Bernthal and Bruce Dern
Dave Chappelle: Sticks & Stones
Synopsis: Legendary comedian Dave Chappelle is back with an all-new stand-up comedy special, Sticks & Stones, his fifth Netflix Original.
Premiere date: Aug. 26, 2019
Starring: Dave Chappelle
Midnight Traveler
Synopsis: When the Taliban puts a bounty on Afghan director Hassan Fazili's head, he is forced to flee the country with his wife and two young daughters. Capturing the family's uncertain journey firsthand, Fazili documents their harrowing trek across numerous borders revealing the danger and uncertainty facing refugees seeking asylum juxtaposed with the unbreakable love shared amongst the family on the run.
Release date: Sept. 18, 2019 (NY); Oct. 4, 2019 (LA)
Director: Hassan Fazili and Emelie Mahdavian
Growing Up Hip Hop: New York
Synopsis: Growing Up Hip Hop: New York, the newest series in WE tv's hit franchise, will follow New York natives as they navigate their complicated love lives and hustle hard to become more than just the sons and daughters of their famous parents.
Premiere date: Aug. 29, 2019
Starring: Ja Rule, Irv Gotti, Fat Joe, Charli Baltimore, Young Dirty Bastard, Flavor Flav, JoJo Simmons, Lil' Mama, Kid Capri, and Madina Milana