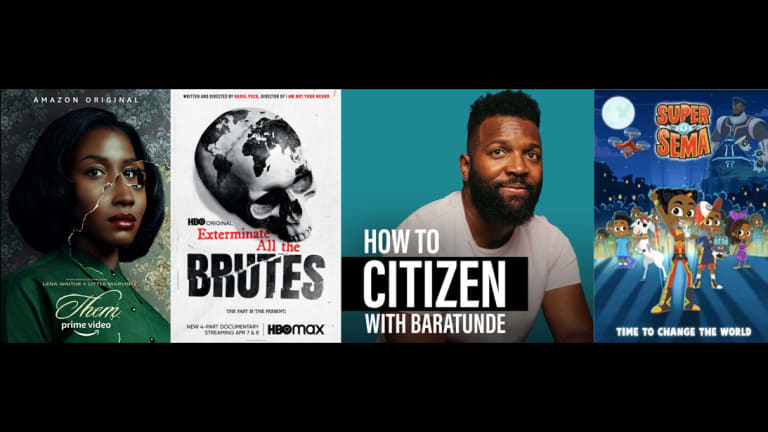 Trailer Load: What to Stream or Watch in April 2021
From THEM to Godfather of Harlem to How to Citizen to EXTERMINATE ALL THE BRUTES to Super Sema, here's what to stream or watch this month.
Horror films and series that address the racism and discrimination Black Americans have experienced in the past and today are having a major moment. While you've likely heard about THEM, the Amazon anthology series that centers around a Black family moving into an all-white neighborhood in the 1950s in season 1, Death Ranch also needs to be on your watch list. The film is set in Tennessee in the '70s and is about a trio of siblings who seek refuge from the police on an abandoned ranch only to be hunted by a cannibalistic Ku Klux Klan cult. There are also documentaries worth viewing this month, like tonight's episode of Soul of a Nation, which discusses America's New Reconstruction and features Golden Globe winner Andra Day; EXTERMINATE ALL THE BRUTES, writer-director Raoul Peck's HBO series that challenges the audience to rethink how history is chronicled; and Growing Up Milwaukee, which follows three Black youths as they try not to become a statistic. In addition, Forest Whitaker is back as Bumpy Johnson for the second season of Godfather of Harlem, and the podcast How to Citizen with Baratunde also returns for its second season. Of course if you need some lighter fare, there are new reality shows and animated series, like Super Sema.
Soul of a Nation, season 1 episode 6
Synopsis: As the country grapples with the Derek Chauvin trial, an all-new episode of the primetime newsmagazine Soul of a Nation delves into America's New Reconstruction – can the Black community turn pain into promise, prosperity and power? Actor Michael Kenneth Williams explores the hope and resilience of the Black community throughout history as the guest host. Williams, ABC News' Linsey Davis, Sunny Hostin, Steve Osunsami, Rachel Scott, and Pierre Thomas lead the hour which features an interview with and performance by singer Andra Day. The episode looks back at the Tulsa Race Massacre nearly 100 years later, features the unseen Black men who have been sentenced to death row and examines the racial reckoning in present-day America which some call "the third reconstruction." Soul of a Nation airs Tuesday, April 6 on ABC, the same day the first episode of ABC Audio's new accompanying podcast Soul of a Nation: Tulsa's Buried Truth, written and hosted by Osunsami, debuts.
Release date: April 6
Where: ABC at 10 p.m. ET/Hulu (from April 7)
Featuring: Andra Day, Michael Kenneth Williams
Archibald's Next Bit Thing Is Here!
Synopsis: Tag along on season two of Archibald's Next Bit Thing Is Here! as Archibald embraces one misadventure after another. Whether he's trying to create the ultimate Strutter family photo, eluding an overzealous librarian after an overdue book or accidentally crashing Finly's band's performance, Archibald always finds a way to celebrate life's little moments to the fullest.
Premiere date: April 22
Where: Peacock
Inspired by: The critically acclaimed children's book from Tony Hale, Tony Biaggne, Victor Huckabee and Misty Manley, Archibald's Next Big Thing
Retro Afrika Cult Classics
Synopsis: This April, IndiePix Films invites home audiences to strap in for three all-new, action-packed crime capers in their acclaimed Retro Afrika collection. A precursor to today's burgeoning Nollywood film industry, this trio of Apartheid-era films produced by and starring native South Africans pays homage to Hollywood action in highly-entertaining B-movie style. Hailing from Retro Afrika Bioscope, a label dedicated to locating, acquiring and restoring South African cult classic films from the '70s and '80s, and never seen before outside their borders have all undergone a highly-specialized digital restoration process for optimal viewing. Welcome to Sollywood!
Release date: April 27
Where: DVD/Digital (Amazon, iTunes, Vudu, Google)
Featured films: Ambushed (1988), Faceless Man (1985), Run for Your Life (1985)
Hustle & Tow
Synopsis: Hustle & Tow pops the hood to take a close-up look at America's unsung essential workers who perform daily under extremely dangerous conditions, despite every imaginable encounter with unexpected terrain, wildlife and weather: tow truck drivers. These hard-working men and women respond to a massive array of calls from recovering stolen cars, to handling contentious impounds, clearing behemoth big rig wrecks, rescuing families who have veered off the highway and much more. Embedded with diverse shops and drivers in both rural and urban communities across the country, "Hustle & Tow" offers viewers a rugged "day-in-the-life" perspective on tow truck drivers, where depending on the call drivers can either be hailed as heroes or labeled as villains. These drivers – part-mechanics and part-first responders – endeavor to keep the country mobile while moving from one call to the next to get the job done.
Premiere date: April 20
Where: A&E
Running Wild with Bear Grylls: "Terry Crews in the Icelandic Highlands"
Synopsis: Brooklyn Nine-Nine star Terry Crews joins Bear Grylls on an epic journey across Iceland's treacherous terrain. Their adventure begins with a heli-ski ride into the mountains, where they must descend a volcanic scree slope without setting off a deadly rock avalanche. Survival is the name of the game for this NFL linebacker turned actor—from trying to cross freezing, violent floodwaters without drowning to finding warm shelter to avoid hypothermia—but nothing can prepare Terry for being tossed out of a plane at 12,000 feet!
Available: Now
Where: Nat Geo/On Demand
Featuring: Terry Crews, Bear Grylls
EXTERMINATE ALL THE BRUTES
Synopsis: A journey in time, EXTERMINATE ALL THE BRUTES is a filmmaker's personal voyage into the darkest hours of humanity, in which Peck deconstructs the making and masking of history, digging deep into European white supremacy's ideology. Peck challenges the audience to re-think the very notion of how history is being written.
The series is based on three works by authors and scholars – Sven Lindqvist's "Exterminate All the Brutes," Roxanne Dunbar-Ortiz's "An Indigenous Peoples' History of the United States" and Michel-Rolph Trouillot's "Silencing the Past" – EXTERMINATE ALL THE BRUTES revisits and reframes the profound meaning of the Native American genocide and American slavery, and their fundamental implications for our present.
Release date: April 7
Where: HBO/HBO Max
Writer-director: Raoul Peck
The Mitchells vs. The Machines
Synopsis: From the humans who brought you the Academy Award-winning Spider-Man: Into The Spider-Verse and The LEGO Movie comes The Mitchells vs. The Machines, an animated action-comedy about an ordinary family who find themselves in the middle of their biggest family challenge yet…saving the world from the robot apocalypse. No big deal, right? It all starts when creative outsider Katie Mitchell is accepted into the film school of her dreams and is eager to leave home and find "her people," when her nature-loving dad insists on having the whole family drive her to school and bond during one last totally-not-awkward-or-forced road trip. But just when the trip can't get any worse, the family suddenly finds itself in the middle of the robot uprising! Everything from smart phones, to roombas, to evil Furbys are employed to capture every human on the planet. Now it's up to the Mitchells, including upbeat mom Linda, quirky little brother Aaron, their squishy pug, Monchi, and two friendly, but simple-minded robots to save humanity.
Release date: April 30
Where: Netflix
Voice cast: Abbi Jacobson, Danny McBride, Maya Rudolph, Mike Rianda, Eric Andre, Olivia Colman, Fred Armisen, Beck Bennett, Chrissy Teigen, John Legend, Charlyne Yi, Blake Griffin, Conan O'Brien, Doug the Pug, Sasheer Zamata, Elle Mills, Alex Hirsch, Jay Pharoah
Growing Up Milwaukee
Synopsis: Behind every statistic is a story. Three Black youth grapple with the daily experiences of growing up in the heart of Milwaukee, while fighting to avoid becoming just another statistic. Stark yet hopeful, it's an essential viewing for all to see through the eyes of these young folks and build empathy around their singular, yet all too familiar, experiences.
Available: Now
Where: HBO Max
Directed by: Tyshun Wardlaw
CREEPSHOW, season 2
Synopsis: CREEPSHOW, the new anthology series based on the 1982 horror comedy classic, is still the most fun you'll ever have being scared! A comic book comes to life in a series of vignettes, exploring terrors ranging from murder, creatures, monsters, and delusions to the supernatural and unexplainable. You never know what will be on the next page ...
Available: Now
Where: Shudder
Featuring: Josh McDermitt, Ashley Laurence, Keith David, Ryan Kwanten, Breckin Meyer, Eric Edelstein, Barbara Crampton, C. Thomas Howell , Iman Benson, Ted Raimi, Denise Crosby, Kevin Dillon
The Resort
Synopsis: Four friends head to Hawaii to investigate reports of a haunting at an abandoned resort in hopes of finding the infamous Half-Faced Girl. When they arrive, they soon learn you should be careful what you wish for.
Release date: April 30
Where: Select theaters/On Demand
Executive producer: Quavo
How to Citizen with Baratunde, season 2
Synopsis: We feel the dangerous divisions within our democracy daily: the pandemic response, racial oppression, and political violence. In Season Two, we focus on ground zero for these divisions: money, capitalism, and the economy. In a time of radical economic inequality, how do we "citizen" when we can't pay the bills?
This season we explore the deep roots of wealth inequality in the US, and search across the nation for inspiring people working on solutions. Their stories paint a powerful picture of a new, more inclusive economy that serves the many, strengthens local relationships, and gives people not just stability but the time to truly citizen.
Available: Now
Where: Apple Podcasts, Spotify, iHeart Radio
Featuring: Baratunde Thurston
Godfather of Harlem, season 2
Synopsis: Godfather of Harlem season 2 finds Bumpy Johnson battling the New York Crime Families for control of the lucrative and murderous "French Connection," the pipeline for heroin that runs from Marseilles to New York Harbor. With a distribution syndicate that includes black crime bosses from other major U.S. cities, Bumpy takes a cue from his friend Malcolm X's message of black economic nationalism. His ambitious plan will face challenges from not only the Italians but his wife Mayme, daughter Elise, rival Adam Clayton Powell, prosecutor Robert Morgenthau, and even Malcolm himself. Once again, Godfather of Harlem explores the collision of the criminal underworld and civil rights in the colorful, tumultuous year of 1964.
Premiere date: April 18
Where: EPIX
Starring: Forest Whitaker, Vincent D'Onofrio, Ilfenesh Hadera, Nigél Thatch, Giancarlo Esposito, Lucy Fry, Rafi Gavron, Antoinette Crowe-Legacy, Erik LaRay Harvey, Demi Singleton, Justin Bartha, Annabella Sciorra, Ronald Guttman, Gino Cafarelli, Isaach De Bankolé, Grace Porter, Method Man, Michael Rispoli, Neal Matarazzo
THEM
Synopsis: THEM is a limited anthology series that explores terror in America. The first season, 1950s-set COVENANT centers around a Black family who move from North Carolina to an all-white Los Angeles neighborhood during the period known as The Great Migration. The family's idyllic home becomes ground zero where malevolent forces, next door and otherworldly, threaten to taunt, ravage, and destroy them.
Premiere date: April 9
Where: Amazon Prime Video
Starring: Deborah Ayorinde, Ashley Thomas, Alison Pill, Shahadi Wright Joseph, Melody Hurd, Ryan Kwanten
Moment of Truth
Synopsis: Moment of Truth tells the never-before-seen story behind the murder of beloved husband and father, James Jordan, as well as the history of social injustice in Robeson County, North Carolina, where two teenagers, Larry Demery and Daniel Green, were charged and convicted of the crime.
Available: Now
Where: IMDb TV
Directors: Matthew Perniciaro and Clay Johnson
Notorious Queens
Synopsis: This series will follow these four strong and proud women as they try to move on from their troubled pasts and embrace their new futures in love, business and friendship. Their stories will intertwine as they lean on each other for support, but they will not always see eye to eye.
Available: Now
Where: ALLBLK
Featuring: Mehgan James, La'Britney Franklin, Stormey Ramdhan, and Tonesa Welch
Death Ranch
Synopsis: 1970s USA. Three African-American siblings, Brandon, Angela, and Clarence, on the run from the police, take refuge at an abandoned Tennessee ranch. But as night falls, Brandon discovers their hideout is on the hunting grounds of a cannibalistic Ku Klux Klan cult, and it's not long before the siblings themselves are attacked and captured by the demented cult. Now, it's up to Brandon to take down the bloodthirsty Klan, and save his brother and sister so they can have their bloody vengeance and escape alive.
Release date: April 20
Where: VOD, Digital HD, DVD, Blu-Ray
Starring: Deiondre Teagle, Faith Monique, Travis Cutner, Scot Scurlock, Brad Belemjian
Glad You Asked, season 2
Synopsis: Are we automating racism? Does your neighborhood determine your future? Is meritocracy a myth? We'll grapple with all of these questions and more on a new season of Glad You Asked. Throughout this five-part series, we'll explore how racial injustice impacts our everyday lives— from how we code bias into our technology to how our public education system fails millions of students.
Available: Now
Where: Vox on YouTube
Super Sema
Synopsis: Fueled by STEAM (Science, Technology, Engineering, Art, and Math) super powers, the series follows the world-changing adventures of an extraordinary young African girl, Sema, who lives in the neo African-futuristic community of Dunia.
Available: Now
Where: YouTube
Writer: Claudia Lloyd; Director: Lynne Southerland
The Innocence Files
Synopsis: The Innocence Files shines a light on the untold personal stories behind eight cases of wrongful conviction that the nonprofit organization the Innocence Project and organizations within the Innocence Network have uncovered and worked tirelessly to overturn. The nine-episode series is composed of three compelling parts - The Evidence, The Witness, and The Prosecution. These stories expose difficult truths about the state of America's deeply flawed criminal justice system, while showing when the innocent are convicted, it is not just one life that is irreparably damaged forever: families, victims of crime and trust in the system are also broken in the process.
Release date: April 15
Where: Netflix
Directors: Liz Garbus, Alex Gibney, Roger Ross Williams, Jed Rothstein, Andy Grieve, Sarah Dowland