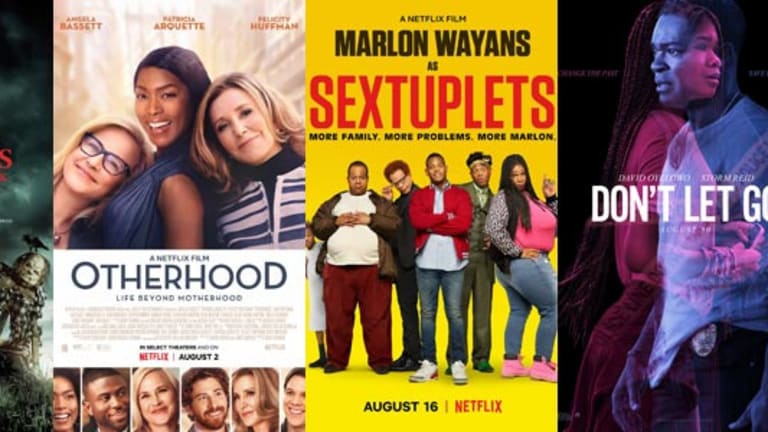 Trailer Load: Angela, Marlon, Morgan, Storm, Wu-Tang Clan & More [VIDEOS]
Every Friday, we're going to share the film and television trailers that were shared with us throughout the week.
Today, we're highlighting the latest from Angela Bassett, Marlon Wayans, Morgan Freeman, Storm Reid, Jada Pinkett Smith, and more. Plus, we have the highly-anticipated trailer of the Wu-Tang Clan origins series, Wu-Tang: An American Saga, on Hulu.
Scary Stories to Tell in the Dark
Synopsis: It's 1968 in America. Change is blowing in the wind ... but seemingly far removed from the unrest in the cities is the small town of Mill Valley where for generations, the shadow of the Bellows family has loomed large. It is in their mansion on the edge of town that Sarah, a young girl with horrible secrets, turned her tortured life into a series of scary stories, written in a book that has transcended time—stories that have a way of becoming all too real for a group of teenagers who discover Sarah's terrifying home.
Release date: Aug. 9, 2019
Starring: Zoe Margaret Colletti, Michael Garza, Gabriel Rush
​
Gemini Man
Synopsis: Gemini Man is an innovative action-thriller starring Will Smith as Henry Brogan, an elite assassin, who is suddenly targeted and pursued by a mysterious young operative that seemingly can predict his every move. 
Release date: Oct. 11, 2019
Starring: Will Smith, Mary Elizabeth Winstead, Clive Owen
​
Angel Has Fallen
Synopsis: Secret Service Agent Mike Banning is framed for the attempted assassination of the President and must evade his own agency and the FBI as he tries to uncover the real threat.
Starring: Gerard Butler, Morgan Freeman, Piper Perabo, Jada Pinkett Smith
Release date: Aug. 23, 2019
​
Zombieland 2: Double Tap
Synopsis: A decade after Zombieland became a hit film and a cult classic, the lead cast have reunited with director Ruben Fleischer and the original writers Rhett Reese & Paul Wernick for Zombieland 2: Double Tap. In the sequel, written by Rhett Reese & Paul Wernick and Dave Callaham, through comic mayhem that stretches from the White House and through the heartland, these four slayers must face off against the many new kinds of zombies that have evolved since the first movie, as well as some new human survivors. But most of all, they have to face the growing pains of their own snarky, makeshift family.
Starring: Woody Harrelson, Rosario Dawson, Luke Wilson, Jesse Eisenberg, Abigail Breslin, Emma Stone
Release date: Oct. 8, 2019
​
Wu-Tang: An American Saga
Synopsis: Wu-Tang: An American Saga is inspired by "The Wu-Tang Manual" and "Tao of Wu," and based on the true story of the Wu-Tang Clan. Set in early '90s New York at the height of the crack cocaine epidemic, the show tracks the Clan's formation, a vision of Bobby Diggs aka The RZA, who strives to unite a dozen young, black men that are torn between music and crime but eventually rise to become the unlikeliest of American success stories.
Starring: Shameik Moore, Ashton Sanders, Erika Alexander, Julian Elijah Martinez , Siddiq Sanderson, Marcus Callender, Zolee Griggs, Vinnie Pastore, Dave East, Joey Bada$$
Premiere date: Sept. 4, 2019
​
Don't Let Go
Synopsis: In Don't Let Go, detective Jack Radcliff gets a shocking phone call from his recently-murdered niece Ashley. Working together across time, they race to solve her murder before it can happen.
Starring: David Oyelowo, Storm Reid, Mykelti Williamson, Brian Tyree Henry, Shinelle Azoroh, Byron Mann, April Grace, Alfred Molina
Release date: Aug. 30, 2019
​
Monos
Synopsis: In a remote mountaintop setting somewhere in Latin America, a rebel group of teenage commandos bearing noms de guerre like Rambo, Smurf, Bigfoot, Wolf, and Boom-Boom perform military training exercises while watching over a prisoner and a conscripted milk cow for a shadowy force known only as The Organization.  After an ambush drives the squadron into the jungle, fracturing their intricate bond, the mission begins to collapse.
Starring: Julianne Nicholson, Moises Arias
Release date: Sept. 13, 2019
​
Seaside
Synopsis: Set amidst the dangerous beauty of the Oregon Coast, SEASIDE follows Daphne, who moves in with her boyfriend, Roger, when he inherits his childhood beach house. The two decide to start a family and a new life but when they run into Susanna, a local who works at the arcade, Daphne realizes that Roger hasn't been completely honest about his romantic past. Now, Daphne must risk everything to fight for her relationship and even her life.
Starring: Ariana Debose, Matt Shingledecker, Steffanie Leigh, Sharon Washington
Release date: Aug. 20, 2019
​
Otherhood
Synopsis: For empty nesters, what's the difference between letting your children grow up and letting them grow distant? This year, on Mother's Day, feeling marginalized and forgotten, longtime friends Carol, Gillian, and Helen decide to drive to New York City to reconnect with their adult sons, and in the process, they realize their sons are not the only ones whose lives need to change. A journey to relate becomes a journey of rediscovery that forces these women to redefine their relationships with their children, friends, spouses and most importantly, themselves. 
Starring: Angela Bassett, Patricia Arquette, Felicity Huffman
Release date: Aug. 2, 2019
​
Sextuplets
Synopsis: Sextuplets … tells the story of Alan, an expectant father who grew up believing he was an only child. While searching for his birth mother, Alan comes face-to-face with a brother he never knew existed, Russell, who helps him uncover their secret status as sextuplets (all played by Wayans). Soon they begin a spontaneous road trip to track down their additional siblings, but not before Alan wonders whether exploring his roots was a huge mistake.
Starring: Marlon Wayans
Release date: Aug. 16, 2019