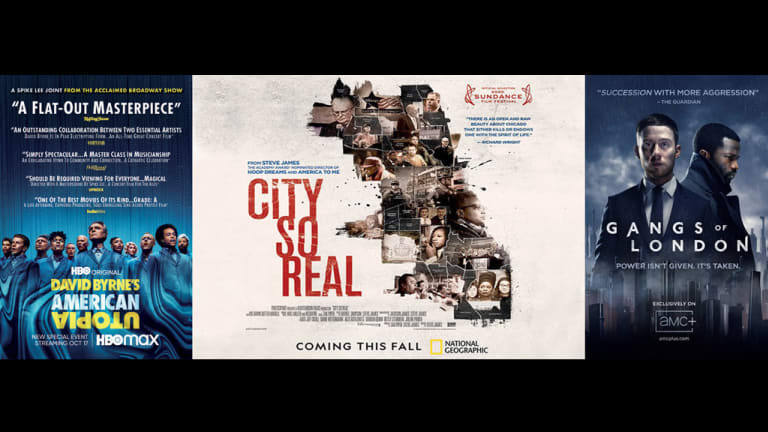 Trailer Load: 'American Utopia,' 'Gangs of London,' 'City So Real,' & More
It's time to get cozy in front of the TV to watch new films and series.
From the latest Spike Lee Joint to a series that gained acclaim across the pond to a documentary that takes a close look at a year in Chicago, here are the shows, movies, and documentaries you'll want to watch this season.
Gangs of London
Synopsis: Set in the heart of one of the world's most dynamic and multicultural cities, Gangs of London tells the story of a city being torn apart by the turbulent power struggles of the international gangs that control it and the sudden power vacuum that's created when the head of London's most powerful crime family is assassinated.
Release date: Oct. 1, 2020
Where: AMC+
Starring: Joe Cole, Ṣọpẹ́ Dìrísù, Colm Meaney, Lucian Msamati, Michelle Fairley, Paapa Essiedu, and Pippa Bennett-Warner
​
City So Real
Synopsis: From Academy Award-nominated Steve James, the five-part documentary series shows a complex portrait of Chicago, the quintessentially American city, from the history-making 2019 mayor's race to the tumultuous summer of '20.
Release date: Oct. 29, 2020; Oct. 30, 2020
Where: Nat Geo (10/29); Hulu (10/30)
Director: Steve James
​
#RunThatBack
Synopsis: Wyclef Jean, in partnership with Bacardí, goes deep as he speaks with some of the world's most influential cultural icons who share their realest, rawest, and most revealing stories.
Release date: Available now
Where: YouTube
Featuring: Lena Waithe, Clive Davis, Kirk Franklin, Rapsody, A$AP Ferg
​
Freedia Got a Gun
Synopsis: Freedia Got a Gun dives into this country's centuries-long struggle with gun violence and its ties back to race and toxic masculinity. Devastated after learning her brother Adam was murdered, New Orleans bounce legend Big Freedia uses her platform to raise awareness about the complexities of gun violence. As Freedia shares her personal journey from growing up gay in the projects through Hurricane Katrina and chasing her musical dreams, she delves deep into the first-hand experiences she and the community have had with gun violence, seeking to uncover the causes behind it.
Release date: Oct. 15, 2020
Where: Peacock
Director: Chris McKim
​
Sound of Metal
Synopsis: During a series of adrenaline-fueled one-night gigs, itinerant punk-metal drummer Ruben begins to experience intermittent hearing loss. When a specialist tells him his condition will rapidly worsen, he thinks his music career — and with it his life — is over. His bandmate and girlfriend Lou checks the recovering heroin addict into a secluded sober house for the deaf in hopes it will prevent a relapse and help him learn to adapt to his new situation. But after being welcomed into a community that accepts him just as he is, Ruben has to choose between his equilibrium and the drive to reclaim the life he once knew. Utilizing startling, innovative sound design techniques, director Darius Marder takes audiences inside Ruben's experience to vividly recreate his journey into a rarely examined world.
Release date: Nov. 20, 2020; Dec. 4, 2020
Where: Select theaters (11/20); Amazon Prime Video (12/4)
Starring: Riz Ahmed, Olivia Cooke, Paul Raci, Lauren Ridloff, Shaheem Sanchez, Chelsea Lee, Jeremy Stone, and Mathieu Amalric
​
Secret Society of Second-Born Royals
Synopsis: They're not the heirs, but they're destined to protect the throne.
Release date: Sept. 25, 2020
Where: Disney+
Starring: Faly Rakotohavana, Skylar Astin, Niles Fitch, and Peyton Elizabeth Lee
​
Impact of Murder: "There's No Winning in Murder"
Synopsis: The finale of ID's Impact of Murder profiles the gut-wrenching story of Corrinna Martin, a domestic violence survivor who lost two daughters and a granddaughter to the cycle.
Release date: Oct. 1, 2020
Where: Investigation Discovery
Featuring: Corrinna Martin
​
Red Table Talk
Synopsis: On Red Table Talk, Jada Pinkett Smith, her daughter Willow, and mother Adrienne "Gammy" invite viewers into their home for a series of groundbreaking and intimate conversations. The show, led by three generations of powerful women, celebrates themes of self-reflection, vulnerability, and compassion, and has emerged as the go-to place for unpacking the most compelling social issues of today.
Release date: Sept. 28, 2020
Where: Facebook Watch
Featuring: Jessica Alba, Ashley Graham, Amber Rose, and of-the-moment topics, such as mom-shaming and sexual consent
​
Save Yourselves
Synopsis: Jack and Su are a hip Brooklyn couple who, like many of their friends, find themselves dependent on technology and unable to put down their phones. Fearing their mindless scrolling may impact their connection with each other, they seize the chance to head to an isolated cabin in the woods, vowing to unplug from the outside world for a week. Sheltered from texts and push notifications, they are blissfully unaware that the planet is under attack. As strange events unfold, the couple must figure out a way back to civilization—or what's left of it.
Release date: Oct. 2, 2020; Oct. 6, 2020
Where: Theaters (10/2); Digital (10/6)
Starring: Sunita Mani, John Reynolds, Ben Sinclair, John Early, Jo Firestone, Gary Richardson, Johanna Day, Zenobia Shroff, and Amy Sedaris
​
David Byrne's American Utopia
Synopsis: Recorded during its run at Broadway's Hudson Theatre in New York City, David Byrne is joined by an ensemble of 11 musicians, singers, and dancers from around the globe, inviting audiences into a joyous dreamworld where human connection, self-evolution, and social justice are paramount.
Release date: Oct. 17, 2020
Where: HBO
Director: Spike Lee
​
MR. MERCEDES
Synopsis: Based on the New York Times Best-Selling Bill Hodges trilogy (Mr. Mercedes, Finders Keepers, and End of Watch) by Stephen King, MR. MERCEDES follows a retired detective who is tormented by a serial killer (Brady Hartsfield, aka Mr. Mercedes) through a series of letters and e-mails, causing him to set out on a dangerous and potentially felonious crusade to protect his loved ones and himself.
Release date: Oct. 15, 2020
Where: Peacock
Starring: Brendan Gleeson, Harry Treadaway, Kelly Lynch, Jharrel Jerome, Mary-Louise Parker, Holland Taylor, Justine Lupe, Breeda Wool, Scott Lawrence, Ann Cusack, Jack Huston, Tessa Ferrer, Maximiliano Hernández, and Nancy Travis
​
The Soul of Midnight Special
Synopsis: For the first time, the greatest soul performances from The Midnight Special are available in one collection, The Soul of Midnight Special. These performances showcase straight-from-the-heart soul singing—with live musicians in front of a live audience. The '70s were a special time for soul music, a decade filled with legendary artists like Al Green, Teddy Pendergrass, The O'Jays, Marvin Gaye, The Stylistics and so many more. Week after week, The Midnight Special featured soul artists performing their biggest hits live and uncut in the prime of their careers.
Release date: Oct. 6, 2020
Where: 5-DVD set ($45.99) at Barnes & Noble and Amazon
Featuring: James Brown, Barry White, Earth, Wind & Fire, Al Green, Gladys Knight & the Pips, Curtis Mayfield, and Sly & the Family Stone
​
CENTRAL AVE.
Synopsis: Lionsgate's Debmar-Mercury and record-breaking producer Will Packer will bring back the nationally syndicated, multicultural, investigative entertainment and pop culture magazine show CENTRAL AVE, hosted by veteran entertainment reporter Julissa Bermudez and four-time Olympic gold medalist Sanya Richards-Ross.
Release date: Sept. 26, 2020
Where: Syndication
Executive producers: Will Packer and Kelly Smith; Showrunner/co-creator: Monique Chenault