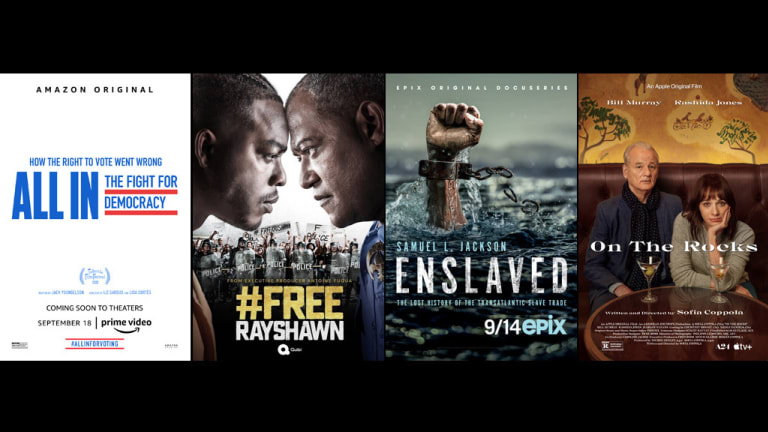 Trailer Load: 'All In,' '#FreeRayshawn,' 'Enslaved,' 'On the Rocks' & More
Here are the series and films to look forward to in autumn and winter for 2020 and early-2021.
See the trailers for films and shows featuring Stacey Abrams, Stephan James, Laurence Fishburne, Samuel L. Jackson, Rashida Jones, Colman Domingo,Letitia Wright, Stan Shaw, and more.
Death on the Nile
Synopsis: Belgian sleuth Hercule Poirot's Egyptian vacation aboard a glamorous river steamer turns into a terrifying search for a murderer when a picture-perfect couple's idyllic honeymoon is tragically cut short. Set against an epic landscape of sweeping desert vistas and the majestic Giza pyramids, this tale of unbridled passion and incapacitating jealousy features a cosmopolitan group of impeccably dressed travelers, and enough wicked twists and turns to leave audiences guessing until the final, shocking denouement.
Release date: Oct. 23, 2020
Where: Theaters
Starring: Kenneth Branagh, Tom Bateman, Annette Bening, Russell Brand, Ali Fazal, Dawn French, Gal Gadot, Armie Hammer, Rose Leslie, Emma Mackey, Sophie Okonedo, Jennifer Saunders, and Letitia Wright
​
High on Heels
Synopsis: High On Heels explores the popular accessory women come to experience. With its social representation and unique style trends, high heels have evolved into an international fashion staple. As a conversational piece, this fashion film dives into the key aspects of heels in lifestyle choices, feelings of sexuality and beauty, the shoe's history and the health factors that come with wearing them. It also educates women (and men) about the symbolism of heels and highlights the perspective of professional women whose day-to-day lives are impacted by them. Voices in the film come from shoe designers, stylists, dancers, models, fashion bloggers, influencers, educators, doctors, and everyday women.
Release date: Streaming
Where: Amazon Prime
Directed by: Adelin Gasana; Produced by: Lola Kayode
​
On the Rocks
Synopsis: Faced with sudden doubts about her marriage, a young New York mother and writer teams up with her larger-than-life playboy father to tail her husband in a bittersweet comedy about relationships, written and directed by Sofia Coppola.
Release date: October 2020
Where: Apple TV+
Starring: Bill Murray, Rashida Jones, and Marlon Wayans
​
Synopsis: Enslaved is a six-episode docuseries that explores 400 years of human trafficking from Africa to the New World by following the efforts of Diving with a Purpose, as they search for and locate six slave ships that went down with their human cargo. Executive produced and hosted by award-winning actor Samuel L. Jackson, the series tracks the efforts of divers as they utilize new methods of underwater archaeology to identify and locate these sunken slave ships for the first time in history. These modern day adventures serve as a springboard to tell the stories of the ideology, economics and politics of slavery, while also celebrating stories of resistance, the cultures left behind and the culture that we live in.
Premiere date: Sept. 14, 2020 (US); Oct. 18, 2020 (Canada)
Where: EPIX (US); CBC (Canada)
Starring: Samuel L. Jackson
​
All In: The Fight For Democracy
Synopsis: In anticipation of the 2020 presidential election, All In: The Fight For Democracy examines the often overlooked, yet insidious issue of voter suppression in the United States. The film interweaves personal experiences with current activism and historical insight to expose a problem that has corrupted our democracy from the very beginning. With the perspective and expertise of Stacey Abrams, the former Minority Leader of the Georgia House of Representatives, the documentary offers an insider's look into laws and barriers to voting that most people don't even know are threats to their basic rights as citizens of the United States.
Release date: Sept. 9, 2020 (Theaters); Sept. 18, 2020 (Streaming)
Where: Theaters; Amazon Prime Video
Featuring: Stacey Abrams
​
Time
Synopsis: Fox Rich is a fighter. The entrepreneur, abolitionist and mother of six boys has spent the last two decades campaigning for the release of her husband, Robert Richardson, who is serving a 60-year sentence for a robbery they both committed in the early 90s in a moment of desperation. Combining the video diaries Fox has recorded for Robert over the years with intimate glimpses of her present-day life, director Garrett Bradley paints a mesmerizing portrait of the resilience and radical love necessary to prevail over the endless separations of the country's prison-industrial complex.
Release date: Oct. 9, 2020 (Theaters); Oct. 23, 2020 (Streaming)
Where: Theaters; Amazon Prime Video
Featuring: Fox and Rob Rich
​
Candyman
Synopsis: For as long as residents can remember, the housing projects of Chicago's Cabrini Green neighborhood were terrorized by a word-of-mouth ghost story about a supernatural killer with a hook for a hand, easily summoned by those daring to repeat his name five times into a mirror. In present day, a decade after the last of the Cabrini towers were torn down, visual artist Anthony McCoy and his girlfriend, gallery director Brianna Cartwright, move into a luxury loft condo in Cabrini, now gentrified beyond recognition and inhabited by upwardly mobile millennials.
With Anthony's painting career on the brink of stalling, a chance encounter with a Cabrini Green old-timer exposes Anthony to the tragically horrific nature of the true story behind Candyman. Anxious to maintain his status in the Chicago art world, Anthony begins to explore these macabre details in his studio as fresh grist for paintings, unknowingly opening a door to a complex past that unravels his own sanity and unleashes a terrifying wave of violence that puts him on a collision course with destiny.
Release date: Oct. 16, 2020
Where: Theaters
Starring: Yahya Abdul-Mateen II, Teyonah Parris, Nathan Stewart-Jarrett, and Colman Domingo; Directed by: Mia DaCosta
​
#FreeRayshawn
Synopsis: Rayshawn Morris finds himself in an all-day standoff with New Orleans police. Desperate to protect his family, while proving his innocence, he turns to social media to clear his name with the help of one sympathetic cop, Steven Poincy.
Premiere date: Now
Where: Quibi
Starring: Laurence Fishburne, Stephan James, Skeet Ulrich, Jasmine Cephas Jones
​
Centerpiece
Synopsis: Visionary florist and host Maurice Harris interviews creatives about their process. As they open up about their journey, Maurice uses his incredible flower design skills to create a beautiful centerpiece that reflects their conversation.
Premiere date: Now
Where: Quibi
Featuring: Maurice Harris, Rashida Jones, Maya Rudolph, Tessa Thompson, Moses Sumney, Melina Matsoukas, Kerby Jean-Raymond, and Jeremy O. Harris
​
No Time to Die
Synopsis: In No Time to Die, Bond has left active service and is enjoying a tranquil life in Jamaica. His peace is short-lived when his old friend Felix Leiter from the CIA turns up asking for help. The mission to rescue a kidnapped scientist turns out to be far more treacherous than expected, leading Bond onto the trail of a mysterious villain armed with dangerous new technology.
Release date: Nov. 20, 2020
Where: Theaters
Starring: Daniel Craig, Rami Malek, Jeffrey Wright, Lashana Lynch, and Naomie Harris
​
The Pale Door
Synopsis: The Dalton gang find shelter in a seemingly uninhabited ghost town after a train robbery goes south. Seeking help for their wounded leader, they are surprised to stumble upon a welcoming brothel in the town's square. But the beautiful women who greet them are actually a coven of witches with very sinister plans for the unsuspecting outlaws - and the battle between good and evil is just beginning.
Release date: Aug. 21, 2020
Where: Theaters, VOD, and Digital HD
Starring: Devin Druid, Zachary Knighton, Bill Sage, Pat Healy, Natasha Bassett, Stan Shaw, and Melora Walters
​
Woke
Synopsis: New comedy series, Woke, follows Keef, an African-American cartoonist finally on the verge of mainstream success when an unexpected incident changes everything. Keef must now navigate the new voices and ideas that confront and challenge him, all without setting aflame everything he's already built.
Premiere date: Sept. 9, 2020
Where: Hulu
Starring: Lamorne Morris
​
Endless
Synopsis: When madly in love high school graduates Riley and Chris are separated by a tragic car accident, Riley blames herself for her boyfriend's death while Chris is stranded in limbo. Miraculously, the two find a way to connect. In a love story that transcends life and death, both Riley and Chris are forced to learn the hardest lesson of all: letting go.
Release date: Aug. 14, 2020
Where: Theaters, Digital, On Demand
Starring: Alexandra Shipp, Nicholas Hamilton, DeRon Horton, Famke Janssen, Ian Tracey, Eddie Ramos
​
Archenemy
Synopsis: Max Fist claims to be a hero from another dimension who fell through time and space to Earth, where he has no powers. No one believes his stories except for a local teen named Hamster and his older sister. Together, they take to the streets to wipe out the local drug syndicate.
Release date: 2021
Where: TBA
Starring: Joe Manganiello, Glenn Howerton, Skylan Brooks, Zolee Griggs, Joseph D. Reitman