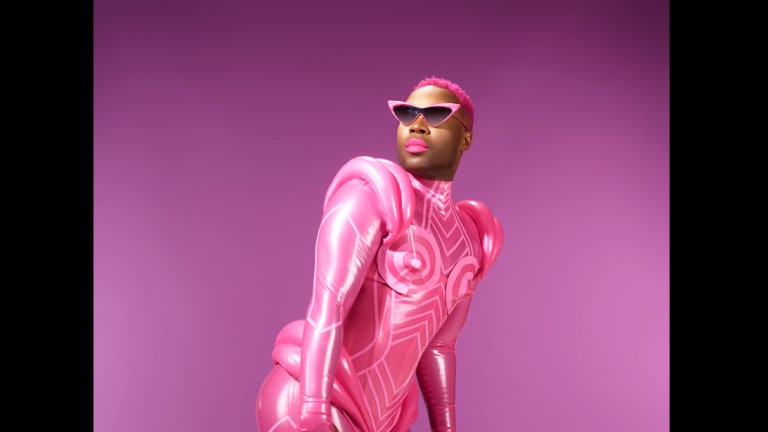 Todrick Hall Serves for the Bravo 'Hall of Pride'
In addition to linking with Bravo/NBCUniversal, Todrick Hall is celebrating Pride Month with the release of the Femuline album and a Morphe palette.
Todrick Hall partnered with Bravo/NBCUniversal to celebrate the LGBTQ+ community through a music video called "Hall of Pride" that features his song "Parade."
The music video will run on Bravo and SYFY through June as part of NBCU's "Pride is Universal" campaign. It features Hall along with Bravolebrities Garcelle Beauvais, Reza Farahan, Armit Kapai, and others. The "Pride is Universal" campaign can be viewed across NBCU's broadcast, digital, and social platforms.
The song "Parade" is a single from Hall's new album Femuline, which was released on June 4th, just in time for Pride Month. Hall, who is known for his clever wordplay, wrote the entire "bold and unapologetic" album, with production from Grammy Award winner Wiidope and Jeeve. The legendary Chaka Khan, Brandy, Nicole Scherzinger, Tyra Banks, and TS Madison join the LGBTQ+ advocate and entertainer on the album that has been described as an "open love letter to the LGBTQ community." The lead single, "Boys in the Ocean," was released the same day as Femuline. Hall followed that song up with a music video for "Rainin' Fellas," an homage to "It's Raining Men" by the Weather Girls. Hall co-directed the "Rainin' Fellas" video with John Asher and collaborated with Richy Jackson on choreography. It also stars LGBTQ+ advocate Lance Bass.
Hall also partnered with makeup brand Morphe to further celebrate Pride by releasing a limited-edition palette, "Live with Love." One hundred percent of the proceeds will be donated to the Trevor Project, a national 24-hour, toll free suicide prevention hotline for LGBTQ youth.
As you may have surmised, Femuline is a combination of the words feminine and masculine. Hall explains why he chose to use that title for the album, "It has taken me years and years, even after coming out, to be this comfortable embracing my masculine and feminine sides. I'm so excited to give people permission to live as their fullest and truest selves with this music that I handcrafted specifically for the gay community. But I also feel that my music will resonate with people of all age groups and from all backgrounds."