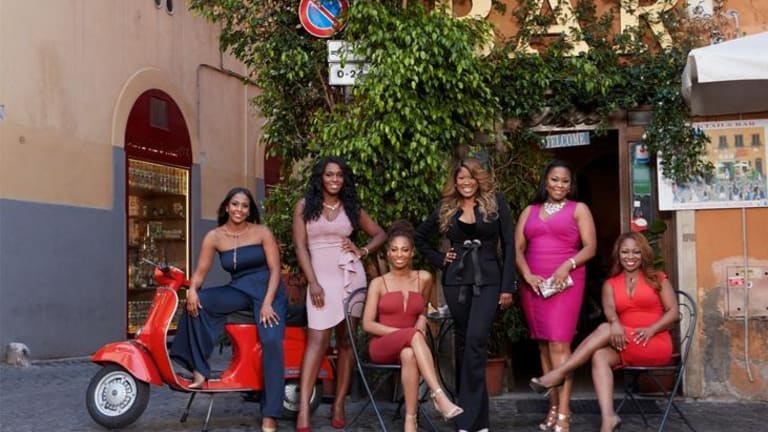 'To Rome for Love,' Stereotypes, and Low Self-Esteem
'To Rome for Love,' Stereotypes, and Low Self-Esteem
I had hope for the new Bravo series To Rome for Love, in which five African-American women in different stages of their lives travel to Italy with love guru Diann Valentine (above, third from right), in order to secure the kind of love they feel that can't find in the United States with African-American men. The premise is that African-American women are not desired, appreciated, or celebrated by Black men in the U.S., so let's go to Europe where we'll stand out, they'll adore us, and bonus, we can learn more about ourselves. I had hope because I have many Black girlfriends who are single and frustrated and wonder if their chances at the love they want is better with someone who is NOT Black. To Rome with Love will not enlighten you at all on that. It only perpetuates the stereotypes of Black women and why they can't find love, the same stereotypes it claims to erase.
To Rome for Love is an exhausting cross between Big Brother, The Real World, The Bachelorette, and Iyanla Fix My Life. In the first episode we meet the five women who have some measure of internal crisis like poor self-esteem, body issues, failed marriages, trust issues, daddy issues, and all points in between. They're all looking for love across the pond with an Italian man who they think will make them feel good about themselves and whole. Valentine is the Founder of The Venus Affect, a matchmaking company for women looking to date internationally. She brings the women together in a gorgeous Roman villa to begin the business of schooling them on the finer points of Italian culture, and setting the stage for a night of meeting eligible Italian men. The predictable antics ensue.
​
The cast includes former Food Network Star 51-year-old Gina Neely (above, second from left), 38-year-old Shay Atkins (above, center left), 37-year-old Nakita McGraw (above, center right), 32-year-old Ashley Russell (above, second from right), and 25-year-old Mercedes Young (above, right). Joining them on their adventures are "Love Assistants" D. Micah Lindsay, the eccentric wingman, and Christine "Cece" Counts, the Italian interpreter.
I get that these women are looking for love and adventure in a foreign country, but when in the first 10 minutes of the first episode, Mercedes, the youngest of the group, says that she thinks all men are "dogs that cheat." However, when she thinks of Italian men, she "thinks of fairytale romantic men," and she hopes they treat their women better. It's just so disappointing. And it doesn't get much better.
Love expert Valentine says in the beginning that she wants the women to identify their blind spots in finding love, and let their walls down ( but not their weaves, which they all have in abundance) and be themselves. Valentine coaches that she wants to break down their stereotypes (expectations) of dating across culture lines, except there's one problem: The show is packed with stereotypes, on both sides. Strutting and awkwardly balancing their stilettos down the cobblestone streets on their way to happy hour, the women are loud and sassy, hollering at every man who catches their eye and soaking in the attention, with faces beat to the heavens, extensions for miles, and side-eyes with each other for days. When they ask each other over dinner who is their type of man, Mercedes says, "Dark chocolate," and Nakita says, "I like smart men so probably someone who wears glasses." (Do we see the problem here.) Meanwhile, Shay is lip-locked with Alberto, whom she just met at the bar. The ladies warn her, calling him controlling like all Italian men, and they know because they "googled it." Shay calls him flirtatious, and is open to new ways of courtship. His opening line to her? "What's your astrological sign?" COME ON! I mean if a brother had asked any of us that in the States he would have got the hand and a "BOY, BYE." Forget about any FaceTime action.
And for the emotional arc and tension of the show, here comes the tears, when Nakita back at the villa breaks down sobbing over how her marriage fell apart and the destruction it caused to her self-esteem. While she is an emotional wreck, Ashley and celebrity chef Gina are reminding her that, "Hey girl, leave that back home, you're here for love." But the problem is that she can't find love with ANY ONE when she doesn't have herself together and doesn't know her own power and beauty. And she didn't have to travel 14 hours to figure that out, none of them did. I'm hoping Diann comes in with this wisdom soon.
I've been married to my husband, who's Italian, for 12 years. We got married in the mountain village where his father's family still lives, Ventosa, which is south of Rome. My husband is a second generation American-born Italian, we met in Ohio purely by accident. Before I met Matt, I had joined a Black Baptist Church because I just knew that's where I was going to find my husband and raise my Black babies. But when Matt and I met, I'll never forget it, it felt literally like time stood still. When we eventually arranged our first date, I made him wait an hour because I wasn't sure I wanted to show up, oh, the thought of "dealing" with the issues of dating a white guy. But I showed up. I showed up, whole and complete, and so did he. Solomon 3:4 says you will "find whom your soul loves." So trust me there is hope for love. However, it's a myth that its white men who will treat you best. The RIGHT MAN will. And you don't have to go across the world find it.
​