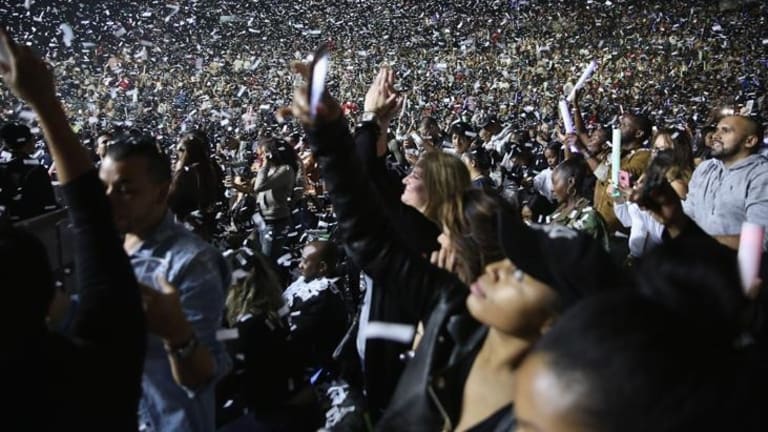 Tidal & Bacardi Created an Epic Night of Music to Support Hurricane Relief
Tidal & Bacardi Created an Epic Night of Music to Support Hurricane Relief.
Last night, global music platform Tidal and Bacardi joined forces to create an epic night of music and cocktails, at the Barclays Center, in support of earthquake relief in Mexico and hurricane relief in Puerto Rico, elsewhere in the Caribbean, and Florida.
"TIDAL X: Brooklyn" charity concert presented by Bacardi was hosted by NYC radio legend turned talk show host Angie Martinez. It's no surprise the third annual concert brought Jay Z to the stage, but the organizers made sure to include a diverse line-up of performers who were already involved in raising awareness for the areas affected by Hurricanes Harvey, Irma, and Maria, and the earthquakes in Mexico, like Fat Joe and Jennifer Lopez. Rosie Perez and Lin-Manuel Miranda also made special appearances.
The livest moments of the night were Cardi B taking the stage to perform her smash-hit "Bodak Yellow," DJ Khaled surprising the audience by bringing Busta Rhymes out, and Fat Joe and Remy Ma performing their classic hit "Lean Back."
Other performers included: Stevie Wonder, Kaskade, Chris Brown, Daddy Yankee, Yo Gotti, A$AP Ferg, Vic Mensa, Belly, Jessie Reyez, Mack Wilds, Machel Montano , Mr. Eazi, Charly Black, Princess Nokia, Rapsody, Cipha Sounds, and Victory.
Refreshing cocktails, of course, were flowing in the Bacardi suite and around the stadium. Favorites included "The Rum Up," Bacardi Ocho Años Rum and pineapple juice, and the Bacardi Ocho Old Fashioned, which is a riff on the classic cocktail. But Bacardi wasn't in the building just to introduce revelers to its rum, there was a bigger purpose on the mind of Ned Duggan, vice president and brand managing director at Bacardi.
"Much of the Bacardi family lives in and around the Caribbean, so for us, a hurricane like this and all the destruction, it impacts us very directly." said Duggan exclusively to UPTOWN Magazine. "Much more than our business, it impacts us personally, so we wanted to take more of a leadership stance in terms of getting aid and awareness around the efforts there."
Duggan added that he hopes people remember to get involved in the relief efforts after the concert.
"I think my main hope is that this is not just something people come to an event and then forget about it the next day," Duggan explained. "The reality is that it is going to take years for Puerto Rico to recover, and for the people to truly come back to where they had been. And so what I would hope is that we're really able to manage a sustained recovery process. It's something Bacardi is committed to on the ground in Puerto Rico, as a company based there, but the people of the United States need to wrap their heads around the fact that this is going to be a long-term recovery effort that we can't just think is over because we had a fundraiser."
Bacardi has committed $1.3 million specifically to TIDAL X: Brooklyn charities. It has donated over $4.3 million to relief agencies working in the regions affected by these disasters, including Puerto Rico, Florida and the Caribbean.
In addition, Bacardi is serving about 600 hot meals instead of cocktails at the distillery in Cataño, Puerto Rico, an area devastated by Hurricane Maria, says Duggan. The distillery is also functioning as an emergency stop-and-go center.
To support the recovery and rebuilding efforts in the areas affected by the disasters, click here. As little as $1 will help.