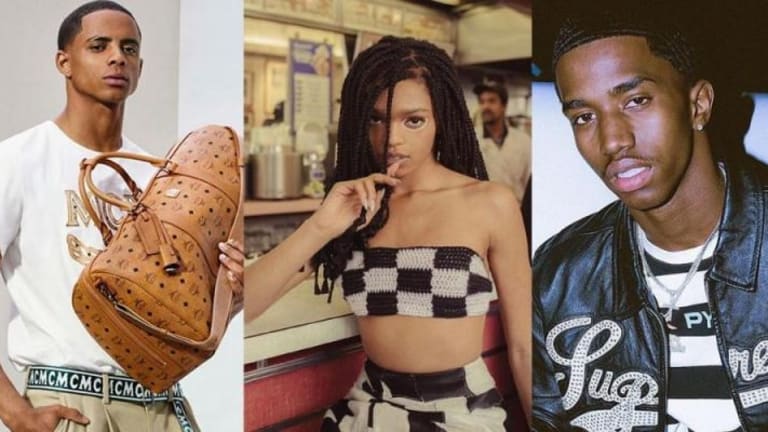 They Get It From Their 'Rents: Celebrity Kids-Turned-Models
They Get It From Their 'Rents: Celebrity Kids-Turned-Models
Tyson and Tyra better watch out, there's a new wave of models who are doing more than "stuntin' like their daddy." Some say celebrity kids have it easy when it comes to following in the footsteps of mom or pop. However, what doesn't come easy is making a name for themselves outside of their bloodline. Check out these celebrity kids-turned-models who have made a name for themselves on the catwalk and in photos.
Selah Marley
Walking a Chanel show, slaying a Calvin Klein ad, and being a part of Kanye's YEEZY line-up. Do we need to say more? Selah, daughter of music legend Lauryn Hill and Rohan Marley, only stands about 5 feet 3 inches, yet is the most powerful force on the runway these days. Selah is defying the odds with her short stature and petite size. Slay, girl, slay.
CordellBroadus
SnoopDogg's son Cordell Broadus is official. Landing a modeling deal with MCM Worldwide, Cordell has made his presence known in the fashion world. Word on the street is he'll be featured in a Kenneth Cole ad next month. After walking in Philipp Plein's catwalk during New York Fashion Week in September, it was evident Cordell had made a home on the runway.
Ming Simmons
She gets it from her mama for sure! Ming Simmons, daughter of supermodel Kimora Lee Simmons and Russell Simmons, has been modeling in Kimora's lines for years. The 17-year-old is busy managing her modeling career and AP classes now. She recently nailed a gig for Khloe Kardashian's Good American line of handcrafted, luxury denim.
Christian Combs
Does this handsome young man look familiar? You'd be excused for confusing Christian Combs with his daddy—as in Puff Daddy, P. Diddy, Sean John Combs. Christian took his striking features to Milan to walk in not one, but two Dolce & Gabbana shows last year.
​
​
Lori Harvey
Yes, she takes my breath away too! Lori Harvey, the stepdaughter of Steve Harvey, is signed with LA Models and Select Model Management in Europe. Appearing in a Dolce & Gabbana ad campaign and walking the brand's runway, Lori naturally slayed the modeling world with her fierce strut and beauty.
​
Paige Chestnut
Paige Chestnut wasn't even on our radar until her super-fine dad Morris Chestnut revealed that she walked in LA Fashion Week last year. She wore a tasteful lingerie-as-outside-wear ensemble designed by Isaac Newton. We're looking forward to seeing more from Paige.
Bria Murphy
It came as no surprise that Bria Murphy would dip her toe in the modeling world because she is the daughter of model Nicole Murphy and actor/comedian Eddie Murphy. She landed a Dark and Lovely ad campaign in 2014, but it looks like Bria has moved on to art. In 2016, she debuted her art during a show titled Subconscious at the Lace Gallery in Los Angeles. Oh, did we mention she's also an actor?
Corinne Foxx
In 2015, Corinne Foxx stepped out of her father JamieFoxx's shadow to demonstrate her modeling ability as Miss Golden Globe during that year's awards ceremony. However, she wasn't a stranger to awards shows, having accompanied her dad to many ceremonies, including the Oscars in 2005 when he won the best actor award for Ray. Corinne also appeared in an ad campaign for makeup brand Wet N Wild in 2017. She also walked in a Dolce & Gabbana show in 2017.
​