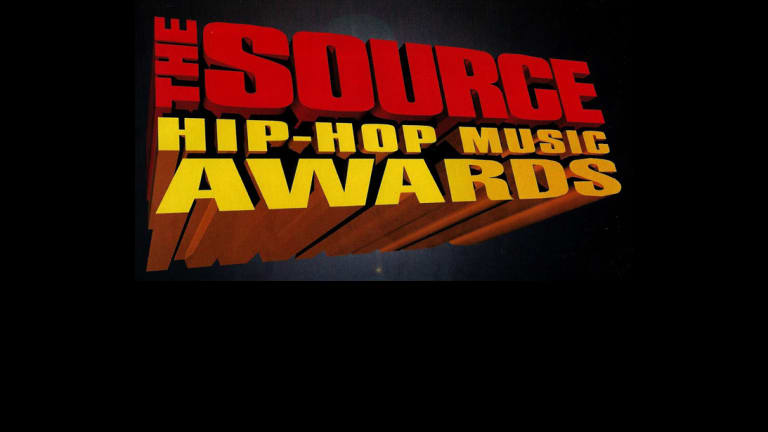 15 Memorable Performances, Beefs, and Disses at The Source Awards [VIDEOS]
Since The Source Awards is expected to make its comeback in 2022, let's reminisce over the memorable performances, beefs, and disses that made Hip-Hop history.
The Source magazine owner L. Londell McMillan recently announced that The Source Hip-Hop Music Awards will stage its comeback in 2022 after it ended 17 years ago.
McMillan, who was Prince's longtime manager and lawyer, bought The Source in 2008, after it was nearly ruined by lawsuits from former employees and artists. He not only brought the media brand back from "financial disrepair," but he also pushed it into the digital age and cleaned up its reputation, according to a representative for The Source who spoke with Page Six. And now we have The Source Awards and a streaming platform reportedly dubbed the Hip-Hop Netflix to look forward to.
"Hip-hop needs its premiere awards show back," McMillian told Page Six. "After every awards show, our social media at The Source explodes … so back by popular demand."
Many Hip-Hop beefs and battles were launched and fostered on the stage of The Source Awards, most notably the rivalry between East Coast and West Coast rappers. But the awards ceremony also proved rappers had stage presence and their performances were known as theatrical spectacles featuring pyrotechnics, smoke machines, luxury vehicles, and skit introductions that told stories much like music videos. Keeping all this in mind, let's reminisce over the memorable performances, beefs, and disses at The Source Awards that made Hip-Hop history.
The Bad Boy Family, including The Notorious B.I.G.; Lil' Kim; Craig Mack; Faith Evans; Total; and Sean "Diddy" Combs, who was then known as Puff Daddy, takes the stage in 1995 during a ceremony in New York.
While winning The Source Award for Motion Picture Soundtrack of the Year in 1995 for Above the Rim, Suge Knight disses Puff Daddy. The late Nate Dogg credited this event with sparking the East Coast/West Coast rap feud that culminated in the murders of Tupac Shakur and B.I.G.
Dipset proves they're so Harlem by beginning their performance in a New York bodega.
No Limit Records, including Master P; Silkk the Shocker; and C-Murder, bring New Orleans to The Source Awards with a second line before performing "Hoody Hoo."
Outkast, who were a casualty of the East Coast/West Coast feud, gets booed while winning Best New Artist of the Year-Group award. (Yeah, that was some BS.)
While Onyx performs "Throw Ya Gunz," Sticky Fingaz shoots up the awards show because the trio didn't win any awards.
Mobb Deep rappers Havoc and Prodigy work the stage, wearing football jerseys that highlight Hip-Hop's love of Hennessy V.S.O.P Cognac, for a performance of the "Quiet Storm Remix" with Lil' Kim.
One of Queensbridge's finest Nas and P. Diddy, as Puff Daddy renamed himself, perform "Hate Me Now" in 1999.
DMX and the Ruff Ryders, including Eve and Swizz Beatz, give the crowd and audience at home a medley of their music.
For their performance, Cash Money Millionaires bring an entire spinning luxury car onto The Source Awards stage.
Snoop Dogg, Nate Dogg, and Xzibit bring West Coast Hip-Hop culture, complete with lowrider bikes; bandana fabric; and the Crip Walk; to the awards show.
Busta Rhymes with Spliff Starr perform a Flipmode Squad medley in 1999.
The "inmates of Death Row," including Dr. Dre, Nate Dogg, Tha Dogg Pound (Kurupt and Daz Dillinger), and The Lady of Rage, perform a medley of their hits.
Ciara performs "Goodies feat. Petey Pablo" and "1, 2 Step" at what was then called the BET Source Awards in 2004.
Rappers Jadakiss, Styles P, Sheek Louch, and others perform during the 2003 Source Awards as D-Block after leaving Bad Boy Records.