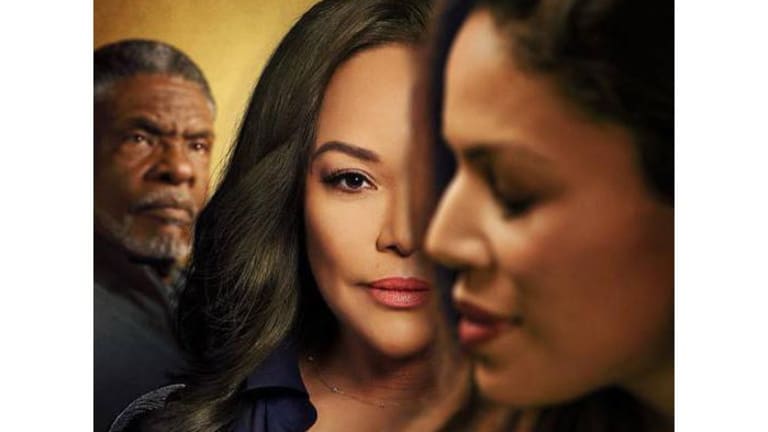 The Secrets and Lies of the Greenleaf Family
Season four of Greenleaf promises more secrets and lies, as the family tries to heal and regain Calvary Church.
OWN's Greenleaf is one of the best shows on TV right now, and has the awards to prove its cast, crew, and producers have a knack for creating complete and engaging characters, as well as intriguing plot lines that have kept fans returning for three seasons. The fourth season will be no different with some serious (I mean major!) secrets and lies coming to the surface as the Greenleafs try to regain control of Calvary Church from Harmony & Hope Ministries. Whether on the pulpit or sitting down for dinner in their family mansion, one thing is for sure, the Greenleafs are often holding back the truth from each other and their congregation. As we prepare for the season four premiere tonight on OWN at 10 p.m., let's reminisce on the secrets and lies that have kept us tuning in season after season. SPOILERS ahead, obvi.
The biggest secret the Greenleafs kept a closed mouth about was Robert "Mac" McReady's (GregAlan Williams) attraction to young, light-skinned women and penchant for raping them, including his niece Faith who committed suicide before the series began. This secret drove the plot of season one, as Grace "GG" Greenleaf (Merle Dandridge) returned to Memphis and Calvary Church to confront Mac and her parents Lady Mae Greenleaf (Lynn Whitfield) and Bishop James Greenleaf (Keith David) about Faith's death. Lady Mae continued to support her brother Mac, and Bishop knew Mac held some of his skeletons, like …
Bishop had Mac burn down his first church for insurance fraud purposes, which is really horrible but not the worst thing to come out of that arson. Sleeping in the basement of the church at the time of the fire was a man Bishop had taken in. Though Bishop was unaware the man was there at the time, it's still not a good look for a pastor to not only burn down his church, but also kill a man. It was later revealed in season two or three that the man was the father of Bishop's enemy of the cloth, Basie Skanks (Jason Dirden).
This is a small secret in comparison to the others, but Bishop initially dated Lady Mae's sister Mavis (Oprah Winfrey), who is a black sheep among her siblings Mae and Mac. However, she functioned as a confidant for GG and produced evidence of Mac's pedophilia that got him jailed for a time. Bishop chose Mae because he thought her light complexion and demeanor would make for a better first lady of his church.
In season one, we learned that Charity Greenleaf's (Deborah Joy Winans) husband Kevin Satterlee (Tye White) is secretly gay. Charity and Kevin argued about him lying about his sexual orientation and their fight caused her to lose one of the twin boys she was carrying. Later after Charity and Kevin divorced, he began dating a Greenleaf family friend, Aaron Jeffries (William H. Bryant Jr.). Eventually, Kevin and Aaron move in together, and try to make co-parenting possible with Charity.
Jacob Greenleaf (Lamman Rucker) was true to his ne'er do well label when he was having an affair with Bishop's secretary Alexa (Kristen Erickson). He ended it and Alexa was fired once Jacob's wife Kerissa (Kim Hawthorne) discovered the affair. However, Jacob's eye later wandered to Basie's wife Tasha (Asia'h Epperson) when Jacob became pastor of Triumph church, but that whole ordeal is a Skanks secret and we're focusing on the Greenleaf secret and lies.
We learn early in the pilot episode that Jacob and Kerissa's teenage daughter Zora (Lovie Simone) isn't the innocent preacher's kid her family thinks she is. Right off the bat, she offered GG's daughter Sophia (Desiree Ross) Ritalin. Zora doesn't have ADD or ADHD and uses the drug to get high. She also smokes cannabis.
In season two, Zora's boyfriend and gospel singer Isaiah Hambrick (Roshon Fegan) is physically and mentally abusing her, but no one in the family is aware, besides Sophia. After encouraging her cousin to break up with Isaiah, Sophia revealed to the family that he hits Zora. Jacob, understandably, went ballistic and attacked Isaiah. And this all went down at Zora and Sophia's cotillion.
Like son, like father, Bishop began (or was manipulated into) an emotional affair with financier/investor Rochelle Cross (LeToya Luckett-Walker), who is actually the sister of Bishop's enemy Basie. Rochelle and Tasha have been clandestinely plotting with Basie to take everything the Greenleafs have, especially their money and reputations.
Speaking of affairs, remember family friend Aaron? Well, it came out in season three that Lady Mae and Aaron's father Bishop Lionel Jeffries (Tim Reid) had an affair with Lady Mae back in the day, even though Lionel and Bishop are longtime friends. We also learned that Bishop was aware of the affair and forgave his wife and friend. However, season three ended with a major revelation: Lionel is GG's biological father, and she and Aaron are also siblings. Bishop reassured GG that no matter the DNA, he is and always will be her father. This secret coming to light explains why Lady Mae has seemingly hated GG her entire life. Lady Mae knew there was a possibility Lionel was GG father and never said anything to her daughter, and didn't even want to discuss it when her deception was revealed. And to make matters even worse, Lionel died before GG knew the truth.
That certainly was a Greenleaf family secret and lie that left fans of the Clement Virgo-produced show stunned. However, season four promises even more shocking tea that could leave the Greenleafs without a church and fractured, possibly beyond repair. Be sure to tune in tonight at 10/9c, and let us know which Greenleaf lie or secret shocked you the most.