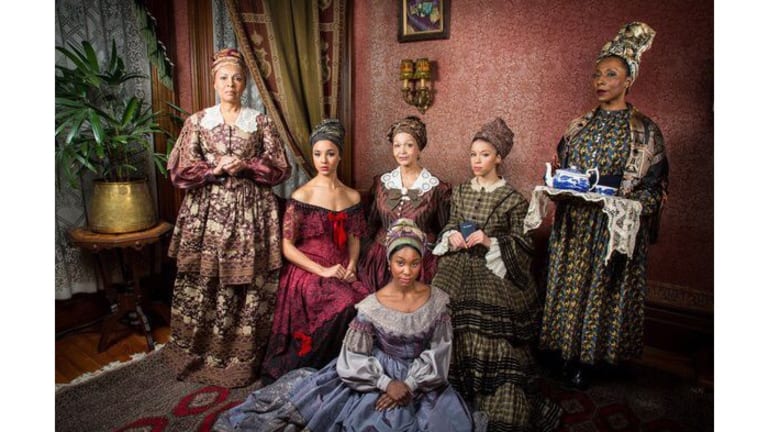 'The House That Will Not Stand' Will Showcase Black Millionairesses in the 1800s
We're salivating with anticipation of the film adaptation of Marcus Gardley's play The House That Will Not Stand.
Name a Black millionairess born in the 1800s who isn't Madame C.J. Walker. I'll wait … Chances are you had a difficult time naming someone, anyone, and you're not alone. Until watching an episode a few years back of Comedy Central's Drunk History about Mary Ellen Pleasant, a 19th-century entrepreneur, financier, and abolitionist who called herself a "capitalist by profession," I thought Walker was the only well-known Black female millionaire. However, a new film is aiming to highlight a fictional group of Black women who secured millions in the 1800s.
Playwright and screenwriter Marcus Gardley is adapting his Off-Broadway play The House That Will Not Stand into a film for MWM Studios. The play was partially inspired by The House of Bernarda Alba, a play by Spanish dramatist Federico García Lorca, and tells the story of a group of Black Creole women who fought racial oppression while earning millions in 19th Century New Orleans, despite their skin color, slavery, sexism, and a slew of other restrictions. The women made their fortunes through plaçage, a practice in which ethnic European men entered into common law marriages with Black, Indigenous, and mixed-race women. Plaçage was a recognized extralegal system in the French and Spanish slave colonies of North America. The term comes from the French placer meaning "to place with." (Isabel Allende's Island Beneath the Sea also explores plaçage, if you're interested.)
The play The House That Will Not Stand debuted at the New York Theatre Workshop this past summer with Liliana Blain-Cruz directing. The cast included Joniece Abbott-Pratt, Juliana Canfield, Harriet D. Foy, Lynda Gravátt, Nedra McClyde, Marie Thomas, and Michelle Wilson.
The film is in the very early stages of production, but we're literally salivating with anticipation.