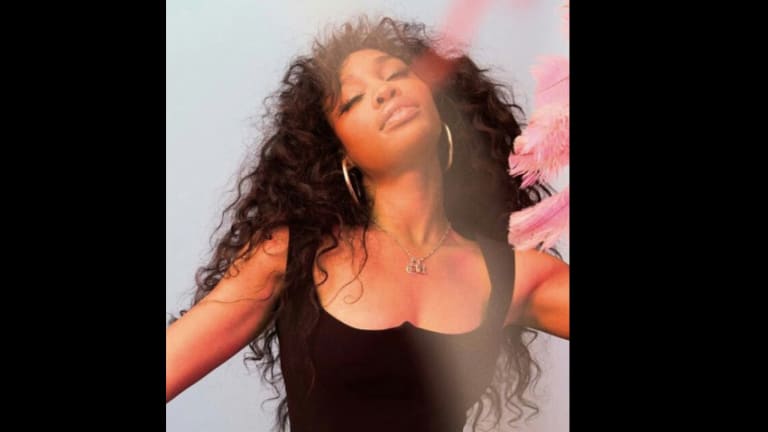 SZA Gets 'In Bloom' With Grey Goose Essences for a Virtual Musical Experience
Grammy-nominated artist SZA will debut new music during the In Bloom by SZA concert in partnership with Grey Goose Essences.
In the early 2000s, Grey Goose vodka inspired the title of more than a few rap songs, including well-known ones from the Ying Yang Twins and Young Jeezy. Without a question, the storied spirit brand was very male in its appeal. Fast forward to now and Grey Goose is evolving with the times, adapting a lighter approach with Grey Goose Essences, its botanically-infused vodka line.
To celebrate this evolution, the brand has partnered with the multitalented SZA for an epic global virtual music experience, titled In Bloom by SZA, which will stream live on YouTube July 1 at 9 p.m. ET. For a reminder about the event as well as to receive a discount off the Grey Goose Essences In Bloom cocktail kit at the brand's site, just click this link.
The evening will feature the Grammy-nominated artist, who also recently won the BET Her Award for the single "Good Days" at the BET Awards, debuting songs from her highly-anticipated sophomore album. Cutting edge drone technology is one of the elements being used to make the one-night-only affair spectacular. As chief creative consultant, SZA has been involved in every aspect of the show that will blend virtual and live-action elements to showcase her music, while also bringing the Grey Goose Essences' unique flavor to life. 
Just a few years ago, SZA really stirred things up with her debut studio release Ctrl in 2017. With such mammoth singles as "The Weekend" and "Love Galore," it didn't take long for her to shoot to the top of the charts. Her many fans have been clamoring for a new album, especially on the heels of "Good Days," so it only makes sense that Grey Goose would partner with the star for Essences.
"As a big fan of SZA myself, I know she's the perfect choice to immerse consumers in this new world," shared Grey Goose Vice President North America, Aleco Azqueta. "Her ability to take fans on a journey through her music is unparalleled and we can't wait for everyone to see how Essences have inspired her performance."
For SZA, working with Grey Goose for In Bloom "has been a great experience." Being able to create a show "incorporating elements of nature" is very timely, she shared. "I feel like In Bloom really captures where we're at right now, especially after a year and a half of lockdown, which is also why it feels like the best place to debut some of my new material."
With so many of us trying to whip back into shape, Grey Goose Essences comes in lighter than the average, with an ABV of 30 percent, plus it contains no artificial ingredients, sugar nor carbs. There are three flavors—the citrusy Strawberry & Lemongrass, the floral White Peach & Rosemary, and the peppery Watermelon & Basil. Because they are packed with flavor, there's no need for intense mixing. Light garnishing does the trick. But Grey Goose does offer recipes.
Full bottles retail for $29.99. Grey Goose does, however, offer the Essences Fizz Cocktail Kit, available through the Grey Goose website, allowing consumers to sample all the flavors in 50 ml bottles. In addition, it comes with basil syrup, blackberry syrup, and lime and rose cordial, as well as Fever Tree Elderflower Tonic and Mediterranean Tonic, club soda, dried rosebuds, and two glasses to easily create the signature In Bloom cocktail, along with the Soulful Summer and Berry Kisses cocktails. At 73 calories per 1.5 ounces, sipping without worry is no problem.
For updates, follow both @SZA and @GreyGoose on Instagram.