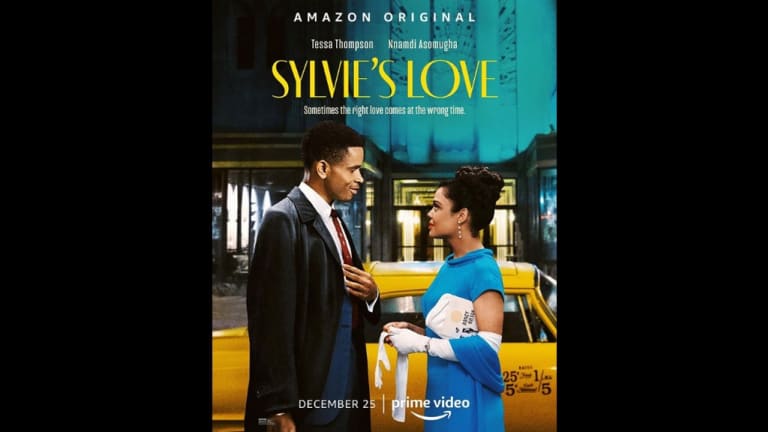 'Sylvie's Love' is the Romance Film You've Been Craving
Sylvie's Love producers explain where the concept for the romance film originated and how it came to fruition.
By Malcolm Rashaad Banks
The late 1950s and early '60s are synonymous with peak Hollywood and a peculiar period for Jazz, as the genre was relevant, but fading from the mainstream. From the dynamic acting of Sidney Poitier to the unmistakable sounds of classic Jazz that rang through the horns of Miles Davis, that period is one-of-a-kind, and Sylvie's Love serves as a callback to that era with a compelling and complicated love story at the heart of it all. The film, which was written and directed by Eugene Ashe with producers Nnamdi Asomugha and Gabrielle Glore onboard, has all the makings of a hit upon its Amazon Prime Video release on December 23.
The refreshingly original story follows the journeys of Sylvie (Tessa Thompson) and Robert (Asomugha) as they navigate the complicated real-life situations that often arise when love is budding, against the backdrop of Harlem in the late '50s. Sylvie and Robert's intriguing tale is boosted by sultry on-screen chemistry between Asomugha and Thompson. Robert's quest to become the next John Coltrane makes Asomugha's solo saxophone scenes extremely appealing, but the entire Sylvie's Love cast, which also includes Eva Longoria, Lance Reddick, and Aja Naomi King, is outstanding. In addition, Ashe's screenplay and directing keeps the audience enthralled in Sylvie and Robert's romance through the film's finale.
Powerful Black stories that shake the core of cinema are still far and few between, as a result of barriers that stymie creative Black storytellers. While Sylvie's Love serves as a reminder that old structural barriers are breaking, it's important to highlight the journey of creating the film.
In anticipation of the release on December 23, UPTOWN had a chance to catch up with Ashe, Asomugha, and Glore about where the concept of Sylvie's Love originated and how the film came to fruition.
UPTOWN: Please share how the idea forSylvie's Loveoriginated.
Eugene Ashe: It was really born out of the fact that my family photos told a different story of Black life in the 1960s than I saw depicted on screen. And then when I dug deeper into the period, I discovered that there were infinitely more stories to be told from that time, than just our battle for civil rights.
UPTOWN: The era this film takes place in is often associated with Black plight. Was it deliberate to tell this love story against the backdrop of the Civil Rights Movement, and do you believe a film like this will push the envelope for Black romance in cinema?
Ashe: It was certainly a deliberate decision to tell this love story during the backdrop of the civil rights era. Often, when Black folks are depicted in the past, it is only through the perspective of our trauma and pain, and in some ways, it's a way of erasing our joy. To show that even during times of adversity, we still fall in love and have inner-lives, shows how resilient a people we really are. So yes, we knew how revolutionary it would be to tell a story that mainly focused on an interpersonal relationship between a Black woman and a Black man, because people are so used to seeing Black folks in struggle mode on screen.
Gabrielle Glore: Pushing the envelope has been a driving force throughout our journey with Sylvie's Love, and it started with the story Eugene wanted to tell — one simply showcasing Black love, full stop. But that becomes revolutionary when you realize how rare it is to show Black romance through the film lens of humanity and vulnerability, as opposed to leaning into adversity. We endeavored to create a film that was different, yet universal, and that would contribute to the canon of Black love stories in a significant way.
UPTOWN: How did you get involved with the project as a producer?
Glore: I met Eugene in 2012 at The Bronze Lens Film Festival in Atlanta, where his first feature, Homecoming, was screening and ultimately won Best Feature. We stayed connected and later the next year, he shared his Sylvie's Love script with me, which had a very personal resonance. It transported you to this beautiful world of the '50s and '60s that felt so familiar — the music, the style, the everyday elegance of the Black experience from that era. I knew immediately that I wanted to be involved with this project [because] it was one that would allow audiences to see the unseen, and that was important to me as a producer. It was indeed kismet that our paths crossed, that we shared a similar sensibility, and that we both possessed the grit and grace needed to get this film made.
UPTOWN: Talk about the steps taken to get this film made. What types of obstacles did you encounter?
Glore: Well, as I mentioned, it definitely required some grit, some true perseverance to get this film made. "No," or a version of "No," was prevalent during our process. Studios said, "No, we won't finance, but we like the script, so show us the film once it's made." Interested indie financiers said, "No, you can do this film for less budget." Industry folks consistently said, "No, you'll never shoot this on Super 16 film, it's too expensive," and "No, the writer can't direct this, you'll need someone with more experience." Many obstacles slowed down the process, but never our drive and persistence.
Ashe: Like I mentioned already, since people are so used to seeing Black folks in struggle mode on screen, there was no real model or comparable film to show potential investors that audiences would want to see a film like this starring Black people. So, we had to jump and hope the parachute would appear.
UPTOWN: How did you approach casting?
Glore: The undercurrent for Sylvie's Love was always our difference, which we saw as an opportunity for distinction. So, with casting, we always approached it through the lens of who we haven't seen on screen together, as the leads and as the assembled cast. We granted ourselves the freedom to envision and curate something refreshing for audiences, and to showcase a blend of talent we loved and talent on the rise. We certainly wanted and needed recognizable actors to get this film made, but our film provided an opportunity to see them on screen differently, giving them the space to inhabit roles they hadn't had the chance to play, yet.
Ashe: Because the intention was to make a classic love story, what I was most interested in was chemistry. Finding two actors who could bring the type of classic chemistry that a Billy Dee and Diana Ross, or a [Robert] Redford and [Barbra] Streisand, or a Sidney Poitier and Diahann Carroll had on screen. I also like seeing new Black faces on screen, or if it is a face we recognize [then] in an entirely new type of role than you've seen them in before.
UPTOWN: Talk about a breakthrough moment in your journey as producers?
Glore: One of our defining moments in the process was connecting with Nnamdi Asomugha for the lead role of Robert, and then ultimately as a producing partner. Our attorney, Andre Des Rochers, was representing the director of a film called Crown Heights, which Nnamdi starred in and had produced. I'd seen the film's world premiere at Sundance, Eugene watched him in some other smaller roles, and we really liked what we saw. Andre was able to share the script with him and after several conversations, there was a clear alignment in our vision and intention — not only with Robert's character, but [also] around the film overall. Nnamdi had joined the journey with us and was pivotal in us making this film a reality.
Ashe: For me, pulling the film together so quickly, and pivoting from shooting in New York to Los Angeles, was a defining moment, because we had very little time to pull everything together. And the breakthrough was setting foot on the Hollywood backlots, and the realization that this could no longer be a small, intimate indie film, but that we all had to rise to the occasion and give Black folks the love story we all so desperately need.
UPTOWN: What attracted you to the project as an actor and a producer?
Nnamdi Asomugha: The script! The script! The script! Eugene has a special quality as a writer in that he's so visually descriptive. He makes you feel like you're in the room, side-by-side with his subjects at all times. In the original script that I read, it started out with a young Black woman named Sylvie, leaving a cab, in a gorgeous blue dress, and then running in the rain towards a concert hall, because she was late for a show. He went on to describe, in great detail, her umbrella standing out in a sea of other umbrellas, as she weaved her way through the crowd, and I was immediately swept in. I just hadn't read anything like it before — a story about Black people in the 1960s, falling in love, being intimate, dancing, enjoying one another, living life. As an actor and a producer, when you come across a project that can help fill a void in the industry, you jump at it.
UPTOWN: There is a lot to be excited about in a film taking place in the 1950s and '60s, the golden era of Hollywood with Jazz at the core of the story. What part of the creative process was most exciting? Was it important to bring Jazz to the center stage?
Glore: Honestly, the entire creative process was really exciting. Being able to invite talent at the top of their game to contribute to Sylvie's Love was an extraordinary experience — our cinematographer, production designer, costume designer, hair and makeup team, composer, all of them bringing their amazing artistry to the project. And to have this incredibly gifted crew come together with such passion and care for Eugene's vision was inspiring.
Ashe: As a former recording artist, getting back into the studio after 15 years and recording the live Jazz with our composer Fabrice Lecomte and the insanely talented Cecile McLorin Salvant was extremely exciting and rewarding. And more than being just about Jazz, I think Sylvie's Love also talks about shifts in taste that happen from one type of music to another, in this case from Jazz to Motown, so that was an interesting theme to investigate.
Asomugha: The first thing that comes to mind is the casting process. To me, casting is like being handed a box of puzzle pieces and a blindfold, and your task is to put the puzzle together. It's all about feel and trusting your gut. If we choose a larger piece or a smaller piece, will it fit with the piece we've chosen before it? I love that game of "what works best," and then seeing it all come to life in the end.
UPTOWN: Was it difficult to getSylvie's Lovefinanced?
Glore: Without a doubt, it was hard. As I mentioned, lots of nos and lots of time spent finding partners who truly believed in the project and its potential. Partners who transcended talk to walk the walk, and ensure Sylvie's Love was made in the way that was intended, without compromise. That was the blessing of iAm21 Entertainment coming on as our lead producer to secure financing.
Asomugha: Absolutely. I've actually never known a project that wasn't difficult to finance, but Sylvie's Love was particularly tough. In this industry, a lot of the decision makers don't look like us, so it's tough to trust that there's an audience for a film, if you're not the audience. We happened to have a story about two young Black people falling in love during the civil rights era, and that just wasn't something that resonated with a lot of studios and financiers. If you don't have a metric for how it will work, then the simple answer is to say no and move on. Luckily for us in the final hour, we were able to find a few angels to join the team and along with my production company iAm21, we were able to make the film.
UPTOWN: How did Tessa Thompson become involved with the project?
Ashe: Nnamdi set up a meeting between Tessa and I. It was supposed to last about a half hour, but wound up lasting about an hour and a half. Tessa had been in the recording studio earlier that day, recording original songs for Creed II, so we talked a lot about music and the type of film we wanted to make, and just vibed. I had only directed one feature before this, so I appreciate that Tessa put so much trust me — Tessa and Nnamdi both. When you create art with people, a lot of it comes down to, "Are our visions aligned?" and "Can this person pull this off?" So, it's about establishing trust, and we really did that quite nicely from the beginning.
UPTOWN: What one word describes the production process for you and why?
Asomugha: I would say "rewarding." Obviously, there are always challenges during the process, but with that comes a lot of little victories along the way. We had so many little victories and blessings during production that a lot of times the reward overshadowed the challenge. And that's what you hope for. That's when you know your journey is amounting to something special.
Glore: In looking at the overall journey as a producer, I'd have to say "rollercoaster" would be that one word for me. It started off slow and steady, and certainly had its dips and long climbs to the peak moments that propelled us forward. The ride has been nothing short of exhilarating, and if you're a rollercoaster fan like me, you're ready to go again!
Ashe: For me, it's "building." I often equate filmmaking to architecture. It starts with the script, which is like the floor plan, and everything is built on that. You're literally building an imaginary world, so whenever I lose my way in that world, I reread the script. I just go back to the foundation, to the blueprint, and base my decisions on the original spark that made me want to make the film in the first place.
UPTOWN:Sylvie's Lovepremiered to the world at Sundance earlier this year. What was that experience like, and what were your goals as producers while there?
Asomugha: Sundance is such a thrilling stage. It's filmmaker heaven. You're around so many like-minded people with similar dreams and aspirations, and it feels as if you're all on your first step towards making them come true. It's also a lot of work. You have a job. You're promoting your film, in every sense of the word. You're basically knocking on doors asking for people's support. Many times you're handing out flyers or speaking at events, just trying to fill your seats. Luckily for us, we had a film that people overwhelmingly wanted to see. But it didn't stop it from feeling like work. The best kind of work.
Glore: The Sundance experience was incredible, there's nothing like it. I've been going for years as an industry participant for work and as a film enthusiast, but having a film actually in the festival, and in the U.S. Dramatic Competition was a dream come true. Our first screening was at the Eccles Center, where we showed to an audience of over 1,000 people who embraced the film. It was an unforgettable moment. We had five screenings over 10 days. It was an opportunity to translate the audience energy and experience into buyer interest and, in turn, illustrate to those streamers and studio buyers in the audience the demand for a film like Sylvie's Love.
UPTOWN: Amazon Studios acquired the film coming out of the festival. How have you collaborated with them post-sale, as you prepare for the film's upcoming release on December 23?
Glore: Well, I really feel like we have the right partner in Amazon Studios for this film, as they have been committed and collaborative from the beginning of our journey together. Their team has embraced our ideas, listened to our perspectives, and been in lockstep with our vision for Sylvie's Love. We had been working on developing a marketing partnership with Essence Studios to support Sylvie's Love, prior to its acquisition. Amazon immediately understood the Essence opportunity and began to enhance it with all of their special superpowers.
Asomugha: Amazon has been a dream partner in this entire process. They have a goal of being a filmmaker-friendly studio and environment, and with our film they've certainly been that. Their attention to detail in marketing, getting the word out, and celebrating this film not only in our community, but also in the global community, speaks volumes. Any time a studio releases your film [during the holidays], you know there's a great deal of respect for what you've created. We couldn't be more pleased with the way they've not only taken the baton, but also fostered an environment that keeps us engaged and collaborative every step of the way.