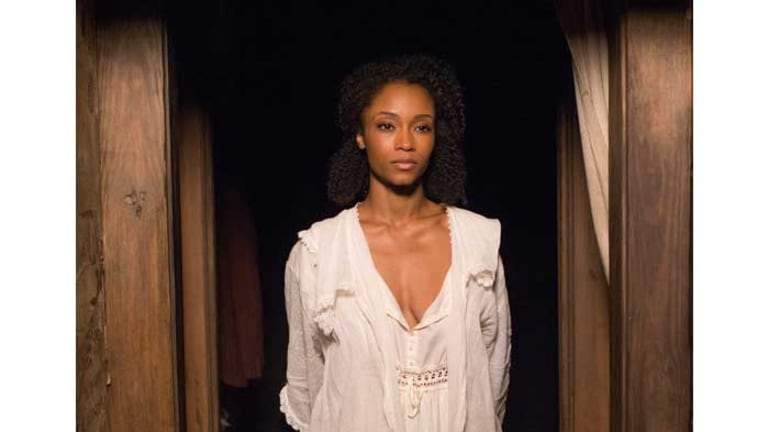 Stepping Up to 'BOLDEN': Yaya DaCosta Talks About Playing Nora Bolden
Yaya DaCosta says Nora Bolden was "birthed" on the set of BOLDEN, a film about the first Cornet King of New Orleans.
Yaya DaCosta has a soft spot for artsy films. She co-starred with Danny Glover and Charles Dutton in John Sayles's 2007 film, Honeydripper, a slow-burn bluesy drama set in 1950s rural Alabama. Then, in 2013, she worked alongside a pre-Black PantherDanai Gurira in Mother of George, an African immigrant story set in Brooklyn. Now she's in , a Bolden film about Buddy Bolden, the little-known New Orleans cornetist who was a key figure in the early development of New Orleans jazz. DaCosta plays Nora Bolden opposite Gary Carr, who is best known for The Deuce, Death in Paradise, and Downton Abbey, who stars as Bolden.
During press rounds at the swanky Roxy Hotel in Tribeca in her native New York City a couple of weeks before the film's release, the one-time America's Next Top Model runner-up was a vision in a powder blue suit, set off by a white blouse with a powder blue emblem embroidered at the top. Her hair, a tussle of near-waist-length gigantic braids stylishly swept to the side, finished off the look. DaCosta is passionate about Bolden, the first-ever feature film on the jazz pioneer who left a mythic impression in his short career before being committed to a Louisiana mental institution at age 30. He was 54 when he died there in 1931.
Bolden, which pieces together the music great's life, is grounded by a historic New Orleans radio appearance from Louis Armstrong. Reno Wilson, who is best known as Officer Carl McMillan on Mike & Molly, embodies the jazz luminary. Unlike Armstrong, however, Nora Bolden's life wasn't well-documented. So DaCosta, who memorably played Whitney Houston in the 2015 Lifetime film Whitney, didn't have as much information to build her portrayal as Wilson did.
"Nora was birthed from a combination of researching the time, the place, who Buddy Bolden was, and who I thought it made sense for his woman to be," she explained. "Someone kind, someone tolerant."
"She comes across as naïve sometimes, perhaps, but I do think she was very aware of who he was when she married him," DaCosta continued when pressed about Nora Bolden's innocence during her initial appearance in the film.
Like many jazz men, Bolden also was a bit of a ladies' man. DaCosta believes that Nora was not blindsided by this. "I don't think she was stupid by any means and she was definitely a product of that time [when] it was normal for us at that time to stand by your man.
​Those thoughts, DaCosta shared, only became stronger during filming when "all of those things combined with the experience on set, putting on clothes, and being in that setting. Because, when you actually shoot a Southern film in the South," she added, "you see buildings that have not changed, you see animals, the attitudes of certain people that haven't changed that much, and all of that fed me. I was there and Nora was birthed really authentically on set. I did preparation but, once I got there, I saw who she was."
As for building chemistry with her co-star, DaCosta, whom Chicago Med fans have seen her character April Sexton navigate a complicated romance with Dr. Ethan Choi, quipped that "Chemistry is funny. I'm not sure it can be built. I think it's either there or it's not."
Her chemistry with Carr, she said, was very easy because "I felt very comfortable with Gary from the beginning. We just got along. There was great chemistry, and it wasn't necessarily sexual chemistry; it was just like, artistic chemistry. And, so, we were able to just play and be free. There were a lot of moments that I saw that ended up in the film that happened organically, that weren't necessarily written or instructed. And that's, I think, really beautiful."
Speaking later during the round-table discussion with Robert Ri'chard, who portrays jazz clarinetist George Baquet who played with Bolden, DaCosta shared her glee about Nora Bolden's solo birth scene. "That was one of the most fun scenes for me," she smiled. "See y'all are about to find out about me. Y'all don't know that I love all things childbirth. I'm also a doula on the side. I gave birth to my baby at home. So I was like 'this is what I know, let's do it!'"
Although the scene is brief, DaCosta believes it is an empowering moment that celebrates childbirth and home birth, in particular.
DaCosta is also pleased that others see what she has known since childhood: "I've always been an actor."
And at this point in her career, she can hardly control her joy. "It's just really wonderful that I've had so many opportunities to work with so many people who are committed to producing beautiful art, and who have given me a chance to just be an artist."
Bolden is in theaters now.