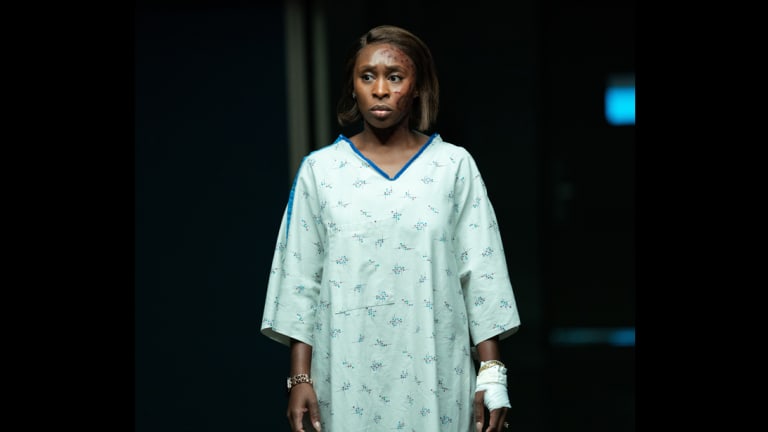 Something Is Biting Cynthia Erivo in 'Roar'
Cynthia Erivo explores maternal guilt in "The Woman Who Found Bite Marks on Her Skin," a feminist fable from the Apple TV+ series Roar.
Society has finally grown comfortable with acknowledging that being a mother isn't easy and mom guilt is a real and powerful emotion. In Roar, series creators Liz Flahive and Carly Mensch examine just how strong maternal guilt can affect a working mother in the anthology episode "The Woman Who Found Bite Marks on Her Skin," which stars the multitalented Cynthia Erivo.
Roar, which was inspired by author Cecelia Ahern's collection of stories of the same title, isn't your run-of-the-mill depiction of what it means to be a woman in the modern age. Instead, the eight-episode Apple TV+ anthology spans genres from magical realism to psychological horror while deconstructing the way women use humor, resilience, and their humanity to push against adversity. Executive producers and co-showrunners Flahive and Mensch have weaved the nuanced realities of marriage, parenting, dating, career survival, and other struggles with sometimes hilarious, sometimes dark surreal situations. There's a woman who eats photographs, one who dates a duck, and another woman who literally lives on a shelf like a trophy. Yet, the feminist fables presented in Roar are universally relatable to the modern woman. Mensch and Flahive adapted six of Ahern's stories into standalone episodes and "riffed" two additional pieces on their own.
In "The Woman who Found Bite Marks on Her Skin," Erivo plays Ambia, a venture capitalist who returns to work after the birth of her second child and begins to discover strange bite marks on her body. Although painful, her injuries aren't as important as balancing her home life with her demanding career. The episode, which was directed by Rashida Jones and written by Mensch and Flahive, also explores Black maternal health and the undercurrent of sexism that working mothers still face.
"I was really intrigued," said Erivo to UPTOWN when explaining her first thoughts after reading the script. "I was really excited because I've never read anything like it before. I loved the idea that we were sort of going outside of the box to talk about a conversation that we've probably had before, but just finding a different way to speak about it. Motherhood and juggling work, and motherhood and home life altogether. But it just felt like there was a fresh take on on the experience."
The push and pull Ambia feels from her colleagues and her husband Greg (Jake Johnson) and their children is one Flahive and Mensch connected with the most personally out of all the Roar episodes.
"When we were filming certain scenes, there were a lot of women with kids saying goodnight to their kids on FaceTime," said Flahive in press materials. "Rashida Jones, who directed the episode and director of photography Quyen Tran both have kids and we'd all be talking about maternal guilt. We'd all be FaceTiming our kids who were being put to bed by babysitters or husbands or partners, and then we'd go back to work." 
Though she's not a mother, Erivo recognizes the resiliency society expects mothers to display. "I think motherhood is one of those experiences that for some reason, still seems to come across as an easy thing to people," she explained. "And I think that hopefully this episode will help to understand (or) break down the fact that it is not easy at all, that it's not a walk in the park."
Erivo continued, "I think there are loads of mothers who make it look easy, but they are also those women who are unable to ask for help. And so hopefully, those women who make it look easy will still be given, you know, empathy and understanding because it's not an easy feat to go through."
Roar is the powerful work of inspiring female storytellers, writers, directors, and actors, including Issa Rae ("The Woman Who Disappeared"), executive producer Nicole Kidman ("The Woman Who Ate Photographs"), Betty Gilpin ("The Woman Who Was Kept on a Shelf"), Merritt Wever ("The Woman Who Was Fed by a Duck"), Alison Brie ("The Woman Who Solved Her Own Murder"), Meera Syal ("The Woman Who Returned Her Husband"), and Fivel Stewart ("The Girl Who Loved Horses").
If you've seen Harriet, Genius: Aretha, Bad Times at the El Royale, or The Color Purple musical on Broadway, then you'll certainly recognize Erivo's vocals on the end credits song for "The Woman Who Found Bite Marks on Her Skin." Erivo said she was "pleasantly surprised" to learn her song "Mama" from her debut album Ch. 1 Vs. 1 was featured.
"So I actually I didn't write it for for this project," Erivo explained. "I just happened to write it, full stop. And they very kindly put it right at the end credits, which makes me really happy."
All eight standalone episodes of Roar premiered today, April 15th, on Apple TV+.