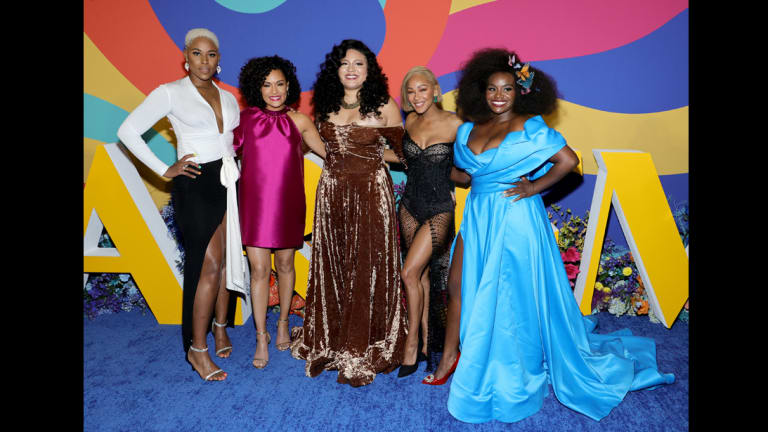 SocietEye: The Star-Studded 'Harlem' Premiere
Harlem creator, writer, and co-executive producer Tracy Oliver and the series stars welcomed esteemed guests into their world.
The highly-anticipated Prime Video series Harlem, from creator, writer, and co-executive producer Tracy Oliver, premiered on Wednesday, Dec. 1st, at the AMC Magic Johnson Theater in Harlem, USA. The stars of the series Meagan Good, Grace Byers, Jerrie Johnson, and Shoniqua Shandai, as well as Oliver and the esteemed guests, brought their fashion A-game to the blue carpet. But we'd expect nothing less from an event in Harlem World and a cast on a series that takes place in the hamlet of Harlem, as Bevy Smith lovingly calls it.
Harlem is "a new comedy following four​ ​stylish and ambitious best girlfriends in Harlem NYC, the mecca of Black culture in America. Camille​ ​(Good) is a popular young anthropology professor at Columbia with extensive knowledge of the dating norms of many cultures, but has a hard time navigating her own love life; Tye (Johnson) is a successful, queer dating app creator who prefers keeping vulnerability—and romantic partners—at arm's length; Quinn (Byers) is a hopeless romantic and trust fund fashion designer who is trying to give back to the world while running a struggling business; Angie (Shandai) is a confident, vibrant, and filter-free singer and actress who also lives rent-free and fabulously with Quinn. Together, they level up from their 20s into the next phase of their careers, relationships, and big city dreams."
Prime Video released all-ten episodes of Harlem today, Dec. 3rd, and is honoring one of NYC's most iconic neighborhoods with a two-day community event, "Harlem Ever After," that celebrates sisterhood and features Black female creators and entrepreneurs.
According to press materials:
"'Harlem Ever After' will transform the iconic Harlem Parish into an interactive space featuring photo opportunities and engaging programming, including colorful murals inspired by Harlem, created by local artists Tiffany B Chanel, Marthalicia Matarrita, Marissa Molina, and Maria "TOOFLY" Castillo. Celebrity designer Kimberly Goldson, in collaboration with Harlem's Fashion Row, will curate a collection of designs inspired by the series and its characters. The looks will be on display through the entirety of the event and completed with accessories and shoes provided by ShoeDazzle. The community event, open to the public, will kick off on Friday, December 3rd with programming centered on female empowerment, including a presentation from Goldson on how fashion can empower people and provide an opportunity for self-expression. That's followed by a panel discussion hosted by Harlem native Bea Arthur, LMHC, a Columbia University-trained psychotherapist, and award-winning entrepreneur. The panel, titled "Harlem Hustle: A New Era for Black Business and Entrepreneurship," co-presented by Ladies Get Paid, a community where women learn to level up in their careers and achieve financial freedom, will feature inspiring names from participating brands: Ylorie Taylor, vice president of EDEN BodyWorks, Jessica Spaulding, co-founder of Harlem Chocolate Factory, Chandra Cooks, head of marketing of Mented Cosmetics, Samantha Shipp Warrick, head of partnerships at PHENOMENAL, and Teri Johnson, founder of Harlem Candle Company.
But before you head over to Prime Video to binge Harlem and RSVP for "Harlem Ever After," you better get into the red-carpet fashions of the premiere, honey. 
Harlem Premiere Screening Red Carpet Photos