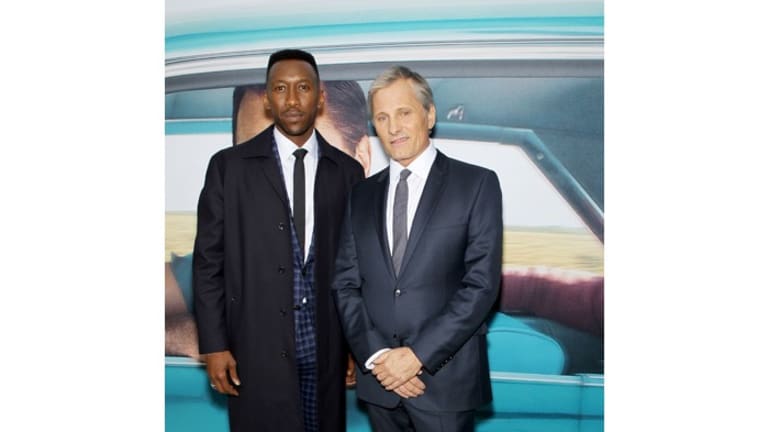 SocietEye: 'Green Book' Premieres in NYC
Mahershala Ali, Viggo Mortensen, and more attend the premiere of period drama Green Book.
Green Book is a film about the building of a friendship between Black-American classical pianist Dr. Don Shirley and working-class Italian-American bouncer Tony Lip, whom Shirley hires to drive him on a tour of venues through the American South during the 1960s. On Nov. 13th, stars Mahershala Ali and Viggo Mortensen joined director Peter Farrelly, music supervisor Kris Bowers, and other cast members at the film's premiere at the Paris Theater in New York.
Travel for Black Americans during the '60s was fraught with peril from white racists, supremacists, and bigots. As a result, Victor Hugo Green wrote and published in 1936 The Negro Motorist Green Book, an annual guidebook for Black road-trippers that identified safe places for them to rest or eat while traveling.
Ali gained acclaim for starring in last year's Best Picture Academy Award winner, Moonlight. He won the Best Supporting Actor Oscar for his performance, and can be seen next in HBO's True Detective series. Since his screen debut in the '80s, Mortensen has produced a steady stream of well-rounded performances, including starring in Eastern Promises and A History of Violence.
Cast members Dimiter D. Marinov and Mike Hatton also attended the NYC premiere of Green Book, which was released today, Nov. 16th in New York, and will be released nationwide on Nov. 21st.
Keep scrolling to see more images from the New York premiere of Green Book.
​
​
​
​
​
​
​
​
​