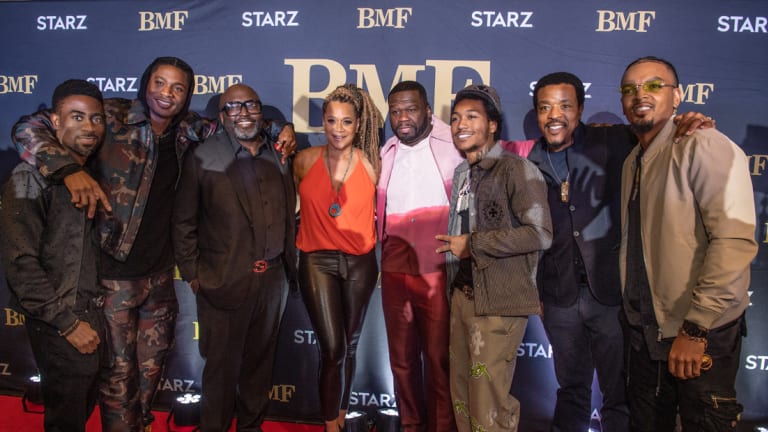 SocietEye: STARZ Hosts Screening of 'BMF' in Detroit
See photos of the BMF creative team, including 50 Cent and Randy Huggins, and the cast at the screening of the highly-anticipated crime drama series in Detroit.
STARZ treated Detroit to a special screening of the highly-anticipated new series BMF and a Q&A session with executive producer and director Curtis "50 Cent" Jackson; show runner, executive producer, writer, and Detroit native Randy Huggins; and the cast at the Emagine Royal Oak in Royal Oak, Michigan, on September 26th.
The night began with guests watching the first episode of the series that was inspired by the real-life Black Mafia Family. The screening coincided with the premiere of BMF on STARZ. Following the screening, 50 Cent and Huggins joined cast members Demetrius "Lil Meech" Flenory Jr., Da'Vinchi, Russell Hornsby, Michole Briana White, and Detroit native Arkeisha "Kash Doll" Knight. Myles Bullock and Holmes Lindsay IV also attended the event.
The series chronicles the "the story of two brothers who created the Black Mafia Family, the most prominent drug distribution network in American history."
BMF was produced in Detroit and Atlanta where the Black Mafia Family operated from 1980 to the 2000s. On Sunday, October 3rd, the series will move to its regular time slot at 8 p.m. ET/PT on STARZ. It will air across all STARZ platforms in the U.S. and Canada and will air day and date internationally on the STARZPLAY premium streaming platform across Europe, Latin America, and Japan.
Keep scrolling to view more photos from STARZ's screening of BMF in Detroit.