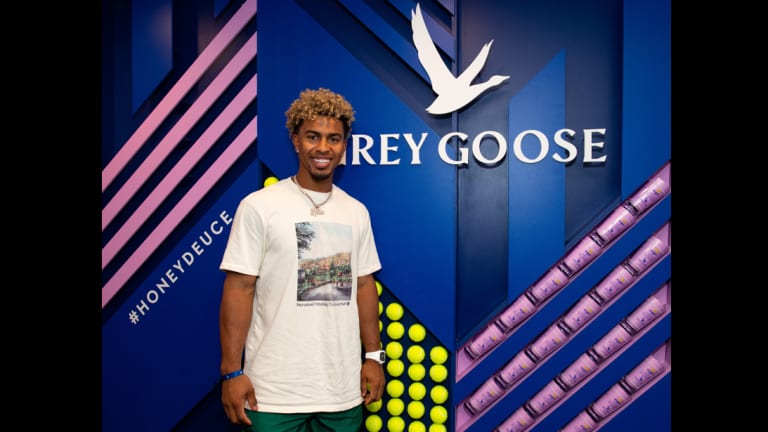 SocietEye: Grey Goose Serves the US Open
Francisco Lindor, Dez Bryant, and CC Sabathia hit up the Grey Goose suite at the US Open, where they sipped on the signature cocktail, the Honey Deuce.
The US Open kicked off this week at Queens, New York's Billie Jean King National Tennis Center. The tournament is not only NYC's first major sporting event since the city reopened, but it also is the 15th anniversary of the Grey Goose Honey Deuce being the Open's signature serve. Let's find out what went down in the Grey Goose suite this week and how you can bring a taste of the US Open to your home.
The beginning matches signaled a thrilling tournament ahead, one that's even more exciting since last year's Open was held without spectators. Many fans cheered from the stands with a Honey Deuce cocktail in hand. Fans who are unable to make it to Queens can feel like they're courtside while safely at home with the Honey Deuce Cocktail Kit ($39.99), which is available for delivery across 40 markets. (NYC, Chicago, and Miami enjoy one-hour delivery when weather permits.) The kit contains everything necessary to make four servings of the Honey Deuce, including Grey Goose vodka, Chambord, and four commemorative US Open cups.
On Monday, Aug. 30th, New York Mets shortstop Francisco Lindor and fiancee Katia Guero, who wore a flowy, belted black dress with Burberry wedges. They sipped on the Honey Deuce while watching an intense match between Andy Murray and Stefanos Tsitsipas. Lindor's personal friends and tennis players Sascha Zverev and Francis Tiafoe stopped by the Grey Goose suite to say hello to him.
On Tuesday, Aug. 31st, one spectator was able to show off his athleticism from the Grey Goose suite. Former Dallas Cowboys wide receiver Dez Bryant attended the Open and watched fourth-seed player Alexander Zverev breeze past Sam Querrey in his bid for his first Grand Slam title. After winning his opening match, Alexander Zverev threw a tennis ball into the crowd, and Bryant caught it! And he looked dapper in a full Louis Vuitton 'fit and sipping the Honey Deuce while doing so.
All-star Yankee pitcher CC Sabathia hit up the Grey Goose suite on Wednesday, Sept. 1st, wearing a Heron Preston shirt and an MLB cap that did not have a Yankees logo.
Keep scrolling for more pics ...