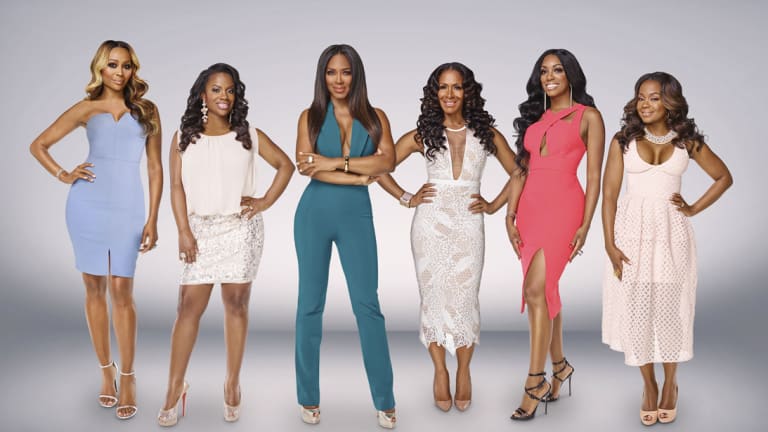 Heard on the Street: Shereé Says Kandi Shouldn't Control Phaedra's 'RHOA' Return
Shereé Whitfield tells former RHOA producer Carlos King that the show would be better if Kandi Burruss would stop thwarting Phaedra Parks's return.
"No, I don't, and I actually invited Phaedra to the fashion show, too. And one of the things she said, she's like, well, 'Is Kandi going to be there?' My thing is, like you said, I've been on this show many times, many years with people I didn't get along along with. I have been in situations that I was uncomfortable with. I have talked about heavy things that I have going on in my life. We are here to do a reality show, and as much as I love Kandi, I feel like at the end of the day, they should or she should understand that this is for the show. We can't be, 'Oh, I don't want to talk about that.' It's not cool. So we can't do it. It's for the betterment of the show. We all have been in uncomfortable (situations) and talked about s--t that we don't want to talk about. I think that conversation needs to be had on the show."
– Shereé Whitfield responds to former The Real Housewives of Atlanta producer Carlos King asking if it's fair that Kandi Burruss has control over whether Phaedra Parks returns to the popular reality TV series. (If you're a fan of the show, you should remember why Phaedra was dismissed, so we don't need to rehash the scandal.) Shereé and King were dishing on the April 29th episode of his Stitcher podcast Reality with the King. The She by Shereé designer also revealed the state of her friendship with NeNe Leakes to the "King of Reality TV." Basically, the RHOA OGs were good before filming for season 14 began, but then they had a falling out, Shereé told the Love and Marriage franchise creator, because she couldn't get NeNe into a party. Shereé revealed that she and NeNe almost had an altercation at a restaurant. This episode of Reality with the King certainly proves the podcast is worth subscribing to.