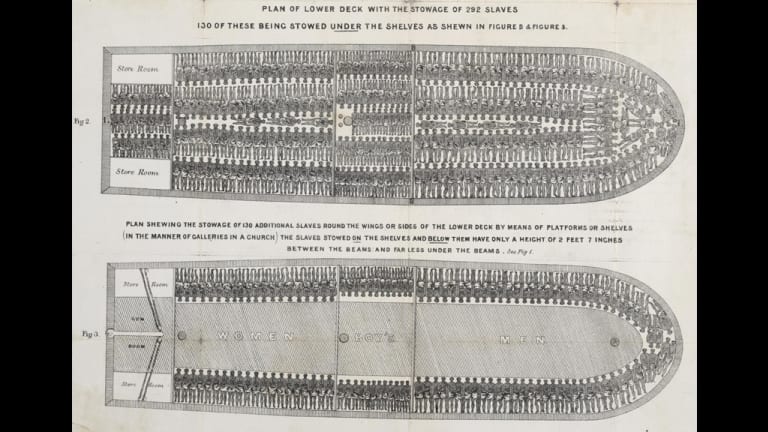 Samuel L. Jackson Will Lead 'Enslaved' Series About Transatlantic Slave Trade
Enslaved is expected to be the most comprehensive unscripted series to detail the 400 years of the slave trade.
EPIX's Enslaved, an unscripted six-part docuseries focusing on the Transatlantic Slave Trade led by Samuel L. Jackson along with investigative journalists Afua Hirsch and Simcha Jacobovici, will premiere on the network on Sept. 14, 2020 at 10 p.m.
Enslaved is expected to be one of the most comprehensive unscripted series to chronicle the 400 years of human trafficking between Africa, the New World, and Europe, and will present "an entirely new perspective on the history of the Transatlantic Slave Trade," according to a press release. Each episode will explore Jackson's ancestry, as well as focus on Hirsch's and Jacobovici's historical investigation and locating and examining sunken slave ships.
The series will follow Jackson as he determines his ancestral tribe through a DNA test and travels from the U.S. to Gabon for his introduction into the Benga tribe. In addition, viewers will have the opportunity to witness some of the Benga's secret ceremonies and local customs.
Hirsch and Jacobovici will research and present stories of resistance, accomplishment, and hope during Enslaved. Their historical investigation will also include an examination of the cultures Africans left behind and the culture our ancestors created as a result of being enslaved in a foreign land — "a culture that, in many ways, was born in the bowels of ... sunken slave ships."
In collaboration with Diving with a Purpose and The National Association of Black Scuba Divers, Enslaved will locate and examine six sunken slave ships using advanced 3D mapping and ground-penetrating radar. The series will feature the most dives ever made on slave ships that sank, drowning the enslaved and likely restrained people aboard. Enslaved also explores the first positive identification of a "Freedom Ship," an American schooner that transported Black people who had escaped chattel slavery to Canada.
CBC in Canada will premiere Enslaved on Oct. 8, 2020 at 9 p.m. (9:30 NT) after the series launches on EPIX in September. Jacobovici directed and executive produced Enslaved with Jackson, LaTanya Richardson Jackson, and others.